Graham Asks Governors to Help Fix Coronavirus Unemployment Loophole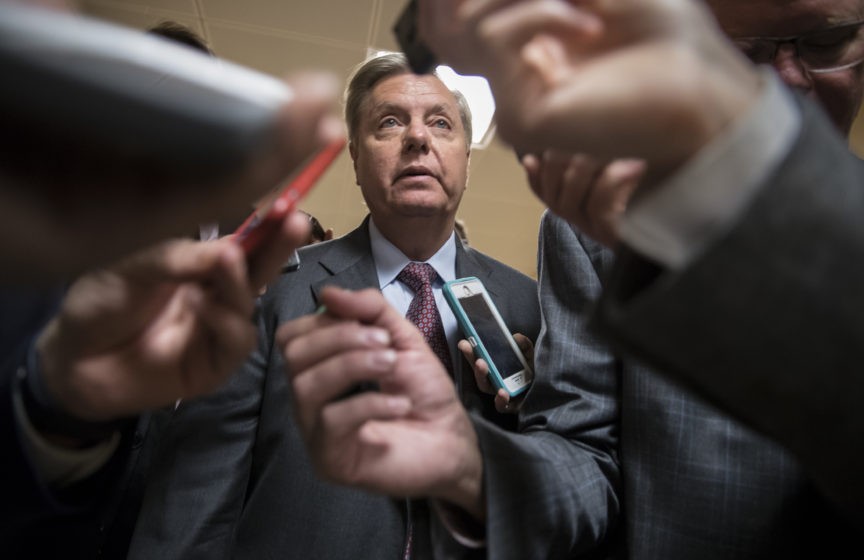 Sen. Lindsey Graham (R-SC), the chairman of the U.S. Senate Judiciary Committee and a top ally of President Donald Trump, told Breitbart News exclusively on Thursday that he is calling on governors, especially those in red states, to develop a fix to an unemployment loophole in the massive $2 trillion coronavirus rescue passage the Senate passed Wednesday night.
The bill, for which Graham and 95 other senators voted, passed the U.S. Senate unanimously on Wednesday evening. It only got 96 votes because four GOP senators are quarantining due to either having coronavirus or concerns they might have been exposed. The bill is expected to pass the U.S. House of Representatives on Friday morning via voice vote, House leaders say, and will make its way to President Trump's desk, where he is expected to sign it.
The bill contains many positive things to help rescue the economy, including direct payments to many Americans as well as funds for a variety of industries and loans for small businesses that will be forgiven, assuming they maintain their workforces. But one particular part of the bill, Graham told Breitbart News, represents a potential serious threat to the economy as a whole—and he said that while he voted for the overall package, this problem needs to be fixed soon.
"There's a lot of good stuff—that's why I voted for it," Graham told Breitbart News in an exclusive interview on Thursday afternoon.
The problem, the senator explained, is that this bill includes an additional $600 per person per week if they are laid off or unemployed. The federal government has never had a federal unemployment program, as those matters and benefits have been handled by the states until this bill. The issue here, however, as Graham explained, is that in some cases people may end up—by collecting unemployment checks from both their state and the federal government—making more money per week during the four-month duration of this novel federal unemployment program than they would should they keep their job.
"I was willing to reimburse people—to supplement unemployment benefits to their actual wages up to $50,000," Graham said. "Make you whole. The unemployment benef