Futures Fall As Europe Slides, Chinese Media Talks Back Rally
One day after a torrid ramp in Chinese stocks sent US futures surging and the Nasdaq hit a fresh all time high, on Tuesday Emini index futures slipped following the benchmark S&P 500 and Nasdaq's five-day rally, as European stocks slumped after officials warned the economy will take longer to recover and Germany reported weaker-than-expected industrial data, the rally in China fizzled after officials talked back their previous urges to buy stocks, and investors weighed the risks to the conomy from tens of thousands of new coronavirus cases nationwide.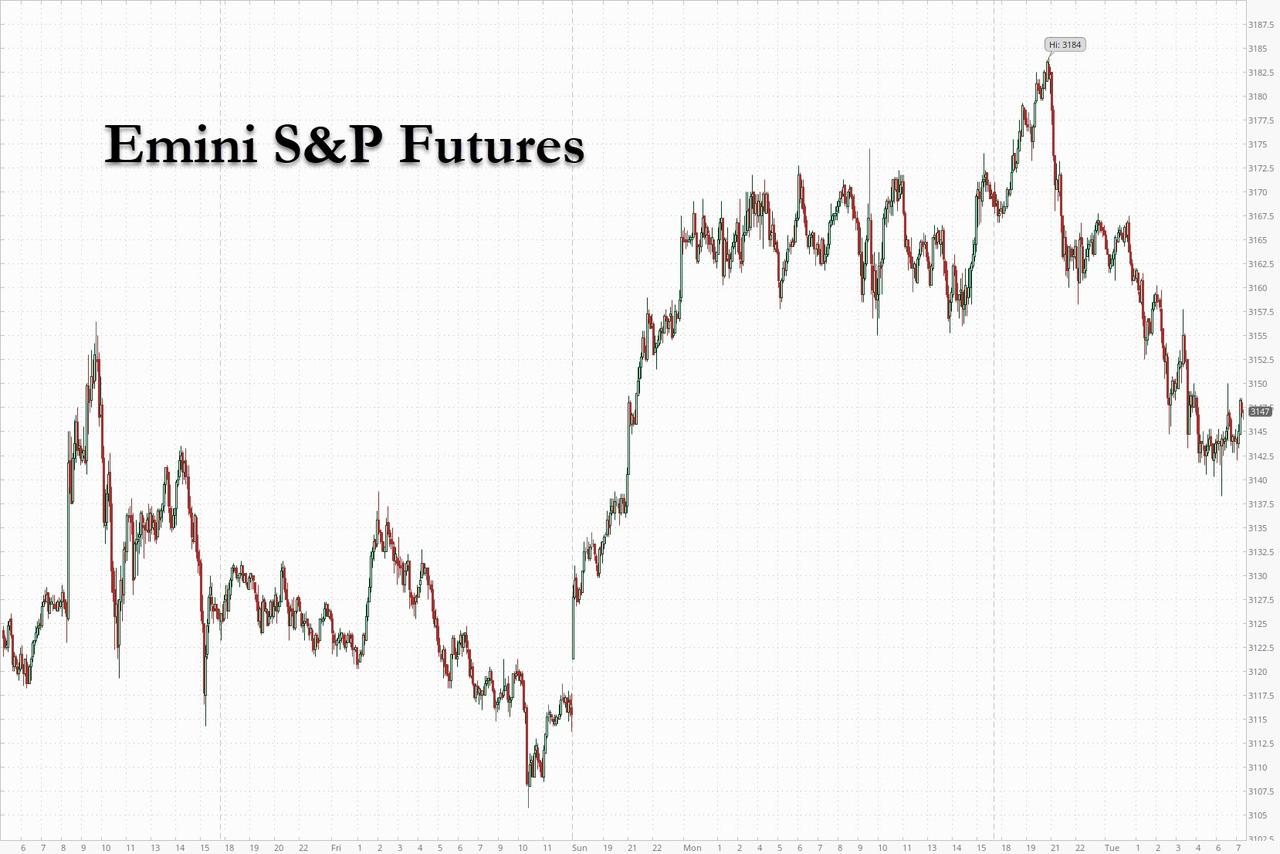 On Monday, Miami became the latest U.S. coronavirus hot spot to roll back its reopening while Texas registered an all-time high in the number of people hospitalized at any one moment with COVID-19 for the eight straight day. Travel-related stocks fell in premarket trading. United Airlines Holdings and American Airlines were down 3% and 2.8%, respectively. Royal Caribbean Group and Norwegian Cruise Line Holdings also dropped about 3% each, even as they announced a joint task force to help develop safety standards for restarting their businesses.
The latest virus news dented bullish sentiment after a surprise surge in the U.S. Services ISM and record job additions in June were among the upbeat data recently that have bolstered views that an economic recovery is underway, helping the Nasdaq close at a record level on Monday and pushing S&P 500 about 45% from its March lows.
Sentiment also reversed in Europe, where all but one of the 19 industry groups in the Stoxx Europe 600 Index fell, with real estate and technology shares bearing the brunt of the selling after Germany reported far weaker than expected industrial production data. Bayer AG lost 5.5% after its plan for handling future Roundup cancer claims hit a snag.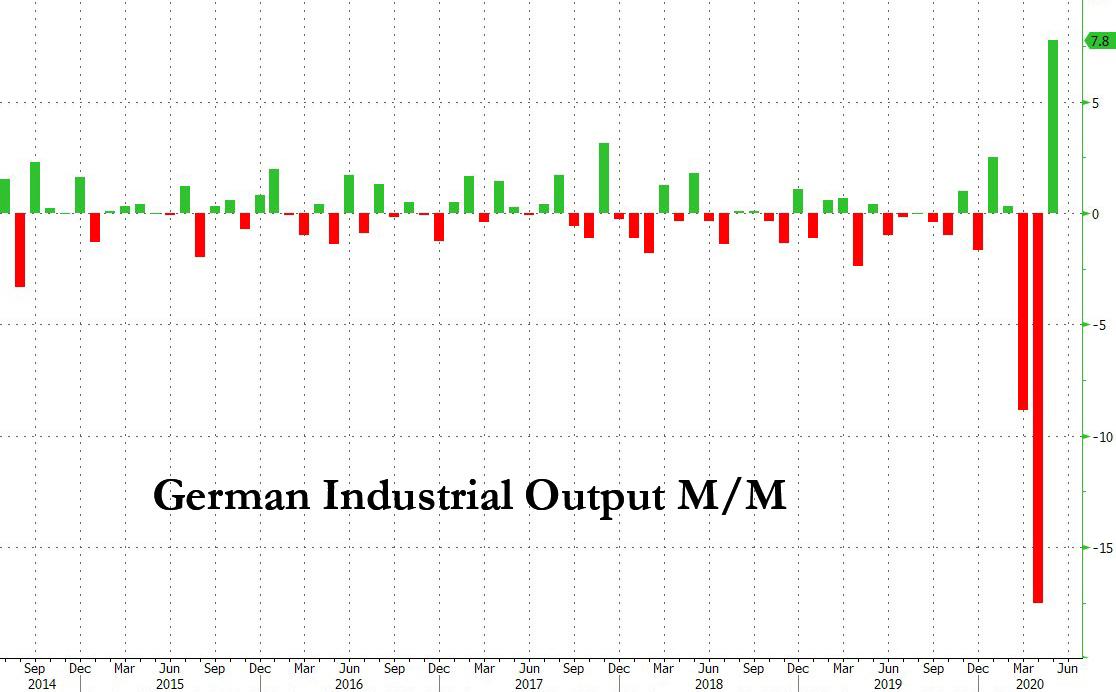 On the other end, BMW rose as much as 1.4%, and was the best performer on the Stoxx 600 Automobiles & Parts Index, after posting 17% jump in 2Q car sales in China. The index was the only positive segment on broader European share gauge; other gainers as of 12:01pm in Paris include Valeo +1.1%, Faurecia +0.8%, Fiat Chrysler +0.6%, Continental AG +0.5%.
The European Commission gave its starkest warning yet about the impact of the pandemic, with the divergences between richer and poorer countries opening up even further than projected two months ago. Officials now forecast a contraction of 8.7% in the euro area this year, a full percentage point deeper than previously predicted.
Earlier in Asia, while Chinese stocks powered ahead for a sixth day, the rally was at a far slower pace, with the Shanghai Composite Index rising just 0.4% after the 5.7% surge one day earlier, with Maoye Commercial Co Ltd and Hangzhou Jiebai Group posting the biggest advances.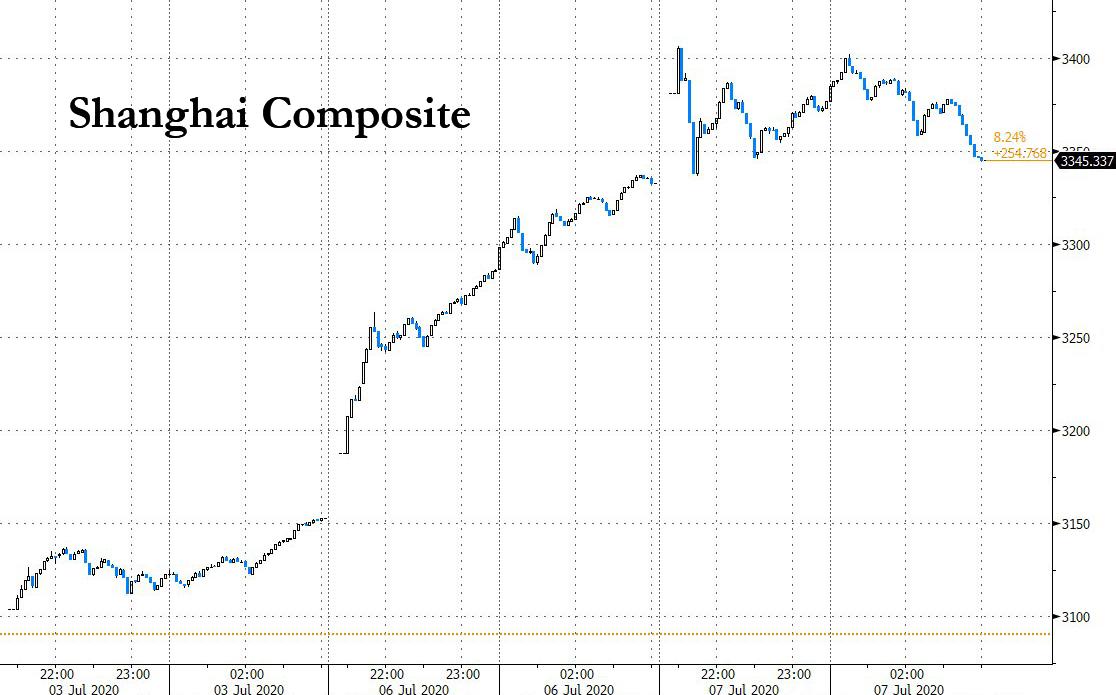 China's rally fizzled after all four major state-owned financial media outlets had front page commentaries on the stock market today, with all articles saying largely the same – calls on market participants to be rational. Most Asian stocks fell, led by energy and utilities, after rising in the last session, with Hong Kong's Hang Seng Index and South Korea's Kospi Index turning red. Trading volume for MSCI Asia Pacific Index members was 111% above the monthly average for this time of the day. The Topix declined 0.3%, with Tosei and Miyakoshi falling the most.
In rates, Treasuries were largely unchanged across the long-end of the curve following mixed performance of Asia stocks; further rally halted with bunds underperforming ahead of EU4b 5-year EFSF deal pricing and looming Irish supply this week. Treasuries also face supply pressure starting with 3-year note auction at 1pm ET, ahead of 10- and 30-year sales to round off the week. Treasury yields were lower by ~1bp across 20- to 3-year sector, little change rest of the curve; 10-year yields around 0.675% while bunds underperform by 1.5bp, gilts trade broadly inline.
In FX, the Bloomberg Dollar Index snapped a five-day losing streak as the global equity rally paused on Tuesday after a strong start to the week. China's offshore yuan erased gains after briefly strengthening past the 7 per dollar level for the first time since March 17. The offshore yuan weakened 0.14% as of 6:34 p.m. in Hong Kong. It rose as much as 0.24% to 6.9966 against the greenback in morning session, as Chinese stocks rallied before paring gains in afternoon trade. The currency traded little changed in the onshore market after adding 0.27% earlier Tuesday. A rebounding dollar and renewed concerns about the pandemic after an Australian state announced a lockdown contributed to the yuan's weakening this afternoon, said Gao Qi, an Asian FX strategist at Scotiabank. But the retreat will likely be a "one-off event," as bullish sentiment in the stock market will continue to support demand for the currency, he said. "The yuan should advance in the coming sessions to reach 6.90 by the end of July," he said.
The Australian dollar swung lower after the country's second- most populous state announced a six-week lockdown to control a wave of infections. Leveraged funds initiated short positions ahead of the lock-down announcement, a trader said, with losses extending after Victoria Premier Daniel Andrews announced a longer-than- expected shutdown. "The local media was suggesting four weeks prior to the announcement, and now it's six weeks," said Ray Attrill, head of foreign-exchange strategy at National Australia Bank Ltd. in Sydney. "A justifiable knee jerk, albeit small, negative reaction."
In commodities, oil dropped and iron ore futures jumped. WTI and Brent crude futures remained on the backfoot, if off lows, as the complex tracks broader market sentiment. Furthermore, the European Commission cutting the EZ and EU growth forecasts added to the bearish factors. WTI Aug resides just above the USD 40/bbl (vs. high 40.79/bbl) having tested the level earlier in the session, whilst Brent Sep relinquished its USD 43/bbl (vs. high 43.19/bbl) handle before finding mild support at the psychological 42.50/bbl. Looking ahead, in the absence of virus/China related headlines, participants will be eyeing the release of the EIA Short-Term Energy Outlook for any potential revisions to global oil demand given the resurging COVID-19 cases, thereafter, focus will turn to the Private Inventory numbers for short-term volatility. Elsewhere, spot gold has fallen victim to the rising Buck as the yellow metal slid from near-8yr highs of around USD 1787/oz to find some solace around the psychological USD 1775/oz. In terms of base metals, Shanghai copper hit a 2020 high amid supply woes coupled with hopes of a rebounding Chinese economy. Similarly, Dalian iron ore was underpinned by China optimism alongside doubts over the prospected of a recovery in Brazilian iron shipments.
Market Snapshot
S&P 500 futures down 0.8% to 3,148.00
MXAP down 0.7% to 164.30
MXAPJ down 0.8% to 541.83
Nikkei down 0.4% to 22,614.69
Topix down 0.3% to 1,571.71
Hang Seng Index down 1.4% to 25,975.66
Shanghai Composite up 0.4% to 3,345.34
Sensex up 0.05% to 36,505.16
Australia S&P/ASX 200 down 0.03% to 6,012.92
Kospi down 1.1% to 2,164.17
STOXX Europe 600 down 1.1% to 367.33
German 10Y yield fell 1.7 bps to -0.448%
Euro down 0.3% to $1.1277
Italian 10Y yield fell 1.4 bps to 1.113%
Spanish 10Y yield fell 1.1 bps to 0.414%
Brent futures down 1% to $42.69/bbl
Gold spot down 0.4% to $1,777.09
U.S. Dollar Index up 0.3% to 97.03
Top Overnight News
Europe's economy will suffer more than previously estimated this year and take longer to recover because of a slow easing of coronavirus restrictions, according to the bloc's executive arm.
China's equity market is firmly in the spotlight after an almost unprecedented rally that helped lift global stocks to a one-month high.
The amount of U.S. bonds and loans trading at distressed levels has increased for a second straight week as corporate borrowers potentially face another round of lockdowns amid a resurgence of the coronavirus.
France's decision to give only temporary security approval for fifth-generation mobile equipment shows the government intends to gradually sideline Huawei Technologies Co., a majority party lawmaker said.
Asian equity markets were somewhat choppy as participants began to second guess the viability of the recent Chinese stocks surge which had already reverberated across global counterparts on Monday to lift all major indices on Wall Street and push the Nasdaq to a fresh record high. ASX 200 (U/C) swung between gains and losses as strength in the mining related sectors was initially offset by early weakness in energy, utilities and financials, while second wave fears concerning Australia's 2nd largest city of Melbourne and the RBA policy announcement further added to the tentative tone. Nikkei 225 (-0.4%) lagged after Household Spending data showed the largest decline on record and the KOSPI (-0.7%) also failed to hold on to early gains as the initial support in Samsung Electronics following a beat in preliminary Q2 results which eventually wore thin. Hang Seng (-1.4%) and Shanghai Comp. (+0.4%) both extended on the prior day's stellar rally but are off their best levels with the momentum gradually dissipating amid several bearish factors such as another substantial liquidity drain by the PBoC and with Chinese press calling for rationality in the stock markets, while the recent headlines also continued to add to the ongoing China vs. the West narrative including the warning from China's Ambassador to the UK that it will have to bear the consequences if it treats China as a hostile country. Finally, 10yr JGBs were marginally higher amid underperformance in Japanese stocks following the abysmal Household Spending data and with upside also briefly spurred by mostly firmer results at the 30yr JGB auction.
Top Asian News
Lebanon's Economic Crisis Is Spinning Out of Control, Fast
Samsung's Profit Beat May Precede Slowing Chip Sales Growth
Australia Warns Citizens They Risk 'Arbitrary' Arrest in China
SoftBank Hits 20-Year High With $68 Billion Climb Out of Nadir
European stocks have continued to bleed [Euro Stoxx 50 -1.3%], as the mostly positive APAC sentiment dissipated when European players entered the fray. Downside in futures was initially seen overnight as the optimism over China's recent performance fizzled out amid rising reported cases, which led to the Australian State Premier imposing a six-week lockdown on Melbourne, whilst case numbers remained heightened in other parts of Asia. Furthermore, the European Commission cutting its 2020 and 2021 growth forecasts, due to less swift than expected reopening, only dampened the mood. As such, major bourses trade with broad-based losses of some 1%, but in the periphery, Italy's FTSE MIB (-0.3%) fares slightly better as losses in banking names were somewhat cushioned by reports the ECB's Funding to Italian Banks in June rose to EUR 345.226bln vs. EUR 290.963bln in May, although reports noted that the ECB is to consider asking banks to withhold dividend for longer. Sectors remain in negative territory with no clear risk-tone to be derived on that front as cyclicals and defensives remain mixed. Delving deeper into the sectors, a similar performance, but Travel & Leisure resides among the laggard amid the aforementioned dampened sentiment regarding reopening economies. In terms of individual movers, Wirecard (-14%) extended on losses, with reports also noting that payment group Mastercard was warned about Wirecard's links to an alleged laundering network around four years ago. Micro Focus (-10.3%) holds its place as a laggard after reporting an impairment charge of USD 922.2mln in H1. Bayer (-7%) shares remain pressured after a U.S. judge questioned the Co's proposed settlement to deal with future claims regarding its weedkiller. On the flip-side, BMW (+1.0%) nursed opening losses after a trading update in which, despite a H1 YY sales decline of 23%, noted that Q2 China sales have exceed the prior and are seeing initial signs of recovery in some markets as of end-Q2. Finally, in terms of commentary, Blackrock has downgraded US equities on risk of fading fiscal stimulus whilst upgrading Europe to overweight.
Top European News
Europe Sees Deeper Slump With Fresh Warning on Uneven Virus Hit
Hungary Posts Biggest Increase in Coronavirus Cases in a Month
France Begins to Sideline Huawei From Its Mobile Networks
Macron Picks a Government to Rebuild France's Economy
In FX, a further erosion of bullish risk sentiment has helped the Dollar regain composure and its status as a safe haven following less pronounced gains in Chinese equities overnight and a more mixed session for APAC bourses overall. Hence, the index is back on the 97.000 handle from a low of 96.565 at one stage on Monday and extending recovery gains on the back of a much better than expected services ISM survey.
AUD – The Aussie is bearing the brunt of the turnaround in risk assets and heightened 2nd wave COVID-19 concerns as Melbourne extends anti-virus measures amidst another rise in cases, with Aud/Usd reversing sharply from just shy of the 0.6900 level towards 0.6920 alongside Usd/CNH bouncing from a fraction below 7.0000. For the record, no surprises from the RBA that reaffirmed wait-and-see guidance, but clearly the economic outlook will be adversely impacted by the aforementioned outbreak in the state of Victoria.
NZD/EUR/JPY/CAD/CHF/NOK/SEK/GBP – All unwinding more of their recent gains relative to the Greenback, as the Kiwi retreats from around 0.6580 to 0.6520 irrespective of a modest improvement in NZIER Q2 confidence, while the Euro has relinquished 1.1300+ status to test the resolve of decent option expiry interest between 1.1265-75 (1.5 bn). However, the Yen is still pivoting 107.50 and Loonie holding above 1.3600 post-weaker than forecast Japanese household spending data and pre-Canadian Ivey PMIs. Elsewhere, the Franc is hovering circa 0.9450 and 1.0650 vs the single currency, Eur/Nok is near 10.6500 in wake of a steeper decline in Norwegian manufacturing output and Eur/Sek is straddling 10.4500 even though Swedish ip and orders were mixed. Elsewhere, Cable has lost grip of 1.2500 yet again, albeit finding underlying bids ahead of 1.2450 and support some 10 pips below.
EM – Broad deterioration on the downturn in risk appetite, but the Rand underperforming following a more pronounced than anticipated fall in SA consumer morale.
In commodities, WTI and Brent crude futures remain on the backfoot, albeit off lows, as the complex tracks broader market sentiment, as participants regain focus on rising COVID-19 infection rates which prompted the re-imposition of lockdown measures in some cities, whilst others see their gradual easing plans hindered. Furthermore, the European Commission cutting the EZ and EU growth forecasts added to the bearish factors. WTI Aug resides just above the USD 40/bbl (vs. high 40.79/bbl) having tested the level earlier in the session, whilst Brent Sep relinquished its USD 43/bbl (vs. high 43.19/bbl) handle before finding mild support at the psychological 42.50/bbl. Looking ahead, in the absence of virus/China related headlines, participants will be eyeing the release of the EIA Short-Term Energy Outlook for any potential revisions to global oil demand given the resurging COVID-19 cases, thereafter, focus will turn to the Private Inventory numbers for short-term volatility. Elsewhere, spot gold has fallen victim to the rising Buck as the yellow metal slid from near-8yr highs of around USD 1787/oz to find some solace around the psychological USD 1775/oz. In terms of base metals, Shanghai copper hit a 2020 high amid supply woes coupled with hopes of a rebounding Chinese economy. Similarly, Dalian iron ore was underpinned by China optimism alongside doubts over the prospected of a recovery in Brazilian iron shipments.
US Event Calendar
10am: JOLTS Job Openings, est. 4,500, prior 5,046
9am: Fed's Bostic Takes Part in Webinar on Economy
1pm: Fed's Quarles Makes Financial Stability Board Remarks
2pm: Fed's Daly and Barkin Takes Part in NABE Talk on Economy
DB's Jim Reid concludes the overnight wrap
It was Sports Day yesterday at school and like all major sporting events at the moment it was behind closed doors. Maisie told us she won a race but wasn't particularly specific as to which one. I'm hoping it was the straight sprint but it could obviously be the egg and spoon, beanbag, or wheelbarrow races. In practice over the last month she hasn't come first in any of the races so I'm proud she's a big match performer. No point wasting energy when it doesn't matter. Hopefully lots of ice cream wasn't on the banned substance list or the medal may eventually be stripped.
The main story in markets yesterday was a race towards a new record for the NASDAQ and a fifth successive rise for the S&P 500 for the first time since December. By the end of the session, the S&P was up +1.59%, with the NASDAQ (+2.21%) closing at an all-time high, something that caught the attention of President Trump, who tweeted about the fact not long after the US session opened. It was one of the quietest days in quite some time for the S&P. After the large overnight move, the index traded within a 27pt range the rest of the day compared to the 55pt average daily range over the last month. In fact, the S&P has only traded within a 27pt range for the entire day 4 other times since it was at all-time highs on February 19. The NASDAQ's new record was assisted by Amazon, which rose by +5.77% to its own record high, with the company's share price climbing above $3,000 for the first time thanks to an incredibly strong +65.44% YTD performance. Meanwhile in Europe, the STOXX 600 was up +1.58% at its highest level in nearly a month. Banks (+3.89%) and Autos (+2.56%) led the index higher, as there continues to be a strong value and cyclical theme to the European equity recovery.
The risk-on move was given some added fuel after the ISM non-manufacturing index from the US came in at a much stronger-than-expected 57.1 (vs. 50.2 consensus), a number that was above every estimate on Bloomberg's survey. And this also comes after last week's manufacturing ISM rose to 52.6. That said, it's worth noting that the employment number was not as strong, at just 43.1 (up from May's 31.8), and already the rise in cases in many US states has led to a reversal in the mobility data, which presents a serious downside risk when it comes to the economic recovery.
The last bit of fuel for yesterday's US move was word out of Washington D.C. that Senate Majority Leader Mitch McConnell foresees Congress passing another round of fiscal stimulus by the end of this month. The Senator had been fairly circumspect on wanting to see whether the economy needed further action before increasing federal spending, but signaled yesterday that it is indeed needed, saying "This is not over. We are seeing a resurgence in a lot of states… I think the country needs one last boost." Senate Republicans have called a $3.5trl Democrat-sponsored bill that passed the House in May a nonstarter and are assembling a package with closer to $1trl in total spending.
Asian markets are trading a bit more mixed this morning with the Nikkei (-0.45%) and Kospi (-0.27%) down while in contrast the Hang Seng (+0.12%), ASX (+0.68%) and Shanghai Comp (+1.32%) are up. The CSI 300 is also up +1.82% so there's been little let up in the rally for Chinese equities and that comes despite China's Securities Times striking a slight more balanced tone overnight by running a story suggesting that investors should be mindful of potential risks and not use the market as a way to make a fortune. Elsewhere, futures on the S&P 500 are down -0.18% and crude oil prices are down c. -0.30%. In terms of data out this morning, Japan's May household spending fell by -16.2% yoy (vs. -11.8% expected), the biggest fall in data going back to 2001. This was even as businesses began to reopen and more people ventured out after a nationwide state of emergency was lifted.
Here in the UK, details of Chancellor Sunak's speech tomorrow are emerging slowly with Bloomberg reporting overnight that he will announce GBP3bn of investments into environmental projects. The treasury has already said that the Chancellor will also announce GBP1.6bn of measures for arts and culture sector as well as spending of c. GBP1bn on tripling the number of traineeships nationwide and doubling the number of work coaches in job centers.
In other overnight news, Hong Kong asserted broad new police powers including warrant-less searches, online surveillance and property seizures under the new security law with City's Chief Executive Carrie Lam saying that "This law will be enforced very stringently and people's concerns will be eased." Lam also reaffirmed that much of the implementation of the law would be managed in secret, saying that a committee created to oversee it wouldn't release details from future meetings.
Moving on. When it comes to the coronavirus, yesterday saw the typical slower Monday rise in new cases across many US states due to weekend effects. However the more concerning news for the country is that more states are seeing effective transmission rates (Rt) above 1.0 than in recent weeks. As of yesterday, rtlive estimated that 41 of the 50 states had an Rt value over 1.0, compared to roughly 30 over the past 2 weeks. There is a large amount of uncertainty however, as only one state has a confidence interval entirely under 1.0 (Connecticut) while just three have intervals entirely over 1.0 (WY, WI, MT), though Florida is very close. Specifically cases in Florida rose by a further 3.2% yesterday, but well under the weekly average of 5.1%. Monday has recently seen the week's lowest daily rise in cases so we would expect to see a sharper rise over the coming days. A similar story emerged in Arizona where new cases rose by 3.4%, below the 4.1% 7 day average. The state also released confirmation that 61% of total cases involve people under 44 years old.
Obviously we need to track the data carefully over the next couple of days as they'll likely be some catch up from the long weekend in the US. For now you can see the latest state of play in our daily case and fatality tables by clicking "view report" at the top. This also shows that India is now the third most infected country, with confirmed cases nearly at 700K.
Another asset class that did well yesterday was commodities, with Brent Crude up +0.70% near a 4-month high, copper rising a further +1.19% to reach a fresh 5-month high, and gold rising +0.49% to close at a 7-year high. Meanwhile in fixed income, there was a continued narrowing in sovereign bond spreads following last week's moves. Indeed, the spread of Greek 10yr yields over bunds was down by -1.2bps to 158bps, its lowest level since worries about the pandemic in Europe began in earnest in late February. Core bond yields edged slightly higher however, with 10yr Treasuries up +0.7bps.
Looking at Europe's data releases yesterday, the main item was the Euro Area retail sales print for May, which surpassed expectations with a +17.8% increase, even if this is still down -5.1% on a year-on-year basis. Over in Germany, factory orders rose by a less-than-expected +10.5% in May (vs. +15.4% expected), with the year-on-year number still down -29.3%. Finally, we got the construction PMIs from Germany and the UK. The German reading only saw a small increase to 41.3, but in the UK there was a big jump to 55.3 (vs. 28.9 in May), its strongest reading since July 2018.
To the day ahead now, and the data highlights include German industrial production and Italian retail sales for May, along with the US JOLTS job openings for the same month. Otherwise, central bank speakers include the Fed's Bostic, Daly and Barkin, along with the BoE's Haldane.