Blast Hits Power Plant In Central Iran Sunday As Mainstream Media Admits 'It's Likely Israel'
Yet another strange and unexplained explosion has rocked central Iran on Sunday, reports state-owned Islamic Republic News Agency (IRNA).
Citing no injuries during the large explosion, it occurred at a power station in the city of Islamabad, which is in the central province of Isfahan.
At this point, the spate of 'mystery' blasts and fires which has damaged key military, nuclear, and industrial sites across Iran – especially in and around Tehran – is approaching a dozen in only the past month.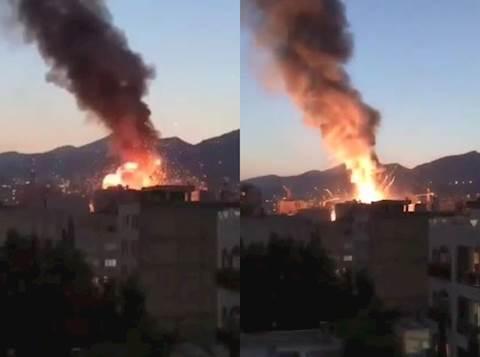 A separate, prior explosion in Iran over the weekend.
Like with many of the prior incidents, many of which were deadly, Iranian officials downplayed that it was potentially Israeli or US-backed sabotage on its facilities, saying it was likely caused by the erosion of a transformer.
Separately on Sunday, cellophane factory in northwest Iran erupted in fire. Video and images showed a huge cloud of smoke billowing from the site through the day as firefighters struggled to put it out.
Wow. The fires won't stop. A major fire erupted today at a paint factory in Tabriz, northwestern Iran, where a majority of the people are Azerbaijani. pic.twitter.com/8VXhh6HFXY

— Mike (@Doranimated) July 19, 2020
Iran's civil defense organization chief, Ghulam Reza Jalali, was cited in state media as saying Iran is not ruling out sabotage on the power plant either by internal opposition groups or externally supported entities.
To review, all of this comes after earlier this month an advanced centrifuge assembly plant at Iran's Natanz nuclear site was destroyed in a mysterious fire which is increasingly being blamed on Israeli or US intelligence:
A former official suggested the blaze could have been an attempt to sabotage work at the plant, which has been involved in activities that breach an international nuclear deal.

On 26 June, an explosion occurred east of Tehran near the Parchin military and weapons development base that the authorities said was caused by a leak in a gas storage facility in an area outside the base.

Other recent incidents reported by Iranian news agencies include a fire at industrial complex where gas condensate storage tanks are sited, one at a petrochemical factory and an explosion in Tehran, the capital, which killed two people.
New images show the scale of the destruction from the explosion at Iran's Natanz nuclear facility on July 2. There may be further damage to the facility's underground elements, which aren't visible from above.

Image: @Maxar pic.twitter.com/ZN7V25nCoE

— Raf Sanchez (@rafsanchez) July 8, 2020
Mainstream media is also increasingly laying blame on an Israeli Mossad sabotage campaign, especially prior to the US presidential election, given concern that if Joe Biden takes the White House, Israel will be pressured to stop such sabotage campaigns possibly leading to war.
"Israel has long targeted nuclear programs in the Middle East in secret, open, and openly secret ways," writes Vox. "Simply put, officials in Jerusalem worry Iran could more credibly threaten Israel's existence if it had a nuclear weapon," the report adds.