Israel & Hezbollah Exchange Fire Across Lebanese Border In Major Clash
Just this past weekend, on Sunday, Israeli Prime Minister Benjamin Netanyahu put Syria and Lebanon on notice, saying that any and all attacks for provocations along the border would result in a military response.
Netanyahu further outlined that the governments would bear responsibility. The remarks made at his weekly cabinet meeting seemed particularly aimed at Hezbollah. He said this was part of Israel's "consistent policy to not allow Iran to entrench militarily on our northern border" — this in reference to Lebanese Hezbollah, which is widely seen as but an arm of the Ayatollah. And on Monday there are already reports of shots fired along the Israeli-Lebanese border, something that's been somewhat rare of late. The AP reports:
Israeli forces on Monday exchanged fire with Hezbollah militants along the volatile Israeli-Lebanese frontier, as Israeli civilians living in the area were ordered to remain indoors amid the heaviest fighting between the bitter enemies in nearly a year.

The fighting occurred in an area known as Chebaa Farms, which was captured by Israel in the 1967 Middle East war and is claimed by Lebanon. Residents of southern Lebanon near the border reported Israeli shelling was continuing for more than an hour.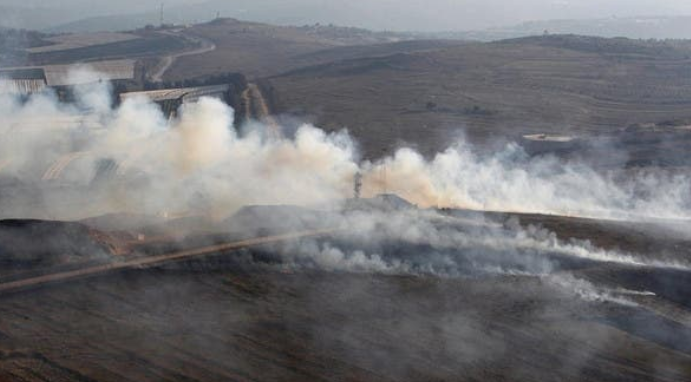 Via Reuters: Smoke rises from shells fired from Israel in Maroun Al-Ras village, near the border with Israel, in southern Lebanon.
The Israeli Defense Forces (IDF) say they've thwarted an "infiltration attempt" on Monday.
Beirut's Al Jazeera correspondent Timour Azhari has confirmed further that "Hezbollah fighters attacked a target in the occupied Shebaa farms area" in south Lebanon.
🇱🇧🇮🇱At the border between Israel and Lebanon, shooting began, and it is also reported about the launch of an ATGM@serious_war_eng pic.twitter.com/SsXKR4dAsY

— Serious War (@serious_war_eng) July 27, 2020
"Israel has responded by firing shells into Lebanese territory and has ordered those living near Lebanese border to stay home," he reports further.
Though in the past there's been some level of "acceptable" tit-for-tat sporadic exchanges of fire along the contested border region, it appears in this instance Tel Aviv is treating it very seriously, perhaps given the ongoing "red line" threats and war posture regarding Iran.
In this case PM Netanyahu called the Lebanon-Israel border clash a "serious security incident."
All of this of course presents the possibility and even likelihood for major escalation in southern Lebanon, also given Israel's increased bombing activity over Syria of late, which has literally become a weekly occurrence. Netanyahu has said it will hold Beirut and Damascus responsible for any offensive action by militants along the border.