Ballot fraud sting operation playing out in the USA?
In the case of Youtube censorship:
[extract]
"This is really a sting operation. Contrary to what everybody else said, Trump knew this was happening. Eric knew this was happening and warned the public. I knew this was happening however, I could not say anything about it. What happened was we marked—watermarked—every ballot with what's called the QFS block chain encryption code. In other words we know pretty well where every ballot is, where it went, and who has it.
So this is not a stolen election—on the contrary—we reversed the entire game of war, along the lines of sun tzu and the art of war.
And Trump was brilliant, and still is brilliant at it. The reason he hasn't been seen, and Alex correctly said "Oh I haven't seen him in several days" well in the art of the war, you pull back; allow your enemy to make all the mistakes that they are making; manipulate the situation; expose them; and then come in for the final killing.
And that's what's happening now. None of this was unexpected. All of this was expected. All of this is part of the sting operation we're running."
[end]
… and from infowars.com by Kelen McBreen
Infowars guest and intelligence expert Steve Pieczenik broke bombshell news during Thursday's broadcast of War Room with Owen Shroyer.
According to Pieczenik, President Trump assumed Democrat tomfoolery would be needed to prevent him from securing a second term via the 2020 election.
In order to ensure the election remained fair, POTUS devised an advanced trap.
Hidden, trackable watermarks were allegedly put onto ballots so they could be verified if necessary.
"This is really a sting operation, contrary to what everyone else said," Pieczenik explained. "We watermarked every ballot with QFS blockchain encryption code. In other words, we know pretty well where every ballot is, where it went and who has it, so this is not a stolen election."
Steve also said President Trump has been out of the spotlight of the media over the past few days in order to let the Deep State dig its own grave, politically.
Upon investigating QFS blockchain technology, Infowars found an application for a patent filed by the United States Postal Service on February 7, 2020 which involved blockchain tracking tech embedded into mail-in ballots.
The patent describes, "A voting system that can use the security of blockchain and the mail to provide a reliable voting system. A registered voter receives a computer readable code in the mail and confirms identity and confirms correct ballot information in an election. The system separates voter identification and votes to ensure vote anonymity, and stores votes on a distributed ledger in a blockchain."
The patent application includes illustrations showing exactly how blockchain technology would keep votes secure and traceable.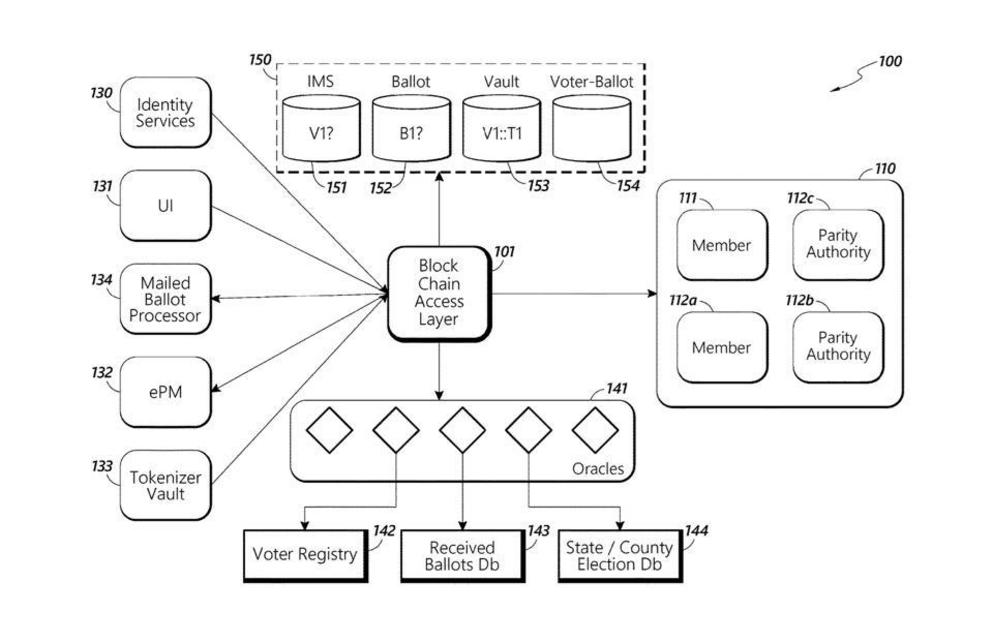 "Voters generally wish to be able to vote for elected officials or on other issues in a manner that is convenient and secure," the patent states. "Further, those holding elections wish to be able to ensure that election results have not been tampered with and that the results actually correspond to the votes that were cast. In some embodiments, a blockchain allows the tracking of the various types of necessary data in a way that is secure and allows others to easily confirm that data has not been altered".
Providing further credit to allegations of sophisticated ballot tracking technology is a page on America's Cybersecurity & Infrastructure Security Agency website that displays a graphic showing watermarks are used on election ballots.
Under the "safeguards" section, the site explains, "Most ballots have proprietary style codes, such as timing marks, code channels, or QR codes. If the codes are not recognized by the voting machines, the ballot is rejected, and an election official manually reviews it."
The agency also confirms, "Some ballots have watermarks indicating that the ballot is authentic. Watermarks are specific to each election and confirm the ballot was printed by an approved printing authority."
Another indication the watermark theory could be true is an Executive Order President Trump signed in 2018 that allowed DHS to work with election officials in all 50 states and over 1,000 local jurisdictions to secure election systems.
In June, POTUS was already wary of a Democrat election-theft scheme, tweeting out in all caps, "RIGGED 2020 ELECTION: MILLIONS OF MAIL-IN BALLOTS WILL BE PRINTED BY FOREIGN COUNTRIES, AND OTHERS. IT WILL BE THE SCANDAL OF OUR TIMES."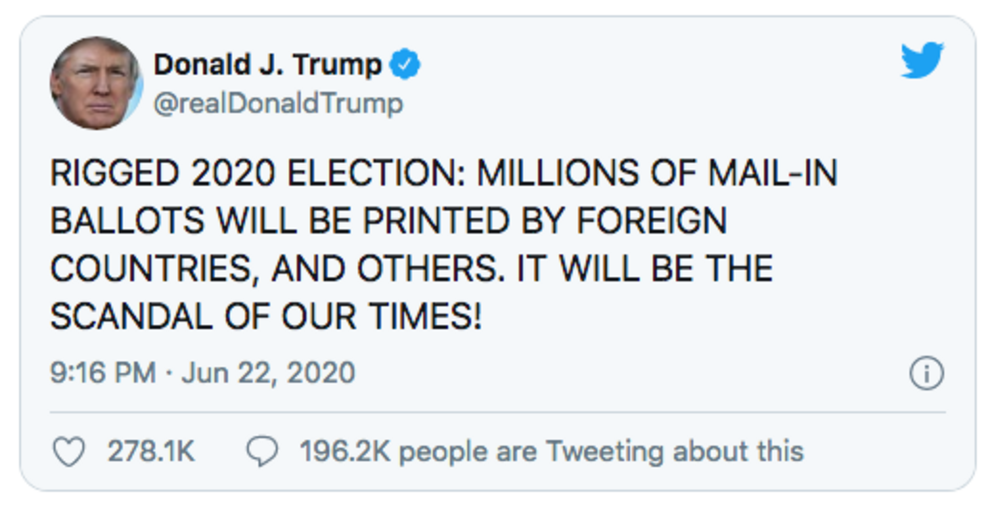 If this plays out the way Pieczenik has described, the nation could be in store for the most illuminating revelation of corruption in its history.
References