Tesla Cuts Prices In China, Reports Global Deliveries Of 499,550 Vehicles For 2020
Tesla reported that it fell slightly short of its annual vehicle delivery expectations for the year on Saturday, while beating expectations for Q4. The company is also reportedly cutting prices in China heading into 2021.
The company said it delivered 180,570 EVs in the fourth quarter, which beat its previous record and Wall Street's expectations for the quarter, which averaged 174,000. It produced 170,757 vehicles during the same period.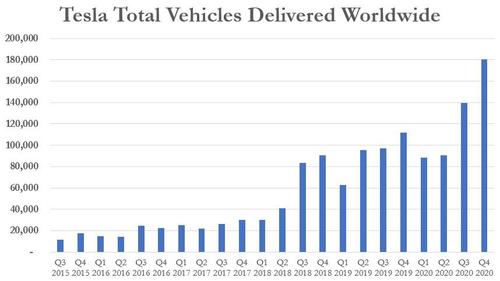 But for the year, Tesla fell slightly short of the 500,000 vehicle guidance it issued at the beginning of the year and confirmed during the summer. The company's deliveries came in at 499,550 – but despite the company's vehicle totals falling slightly short of expectations, Tesla stock is still up about 700% over the last 12 months.
"…We only count a car as delivered if it is transferred to the customer and all paperwork is correct," the company's press release said. Here is how the numbers shaped up for 2020:
The increase in deliveries was clearly driven by the Model 3, while Model S and Model X deliveries remained relatively stagnant: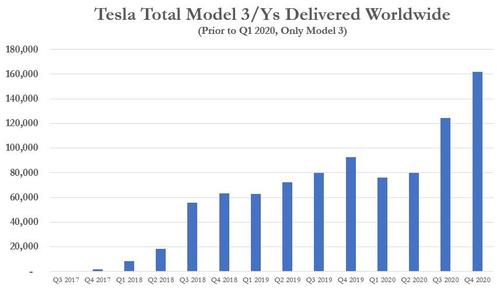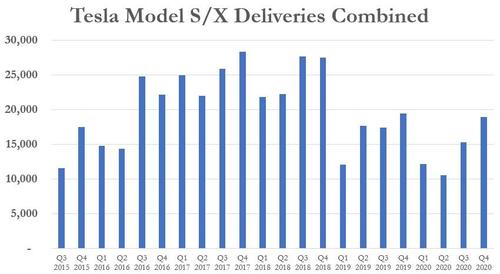 Some on social media were "less than impressed" with the numbers:
$TSLA misses 2020 delivery guidance given in January and reiterated in July.

Since this guidance, stock price has increased 6X and forward EPS estimates from analysts have decreased. pic.twitter.com/hsBlj0mBBV

— Stultus (@StultusVox) January 2, 2021
The Saturday release is the tell https://t.co/ZbHqtp7naj

— TC (@TESLAcharts) January 2, 2021
*their promises*
500,000 in 2018 & 1,000,000 in 2020 (source: $TSLA filings) &
500,000 in 2019 (source: @elonmusk) pic.twitter.com/5eI53fbEaY

— Eike (@TSLA_Q) January 2, 2021
When's the last time a stock +700% on the year didn't absolutely COLLAPSE if it didn't BLOW AWAY full-year guidance? I believe that "last time" was "never."

When the SEC learns who's buying the BIG BLOCKS of call options (not the one-offs) things will get interesting.$TSLA

— Stanphyl Capital (@StanphylCap) January 2, 2021
Too bad you can't gamma squeeze physical vehicle deliveries

— Quoth the Raven (@QTRResearch) January 2, 2021
"Tesla Says 2020 Deliveries Should Comfortably Exceed 500,000"

Is 499,550 comfortably exceeding?

— Stalingrad & Poorski (@Stalingrad_Poor) January 2, 2021
Much of Tesla's production goals were helped along by the company's plant in Shanghai – but it's unclear whether that momentum will continue into the new year, as we have noted that Tesla appears to be falling out of favor with the Chinese state.
And why release the delivery news on a Saturday? As it turns out, the company's delivery news came right around the same time Chinese state media reported that Tesla had announced price cuts for its models in China. "The Tesla Model Y now has a starting price of 339,900 yuan (US$52,262) for its long range sedans, compared with 488,000 yuan previously," Shine reported.
One Chinese Tesla owner commented: "Why are there so many price cuts by Tesla. The price cuts are so deep that they hurt the hearts of owners of Teslas like me."