Geoengineering Watch Global Alert News, January 9, 2021, #283

Dane Wigington
GeoengineeringWatch.org
Just proposed Covid-19 legislation in New York threatens forced detention and forced vaccinations. Will this legislation pass? In the meantime a rapidly growing percentage of health care workers are refusing the "warp speed" CV-19 concoctions. Is the long overdue awakening of populations finally unfolding? The stock market continues to hit record highs in spite of countless business closures. How much can the US dollar be diluted before it completely collapses? While California withers from lack of rain the climate engineers are whipping up yet another Texas snowstorm with moisture from the record warm Gulf of Mexico. How do all the puzzle pieces connect? The latest installment of Global Alert News is below.
https://youtube.com/watch?v=oMF6B5rQcVI
All are needed in the critical battle to wake populations to what is unfolding on numerous fronts, we must make every day count. Share credible data from a credible source, make your voice heard. Awareness raising efforts can be carried out from your own home computer.
DW
This week's GeoengineeringWatch.org outreach booth is at the Del Mar Fairgrounds, Del Mar, California, and is shown below. My most sincere and continuing gratitude to the Gem Faire exhibition organizers for facilitating and setting up this very effective booth in every week's Gem Faire location. The schedule for upcoming Gem Faire events is HERE. A geoengineeringwatch.org booth will be at all events, thanks to the steadfast support of Gem Faire.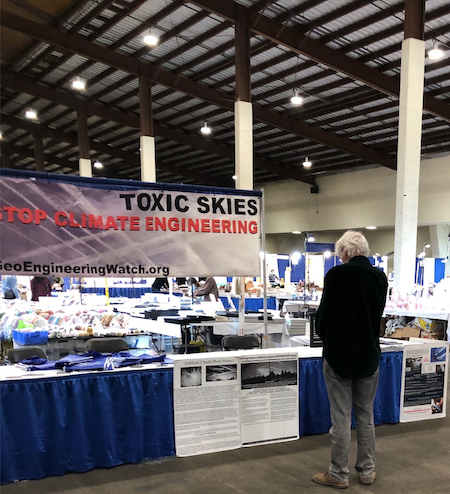 Geoengineering Watch has conducted our first ever high altitude particulate testing. Film footage of the flight and lab testing processes are featured in "The Dimming", a groundbreaking documentary that is currently in production. This documentary film will provide answers and proof of the ongoing climate engineering / weather warfare operations. Below is a new 12+ minute insight segment on the upcoming film.