Dem Senator Manchin Opposes Tanden For OMB Boss Due To "Overly Partisan & Toxic" Past
Did Joe Manchin just confirm his position as 'the most powerful person in congress'?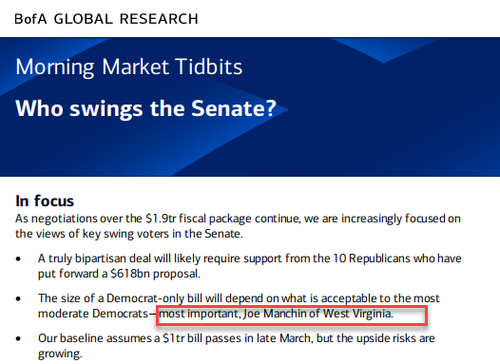 The West Virginia Senator, who has continually touted his work towards bipartisanship on Capitol Hill…
"Now, more than ever, we must enter a new era of bipartisanship in Washington. With tight margins in the House and Senate, Democrats and Republicans are faced with a decision to either work together to put the priorities of our nation before partisan politics or double down on the dysfunctional tribalism."
…may just have cemented his position after saying this afternoon that he would oppose Neera Tanden's nomination to head the White House budget office, potentially sinking her Senate confirmation.
Neera Tanden participates in a panel discussion during the annual Milken Institute Global Conference at The Beverly Hilton Hotel on April 29, 2019 in Beverly Hills, California. (Photo by Michael Kovac/Getty Images)
As a reminder, here is what Glenn Greewald wrote of the Tanden nomination in November:
The announcement that Joe Biden intends to nominate Neera Tanden as his Director of the Office of Management and Budget — a critical position overseeing U.S. economic and regulatory policy — triggered a wide range of mockery, indignation and disgust from both the left and the right. That should not be surprising: though a thoroughly mediocre and ordinary D.C. swamp creature from the perspective of both ideology and competence, Tanden's uniquely unhinged, venomous, corrupt and pathologically dishonest conduct as a Clinton Family and DNC apparatchik and President of the corporatist-and-despot-funded Center for American Progress (CAP) has earned her a list of enemies far longer and more impressive than her accomplishments.

…

When news of her appointment broke, many of the journalists and activists she has spent years abusing, slandering, and lying about instantly stepped forward to compile just some of her worst political and behavioral lowlights. And some preliminary signs emerged that she might encounter difficulty in obtaining the Senate confirmation needed for her to assume this position. The Communications Director for GOP Senator John Cornyn of Texas announced that "Tanden stands zero chance of being confirmed" by the Senate.

Former Sanders campaign aide David Sirota hypothesized that "it is not a coincidence that they are putting Neera Tanden — the single biggest, most aggressive Bernie Sanders critic in the United States of America — specifically at OMB while Sanders is Senate Budget Committee ranking/chair." Sirota's statement suggests Biden's nomination of Tanden was intended as yet more humiliation doled out to the Democratic-loyal Sanders left by cucking the Vermont Senator even further by forcing him to shepherd the confirmation of one of his most vicious and amoral attackers (who Sanders himself in 2019 vehemently denounced). But Sirota's point also raises the prospect that Tanden's nomination could even encounter trouble from that side of the aisle as well (given Sanders' compliant and disciplined conduct over the last six months, it's more likely we will see him roll out a literal red carpet for Tanden to walk on, gently toss red roses on it before she passes, and then serve her a glass of Chardonnay rather than meaningfully obstruct her confirmation).

The list of sociopathic and even monstrous acts from Tanden is too long to list comprehensively. She punched one of her own employees, a reporter for CAP's now-abolished blog ThinkProgress, after he had the temerity to ask Hillary Clinton in 2008 about her support for the Iraq War (Tanden claimed she "merely" had "pushed," not punched, her undeferential reporter). In 2011, as the Obama administration was participating in the NATO bombing of Libya, Tanden suggested in internal CAP discussions that the U.S. steal Libya's oil as a way of reducing the U.S. deficit (a story I was able to report only because Tanden had abused and alienated so many of her employees that they worked together to leak her incriminating emails to me).

During her tenure as CAP's President, Tanden accepted millions of dollars from the regime of the United Arab Emirates, which built Dubai and Abu Dhabi using slave labor, along with massive donations from Facebook, Google, Microsoft, J.P. Morgan, the Walton Family and Michael Bloomberg, while hiding the identity of some of her think tank's largest donors. A huge chapter on the NYPD's abusive policies toward Muslims under Mayor Michael Bloomberg was removed from a CAP report after Boomberg donated more than $1 million to Tanden's organization, and he continued to donate even more after that courteous gesture.

She ordered the supposedly independent journalists of the ThinkProgress blog, including Muslim writers, to stop writing critically about Israel after key CAP donors, including Barney Frank's sister Ann Lewis and long-time Clinton advisor Howard Wolfson, complained. She and Wolfson plotted in 2016 how to weaponize female journalists and people of color against Hillary's critics as well to use their identity to stigmatize and thus stop undesirable coverage from The New York Times. In 2018, she outed a CAP employee at a staff-wide meeting who had filed an anonymous complaint of sexual harassment and retaliation against one of Tanden's male allies. Secure with her UAE-and-corporate-funded large salary, she has long urged cuts to Social Security. The list goes on and on.
Of course, now that her words are coming back to bite her, Tanden has repeatedly apologized for the tweets (1000s of which she deleted), some of which compared Republicans to evil fictional characters, referring to Sen. Susan Collins (R-Maine) as "the worst," said Sen. Tom Cotton (R-Ark.) was "a fraud," proclaimed that "vampires have more heart" than Texas Sen. Ted Cruz (R), and comparing then-Senate Majority Leader Mitch McConnell (R-Ky.) to the villain in the "Harry Potter" series, Voldemort.
.@senrobportman: "Are these media reports that you deleted more than 1,000 tweets in November in advance of you nomination accurate? If so, why?"@neeratanden: "I appreciate people's concerns about my tweets. I've regretted them. I deleted tweets because I regretted my tone…" pic.twitter.com/6hAupsRoaM

— CSPAN (@cspan) February 9, 2021
"I regret that language and take responsibility for it," she said at one of the committee hearings, promising to take a different tone as budget chief.
All of which appears to be the driving force behind Manchin's decision, as The Hill reports the senator citing Tanden's harhs tweet about Republicans as the reason for his opposition:
"I believe her overtly partisan statements will have a toxic and detrimental impact on the important working relationship between members of Congress and the next director of the Office of Management and Budget," Manchin said in a statement.

"For this reason, I cannot support her nomination."
With the Senate divided 50-50, and most Republicans already expected to oppose Tanden over her disgustingly partisan and abusive rhetoric, Manchin's decision means it may be difficult for any GOP senator (cough Mitt Romney cough) to back her now that Biden will need at least one Republican to back her to get her confirmed.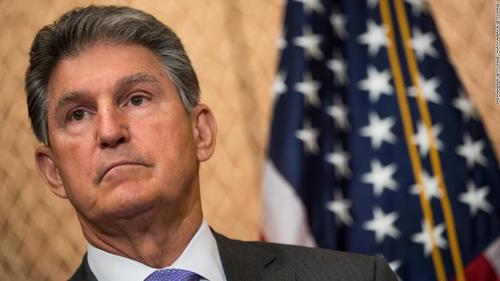 Of course, the knives are out for Manchin already as "pro-reality" twitter-er Jennifer Rubin plays the 'identity card' right out of the gate:
What is wrong with Manchin? A gratuitous, mean spirited and sexist move. Just appalling

— Jennifer 'pro-reality' Rubin (@JRubinBlogger) February 19, 2021
Sexist?