"Eurodollar Whale" Bet On J-Hole Policy-Pivot Builds Ahead Of Payrolls
Last week, we first highlighted an unusually large position being built in Eurodollar Mid-Curve options anticipating a Fed hawkish shift in outlook built around the Jackson Hole event held in late August.
Bloomberg's Edward Bolingbroke was the first to highlight the massive ED trade by an unknown entity, who appears to be betting that the Fed's dovish stance will end with a bang not in June, as many analysts predict, but in August with Powell making the inevitable taper announcement at Jackson Hole, which will lead to a bloodbath across the curve and especially the short-end.
Why Jackson Hole?
Because last year, Powell unveiled a new policy framework for inflation, while in 2012 Ben Bernanke signaled more bond purchases were on the table.
Since we first noted it, there has been a burst in eurodollar options activity involving a position that will benefit from this potential ramp-up in taper rhetoric in August, and Nomura's Charlie McElligott notes that, ahead of tomorrow's much-anticipated payrolls print, there has been a dramatic increase in the 'eurodollar whale' position.
Source: Bloomberg
In Sep21 3-year mid-curves OI rose 80.8k in 98.00 puts after outright buying in 100k at 6.5; open interest in the strike totaling 284.5k appears to reflect customer longs, as there appears to be ~200k in 3EU1 98.00/99.00 risk reversal (buying puts, selling calls)
To get a better handle on the demand for this position, we can look at implied vols for those options…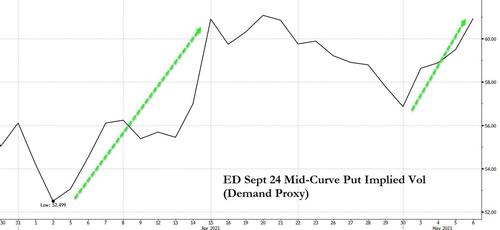 Source: Bloomberg
Eurodollar futures imply around 5 rate-hikes through September 2024 and the 'eurodollar whale' position is betting that The Fed will hike at a faster-than-expected pace (implying 7 rate-hikes)…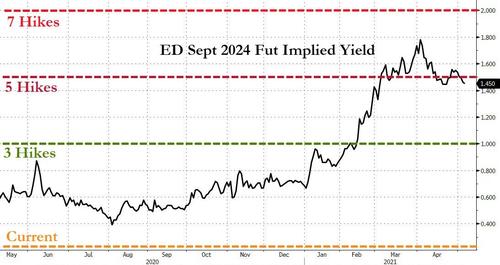 Source: Bloomberg
With Dallas Fed's Kaplan saying that he "wants to see taper talks start sooner rather than later," warning that there are "side effects" from Fed bond-buying and tomorrow's payrolls data anticipated to be over 1 million jobs added, perhaps it's not so far-fetched to see Jackson Hole as the place to begin thinking about thinking about normalization.