WTI Dips After Big Surprise Build In Gasoline Inventory
Amid all the chaos in equity markets, oil managed to bounce back to modest gains on the day with WTI as a weaker dollar offset some concerns of a growing pile up of crude in the U.S. Gulf Coast as refineries there cut runs in response to the Colonial Pipeline shutdown.
Traders are expecting "a gradual resolution to the Colonial Pipeline shutdown," according to Louise Dickson, an analyst at consultant Rystad Energy.

"The market is again looking to Asia, Covid-19 cases, and the next signals for oil demand outlook."
This week's inventory data will not show the impact of the cyberattack on the pipeline.
API
After the previous week's big crude draw, analysts expected another draw and were right but gasoline stocks unexpectedly surged…
Source: Bloomberg
WTI hovered around $65.40 ahead of the API data, and dipped on the big gasoline build (and once again, this is before the Colonial impact)…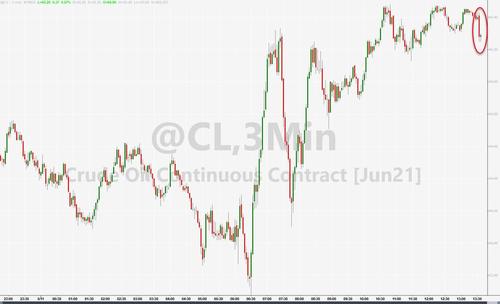 "We are far from out of the out of the woods with the Colonial situation," said Kilduff. "A scare among consumers is increasingly likely, where a run on gas stations may develop more broadly, especially if there is no resolution by the end of the week."