Conservatives Are Leaving The Pro-Israel Plantation
Conservatives and Christians are leaving the Republican Party's pro-Israel plantation and Ben Shapiro is struggling to wrangle them back in.
Matt Walsh: Justifying foreign aid to Israel on the basis that it buys American influence isn't specific enough.

Jeremy Boreing: We should give all our money to foreign countries because spending it domestically is socialism. Time for a commercial break! pic.twitter.com/1NU4WWXcC1

— Nicholas J. Fuentes (@NickJFuentes) May 27, 2021
Nick Fuentes' debate with Robert Barnes is up to around 400,000 views if you combine both uploads on Banned.video.
Both Paul Joseph Watson and Alex Jones leveled strong criticisms of Israel ahead of the debate.
After the debate, 100% of callers sided with Nick and criticized Israel.
A Brookings Institution poll released earlier this week that was conducted before Israel's assault on Gaza found support for Israel among young evangelicals imploded from 75% in 2018 to just 34% in 2021.
What's driving the shift?
Judging by all that was said during the Fuentes-Barnes debate, it appears to be the fact that pro-Israel lobby groups like the Anti-Defamation League and the Southern Poverty Law Center working together with YouTube's Susan Wojcicki and Facebook's Mark Zuckerberg decided to ban everyone on the right for "hate speech" and censor the entire internet.
The most prominent Israel supporters on the right — Donald Trump, Milo Yiannopoulos, Tommy Robinson and Laura Loomer — were all completely banned from social media at the behest of the ADL.
When the latest assault on Gaza broke out, Trump's shilling for Israel consisted of an interview on OANN.
Milo and Loomer's calls for Palestinian genocide were contained on Telegram.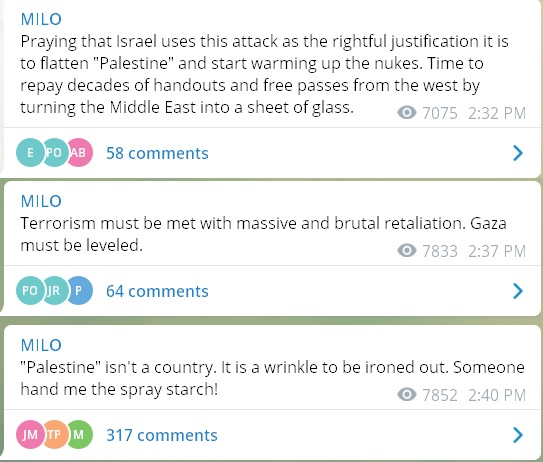 Tommy was also contained on Telegram and his street activism was hilariously denounced by the Board of Deputies of British Jews.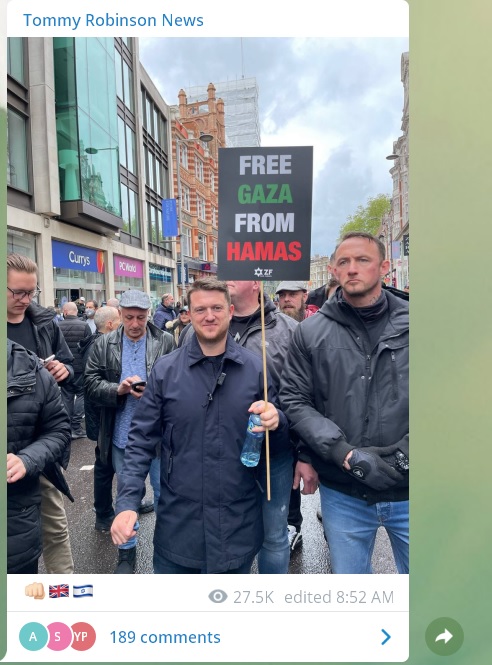 Israel still has the support of nearly our entire Congress but they've been getting a fair amount of pushback from some Democrats and the Squad.
Black Lives Matter also announced their support for the Palestinians.
The coverage on Twitter was completely one-sided in favor of the Palestinians precisely thanks to the purging of Trump and the so-called "far-right" that the ADL demanded.
Tucker Carlson, Fox News' most influential host, didn't weigh in on the conflict likely due to ADL CEO Jonathan Greenblatt lobbying to have him banned from the airwaves.
The problem groups like the ADL are running into is that it's difficult to cancel half (or more) of our entire country.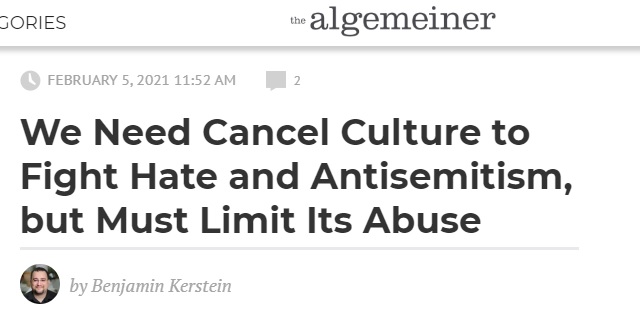 That said, they're still trying.
It's not just Republicans who are leaving the pro-Israel plantation, Democrats are fleeing in droves.
A new poll from the Arab American Institute released Thursday found that "Democrats now view Palestinians more favorably than they do Israelis (51% vs. 46%)."
"When asked if the US 'should always side with Israel' or 'should act as a fair and impartial broker between Israelis and Palestinians,' 55% of US respondents say 'fair and impartial broker' as opposed to only 27% who say we should 'always side with Israel.' Democrats overwhelmingly support the honest broker role 63% to 20%, while Republicans are evenly divided 40% to 40%," AAI reported.
"When asked about the efforts by some Democrats to hold off on $735 million in precision bombs for Israel approved by President Biden this month, we find overall opinion leaning away from Biden, especially among Democrats. Among all respondents, 43% agree with congressional Democrats who want to hold off on the weapons deal, while 32% support Biden's approval of the sale of precision munitions to Israel. Among Democratic respondents, a majority supports congressional efforts to hold up on the sale (52%), while 27% support Biden's approval. Republicans, on the other hand, support the sale by a margin of 42% to 35%."
Americans of all stripes are leaving the pro-Israel plantation and there's nothing Ben Shapiro or Jonathan Greenblatt can do about it!
---
Re-education programs are taking over America.