"Mark It Zero": UBS Triggers Margin Calls For Wealthy Clients By Calling Russian Bond Collateral Worthless
"Mark It Zero": UBS Triggers Margin Calls For Wealthy Clients By Calling Russian Bond Collateral Worthless
It's a bad day for anyone who has levered positions with Russian bonds as collateral, and very bad if your counterparty is UBS: according to Bloomberg, the largest Swiss bank UBS has triggered margin calls on some wealth management clients that use Russian bonds as collateral, after marking down the value of debt issued by the country and its corporations all the way to zero.
What was already a dismal day for Russian bonds, which have seen their prices cut in half overnight…
… became a nightmare for those who used their Russian bonds as collateral with UBS Wealth which is calling on some investors to add either cash or securities to their portfolio after cutting the lending value of some Russian bonds to nothing, Bloomberg reported noting that the bank may liquidate the securities at market value for those clients that can't meet the additional requirements. UBS' domestic peer Pictet is also cutting the values of Russian assets in investors portfolios, the Bloomberg report noted.
In the same day that Russian bonds saw historic losses, Russia's stocks also slumped the most on record, plunging as much as 45% – their biggest every one day drop – losing over $250 billion in value, after a trading suspension ended, while the ruble reached a record low. The moves were part of a global flight to safety as stocks tumbled worldwide and oil soared.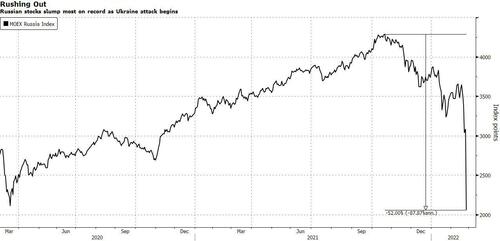 Meanwhile, the cost of insuring Russian debt against default soared to the highest since 2009.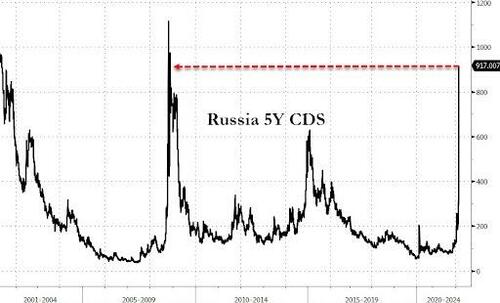 The ruble sank to a record low, before paring losses. The Bank of Russia said it will intervene in the foreign exchange market for the first time in years and take measures to tame volatility.
"The ball is now on the West's side, we have to see how far sanctions go — whether Russia will be kept in the global financial system" said Viktor Szabo, an investor at Aberdeen Asset Management Plc. in London
The Russian central bank made no mention of raising interest rates, but said it will provide additional liquidity to banks by offering 1 trillion rubles ($11.8 billion) in an overnight repo auction. Policy makers have increased the benchmark rate by 525 basis points in the past 12 months to tame inflation.
Tyler Durden
Thu, 02/24/2022 – 14:43