Sacklers Reach $6 Billion Deal Over Purdue Pharma's OxyContin Lawsuits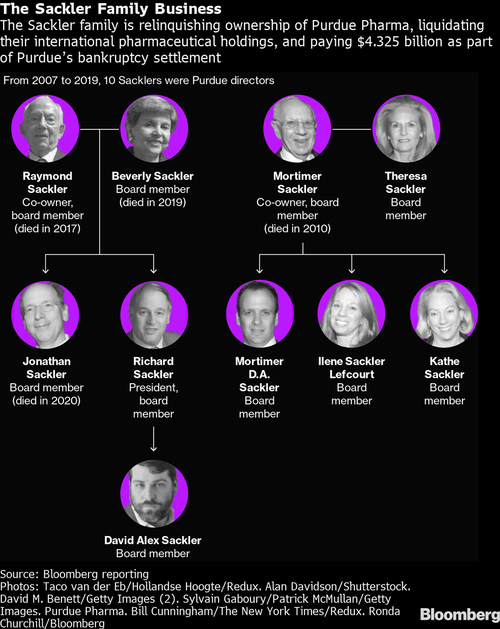 Members of the billionaire Sackler family who control Purdue Pharma LP have agreed to fork over as much as $6 billion in a settlement with state governments for their role in fueling the U.S. opioid epidemic — a massive step in clawing back billions of dollars from the family's fortune to support addiction treatment centers nationwide, according to a court filing on Thursday.
The deal comes after years of litigation over Purdue Pharma's marketing of the OxyContin painkiller that subsequentially sparked the opioid crisis, claiming the lives of more than half a million Americans over the last two decades. 
Attorney generals of eight states and the District of Columbia announced the deal after rejecting a $4.3 billion cash payment from the Sacklers. 
The family demanded that a bankruptcy deal wouldn't be possible unless they were released from all future liability related to Purdue's OxyContin.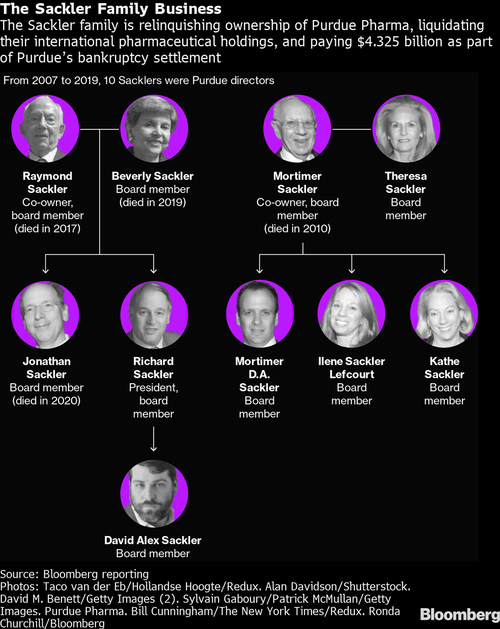 The new deal would restructure the company into a new entity called Knoa Pharma that a public board controls. 
At the very end of the court filing, the Sacklers said they're "pleased to have reached a settlement with additional states." 
They also said, "they sincerely regret that OxyContin … unexpectedly became part of an opioid crisis that has brought grief and loss to far too many families and communities." 
On Twitter, Prescription Addiction Intervention Now (PAIN), a non-profit activist group against the Sackler family, called the family's statement "horrendous."
Wow this statement from the Sacklers is horrendous.

"Unexpectedly"? A reminder that the Sacklers internally referred to high prescribing doctors as "whales" and patented software that tracked every Oxycontin pill that was prescribed around the country. https://t.co/nHoKaf9vSK pic.twitter.com/HDRMTHkuYX

— PAIN (@sacklerpain) March 3, 2022
Connecticut Attorney General William tweeted a statement:
"After years of lies and denial, the Sackler family must now directly apologize for the pain they have caused. They must reckon face-to-face with the survivors of their reckless greed at a public hearing. Museums and universities may now scrub the tarnished Sackler name from their walls—ensuring this family is remembered throughout history for their callous disdain for human suffering and nothing else."
Five months ago, CT rejected a Purdue bankruptcy plan that allowed the Sacklers to buy lifetime legal immunity without so much as an apology.

Today, we have forced Purdue and the Sacklers to pay $6 billion and apologize in dollars, words, and actions. pic.twitter.com/BES6BAXwgJ

— AG William Tong (@AGWilliamTong) March 3, 2022
Judge Robert Drain, handling Purdue's bankruptcy proceedings in White Plains, New York, must approve the deal with a hearing slated for March 9.