Russia Arrests American WNBA Player On Drug Smuggling Charges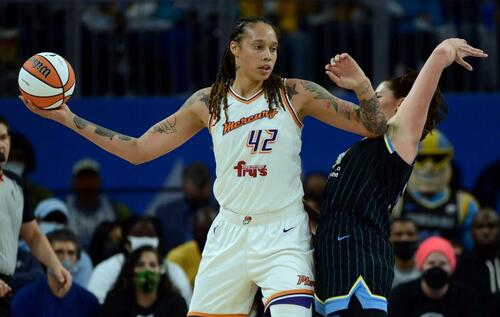 One WNBA player has found herself in an exceedingly difficult legal situation after being arrested in Russia after customs officials reportedly accused her of smuggling drugs after allegedly finding used hash oil cartridges in her luggage. The player, believed to be American WNBA and former Olympic star Brittney Griner, was detained at Sherematyevo International outside Moscow.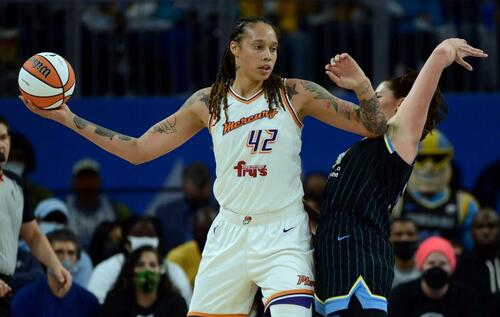 Griner, 31,is an American professional basketball player for the Phoenix Mercury.
She was reportedly detained in late February, meaning she has been in custody likely for at least a few days. Russia's notoriously harsh drug smuggling laws mean she could face up to ten years in prison if convicted, the NYT reports.
Griner has won two gold medals as part of winning women's basketball Olympic teams. She has been playing in Russia for years, along with many other WNBA players, who find that they can make more money playing in Russia during the WNBA off-season, according to the NYT.
She has played for played for the Russian team UMMC Ekaterinburg for several years.
According to a statement from Russia's Customs Service, a criminal case involving the American basketball player "has been opened into the large-scale transportation of drugs."
While the Russian Customs Service said the detained player had won two gold medals, they only hinted at the player's identity. But a spokesperson for Griner has apparently confirmed the arrest, and the league has published a statement saying it would stand by Griner through this difficult process.
The Russian Customs Service released a video of Griner apparently being detained via Telegram.
The video showed a Russian guard removing something from Griners bag. A date in the video showed it was from February, meaning Griner may have been detained in Russia for weeks already.
Praying for Brittney Griner's safety and her rights. An incredibly scary situation.

Heartbreaking BG has been in there almost a month and we're just now really finding out. We need to get her home.

— Taylor Rooks (@TaylorRooks) March 5, 2022
Her agent told the press that her team was aware of the situation and was working to resolve it.
In a statement, Griner's agent, Lindsay Kagawa Colas, said: "We are aware of the situation with Brittney Griner in Russia and are in close contact with her, her legal representation in Russia, her family, her teams, and the WNBA and NBA.

"As this is an ongoing legal matter, we are not able to comment further on the specifics of her case but can confirm that as we work to get her home, her mental and physical health remain our primary concern."

The W.N.B.A. said in a statement that Griner "has the W.N.B.A.'s full support and our main priority is her swift and safe return to the United States."
As the NYT points out, the detainment comes amid the escalating conflict created by Russia's invasion of Ukraine and high tensions between Russia and the United States.
The arrest will likely be the most high-profile detainment of an American in Russia since the arrest of Trevor Reed two and a half years ago. The 30-year old former American Marine has been detained on trumped up charges since his arrest, and has been accused of being a "spy". Reed and another former Marine, Paul Whelan, have spent years in Russian custody now on charges that their families (and American officials) have claimed were fabricated by the Russian government in order to seize them as "bargaining chips."
Well, now Moscow has yet another valuable bargaining chip. And as China has already showed us, sometimes bargaining chips can be extremely useful.