California Woman Arrested for Allegedly Faking Own Abduction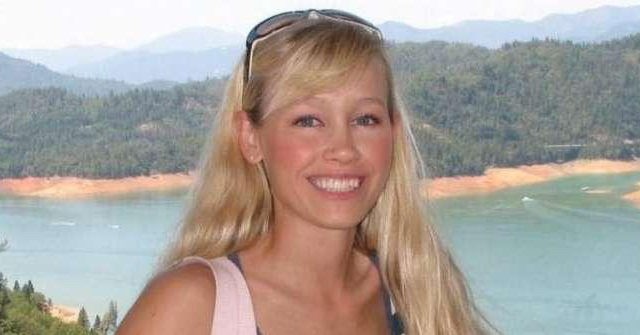 Authorities have arrested a California woman after they say she faked her own abduction in 2016 to run off with her ex-boyfriend. The abduction claims sparked an investigation that spanned years and cost upwards of $150,000.
The accused, Sherri Papini, 39, of Redding, was apprehended Thursday and is charged with making false statements to a federal law enforcement officer and engaging in mail fraud, states a press release from the U.S. Attorney's Office for the Eastern District of California.
Papini was reported missing on November 2, 2016, which ignited a widespread search in California and additional states, a criminal complaint states, according to the release. She was found "standing or running" on Interstate 5 in Yolo County weeks later on November 24 at approximately 4:30 a.m., the criminal complaint says. She was about 146 miles from where she disappeared. Papini "had a chain around her waist that one arm was bound to, with additional bindings around her other wrist and each ankle," according to the complaint. She also had a branding on her right shoulder, had lost considerable weight, and her hair had been cut, the complaint notes.
She was taken to a hospital where authorities gave Papini's husband a tape recorder to conduct an interview with her. She told him she had been abducted at gunpoint by two Hispanic women on November 2 while she was jogging and that they kept her chained in a closet with a bucket of kitty litter to use as a toilet, the complaint says. She noted that one of them told her law enforcement was involved in the abduction and that her "buyer" was a "cop,' according to the complaint.
Papini said she was branded following her first escape attempt adding that when she was branded, her skin made "a sizzling popping sound." She noted the abductors said the buyer wanted her branded as that is what he liked, the complaint stated. However, she contradicted the statement during an interview on either November 28 or 29, 2016, according to prosecutors. Papini "explained that the branding was not punishment trying to escape through the window but for making too much noise," the complaint states.
"The investigation eventually showed, however, that this was a false narrative Papini fabricated," the Justice Department said in its release. "In truth, Papini had been voluntarily staying with a former boyfriend in Costa Mesa and had harmed herself to support her false statements."
In 2020, DNA from Papini's sweatpants and underwear produced a familial match, which led investigators to the ex-boyfriend. He told investigators that they used pre-paid phones to communicate and record show they had been talking since at least December of 2015, according to the complaint:
Historical cell site analysis and toll records of the prepaid phones indicated that Ex-Boyfriend traveled to Redding on or about the date of PAPINI's disappearance, PAPINI and Ex-Boyfriend exchanged text messages the morning PAPINI disappeared, they met together around the location where PAPINI was last seen, and PAPINI and Ex Boyfriend traveled to Southern California together.
The ex-boyfriend's cousin told investigators that he twice saw Papini at the ex-boyfriend's apartment and that she was not restrained either time.
In August of 2020, federal agents interviewed Papini and warned her that lying to federal agents is a crime, the release states.
"She was presented with evidence that showed she had not been abducted," the release reads. "Instead of retracting her kidnapping story, Papini continued to make false statements about her purported abductors." Additionally, she received payments from the California Victim's Compensation Board between 2017-2021 that totaled more than $30,000, prosecutors say.
In a statement, Shasta County Sheriff Michael Johnson said the investigation "cost public safety (conservatively) in excess of $150,000 dollars in resources."
If convicted of mail fraud, Papini could face up to 20 years in federal prison and a fine up to $250,000, and if convicted of lying to a federal law enforcement officer, she could receive up to five years in prison and a fine of up to $250,000.
U.S. Attorney Phillip A. Talbert issued a statement on the arrest:
When a young mother went missing in broad daylight, a community was filled with fear and concern. Shasta County Sheriff's Office immediately began investigating, calling on the assistance of the FBI. Countless hours were spent following leads, all in an effort to bring this woman back to her family. Three weeks later, she was found 146 miles south of where she disappeared, and the focus went from trying to find her to trying to find her abductors. Ultimately, the investigation revealed that there was no kidnapping and that time and resources that could have been used to investigate actual crime, protect the community, and provide resources to victims were wasted based on the defendant's conduct.
Johnson thanked federal agents for their assistance in the investigation.
"The Shasta County Sheriff's Office is very thankful for the partnerships with all of the local, state, and federal allied agencies that have been involved with this investigation for the last five-plus years," he said.