Crude Set To Extend Record Surge After Blinken Says US In "Active Discussion" On Banning Russian Oil Imports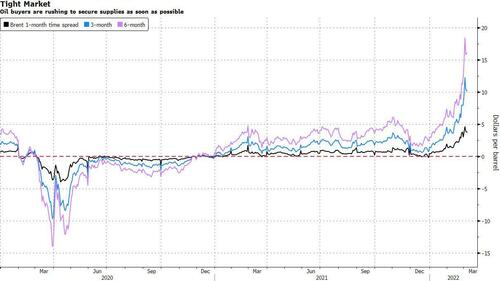 In what could be either a major "shot across the bow" development, or just more verbal attempts at allaying domestic pressure and 'outrage' from the press pool, the White House now says it's actively considering the banning of Russian oil imports.
Secretary of State Antony Blinken told NBC's Meet the Press and other Sunday talk shows that the administration is currently in "active discussion" over whether or not to ban Russian oil imports.
Secretary of State Antony Blinken says the U.S. is "looking" at banning Russian oil and gas, but says the U.S. is unlikely to do so without permission from European countries pic.twitter.com/sRGParN5nD

— RNC Research (@RNCResearch) March 6, 2022
"When it comes to oil, Russian oil, I was on the phone yesterday with president and other members of the Cabinet on exactly the subject. And we are now talking to our European partners and allies to look in a coordinated way at the prospect of banning the import of Russian oil, while making sure that there is still an appropriate supply of oil on world markets," Blinken told CNN's "State of the Union."
"That's a very active discussion as we speak," he added. Of course, blowback on Europe as well as Americans at the pump is the central question. 
That said, Jen Psaki on Friday seemed to distance the Biden White House from the prospect, asserting, "We don't have a strategic interest in reducing the global supply of energy and that would raise prices at the gas pump for the American people around the world because it would reduce the supply available."
During that same CNN interview on Sunday, Blinken appeared to link further punitive actions the US could take with allegations of Russian war crimes in Ukraine.
As war intensifies in Ukraine, there are 3 clear things being discussed by US right now, per Blinken and others:
1) ban on Russian oil
2) backfilling Poland with US fighter jets so it can send Soviet-era planes to Ukraine
3) Evidence collection for a declaration of war crimes

— Kevin Liptak (@Kevinliptakcnn) March 6, 2022
"We've seen very credible reports of deliberate attacks on civilians, which would constitute a war crime. We've seen very credible reports about the use of certain weapons," he said.
"And what we're doing right now is documenting all this, putting it all together, looking at it and making sure that as people and the appropriate organizations and institutions investigate whether war crimes have been or are being committed, that we can support whatever they're doing. So right now, we're looking at these reports. They're very credible and we're documents everything," the secretary added.
But the likelihood is that these measures, even the 'nuclear option' of going directly after Russia's oil, will do little to dissuade the Kremlin from its military onslaught in Ukraine. Instead an economic war targeting energy will only likely continue to hurt ordinary people – in Russia, Europe, and even in the US…
So PayPal has stopped working in Russia today and Twitch will no longer pay Russian streamers. Thank you very much for cutting my only source of income. I am sure this will solve all of the world's problems.

— Lina 💙💛 (@Commander_Ivy) March 5, 2022
For those wondering what a full-blown US ban on Russian imports would do to oil prices, Vitol Group, the world's biggest independent crude trader, said the oil market could tighten further with disruptions to Russian flows and as producers such as Libya experience supply problems.
Oil futures in New York rose by more than $24 last week, the highest weekly dollar increase on record. Brent traded in its biggest range since the launch of the futures contract in 1988 — eclipsing the wild swings in the financial crisis of 2008 and when demand plunged in the coronavirus pandemic. Prices could push higher still after exceeding $118 a barrel on Friday.
"I don't think we've priced everything in yet," Mike Muller, Vitol's head of Asia, said Sunday on a podcast produced by Dubai-based consultant and publisher Gulf Intelligence. "We have plenty of twists and turns to come."
As we reported last week, JPMorgan said global benchmark Brent crude could end the year at $185 a barrel if Russian supply continues to be disrupted, and some hedge funds are eyeing $200. Goldman Sachs Group Inc. said that without Russian barrels on the market, oil could reach $150 in the next three months.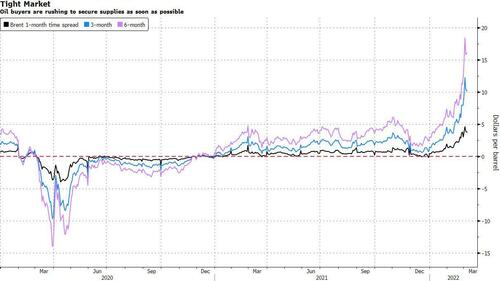 For another glimpse into the coming Russian oil-free dystopia, read Friday's FT interview of Pioneer Resources CEO Scott Sheffield, who said oil would "easily" go to $150-$200 a barrel if the Western world bans Russian oil and gas.
"The only way to stop Putin is to ban oil and gas exports," the CEO of the largest US shale company told the Financial Times in an interview on Friday. "[But] if the western world announced that we're going to ban Russian oil and gas, oil is going to go to $200 a barrel, probably — $150 to $200 easy." This confirms what we said yesterday in "Two Oil Price Scenarios: One Bad, And One Catastrophic."
Sheffield also said that the US would be unable to replace crude supplies from Russia this year, even as he backed calls for a global embargo on its energy exports.
"I'm talking about a two- to three-year plan. Because US shale, even if somebody adds a [drilling] rig . . . it takes six to eight months to get first production. There's labor shortages, there's frack fleet shortages, there's rig shortages, there's sand shortages."
Russia exported about 5mn barrels a day of crude oil before it invaded Ukraine last month. While China might still absorb some of that volume in the case of a western embargo, there would still be a significant supply shortfall.
"We need to add probably two, two and a half million barrels a day," Sheffield said. But he warned that an accelerated drilling campaign would require investors' blessing. "We'd have to go to our shareholder base and ask what their thoughts are," he said, hinting strongly that it is Biden's own "green deal" lunacy that is the reason why the US lost its hard won energy independence that was perhaps the high point of the Trump administration.
Adding insult to injury, Libya's oil production has dropped as a political crisis derails the OPEC member's industry. Output in the country, which has Africa's biggest crude reserves, fell to 920,000 barrels per day, Oil Minister Mohamed Oun said in a response to a query from Bloomberg News. It stood at roughly 1.2 million barrels on Wednesday.
Markets are also closely watching negotiations between Iran and the International Atomic Energy Agency, which took a tentative step forward over the weekend. While that could eventually pave the way for the return of the country's oil to global markets by the third quarter this year, a final deal has yet to be secured.
Meanwhile, the OPEC+ cartel has so far resisted calls from importers including the U.S. for faster production increases. The 23-nation group, led by Saudi Arabia and Russia, is raising output only gradually after historic cuts at the start of the pandemic. That could change if prices continue climbing, according to Vitol.
"At some price they will say: 'OK, I think our Covid response from 2020 is history now and let's get to focusing on the fundamentals of today's market,'" Vitol's Muller said.
Of course, if oil does hit $200, we are looking at a global depression, similar to the global financial crisis of 2008 when oil hit $140 just before it crashed to $30 as the inflationary tsunami became a deflationary shockwave almost overnight.