Futures Bounce Hard After Russia Offers Conditions To Immediately End Military Operation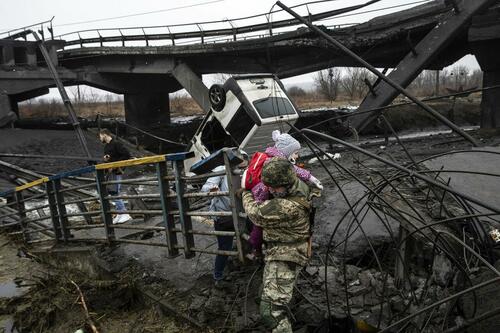 Belarusian state TV has said the Russian delegation has arrived at the location where on Monday at about 14:00GMT/09:00EST the third round of talks with the Ukrainian side are set to begin. So far the ongoing talks have been focused on establishing and maintaining humanitarian corridors for the safe evacuation of civilians still trapped in cities under siege by Russian forces. But these have been erected and collapsed in various locations with limited effectiveness, given Kiev has accused Russia of breaking the temporary ceasefire pauses through the resumption of shelling, something which Russia's military has rejected.
Just ahead of the meeting, the Kremlin issued a list of demands to be accomplished if Ukraine wants the Russian invasion to be halted immediately. These includes, according to the Kremlin spokesman, the recognition of Crimea as part of sovereign Russian territory, as well as Donetsk and Lugansk as independent states.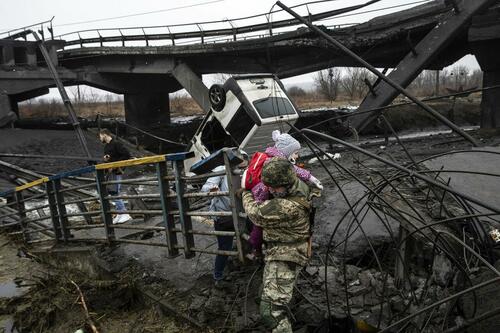 The spokesman said that if these conditions are met, then Russian military action will "stop in a moment". And crucially the statement said Ukraine must amend its constitution to definitively reject any claims or aspirations to enter any bloc – which is a condition obviously focused on the NATO military alliance. 
Also on Monday, Russia's defense ministry declared four new humanitarian ceasefires locally in Ukraine in order to facilitate a civilian evacuation window…
"The Russian Armed Forces announce a ceasefire from 10 o'clock in the morning and are opening humanitarian corridors from Kiev, Kharkov, Sumy and Mariupol, Russia's Inter-Agency Humanitarian Response Coordination Center reported on Monday," it announced according to TASS.
After trading near session lows at the start of the US session amid a sea of red that sent many European bourses into a red market, futures bounced hard after Russia floated the above-listed conditions to "immediately" end the war in Ukraine.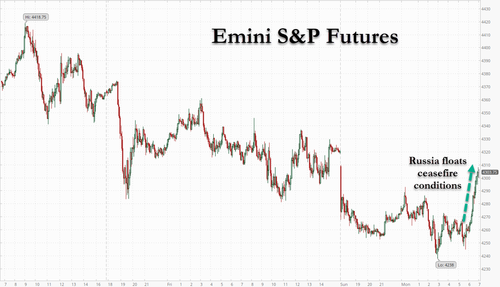 The MoD statement said further, "Considering the catastrophic humanitarian situation and its dramatic deterioration in the cities of Kiev, Kharkov, Sumy and Mariupol, and also at the personal request by President of the French Republic Emmanuel Macron to President of the Russian Federation Vladimir Vladimirovich Putin, the Armed Forces of Russia announce a ceasefire from 10:00 on March 7, 2022 for humane purposes and are opening humanitarian corridors."
However, President Volodymyr Zelensky has issued fresh rejections that Russia honored its limited cease-fire agreements. "We will punish everyone who committed atrocities in this war," he said Monday. "There will be no quiet place on this earth for you. Except for the grave."
developing…