WATCH: UFC Star Says He Won't Fight 'These Wars For These Politicians'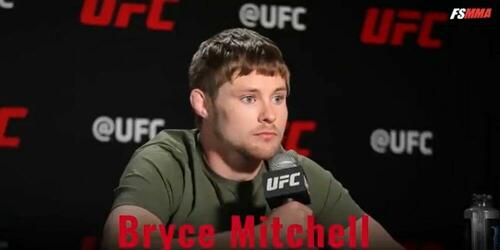 Authored by Angelo Isidorou via The Post Millennial,
Ahead of UFC 272 in Las Vegas, fighter Bryce Mitchell was asked his thoughts on the ongoing conflict in Ukraine. "Here's my first thought is I'm not going nowhere to fight none of these wars for these politicians," he replied.
"I'm staying at home and when the war comes to Arkansas, I will dig my boots in the ground and I will die for everything I love and I will not retreat."
"If this country is invaded and everybody's saying well, 'we got to evacuate. we got to leave,' I will not. I will dig my boots in Arkansas soil and I will fight for the people that I love, for the land that I love and the wildlife that I love, but I'm not going overseas to fight."
Mitchell also commented on how complicated the ongoing issue is and slammed Biden for his dealings in Ukraine. "I don't think nobody knows what's going on fully. There's been so much political corruption in that area. You got Biden and his son making a sh*t ton of money off of and using our tax dollars to bribe their people. That's treasonous in my opinion."
"We got veterans out here sleeping on the street and you're going to give our frickin tax dollars to these Ukrainians. Brother, I don't know what's going on over there but I'm not going over there and fighting and God bless anybody that's over there fighting and I hope that this sh*t just gets solved," he concluded.
*  *  *
Agree or not with his view, that 2-minute clip above is wiser, more thoughtful, more independent-minded, more earnest and evinces more critical thought than 90% of the content about this war that flows forth from media corporations and professional pundits.

— Glenn Greenwald (@ggreenwald) March 6, 2022