Biden Dispatches Team To Maduro's Venezuela, Mulls Easing Trump-Era Sanctions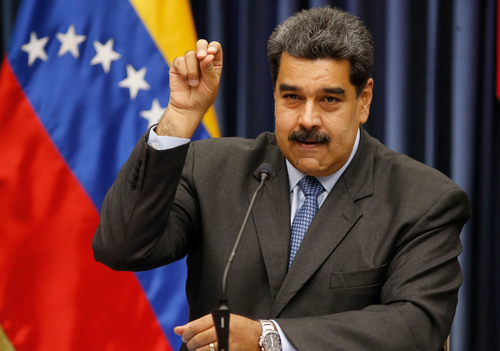 Biden Dispatches Team To Maduro's Venezuela, Mulls Easing Trump-Era Sanctions
In what appears a complete U-turn of Washington policy regarding Venezuela, senior Biden admin officials were dispatched to Caracas this weekend to meeting with the government of Nicolás Maduro.
The unexpected move is being widely reported as part of US efforts to break the large oil producer from "Russia's influence" at a moment the White House and Europe are trying to economically and politically isolate Putin. 
It likely came as a surprise to Maduro himself – given that not only has Washington long recognized opposition leader Juan Guaidó as 'Interim President' of the country, but has multiple times in recent years actually seized fuel shipments bound for Venezuela (from Iran), while also seeking to block Venezuela's crude exports and seize some state assets.
During the last two years of the Trump administration, there was even talk of using the US Navy to impose a full oil embargo against the Latin American socialist country – and prior to that, short-lived attempts to foment local uprising among the military in an aim to overthrow Maduro. 
The trip was made public Sunday via unnamed US administration officials, but wasn't immediately confirmed by the White House. It evoked outrage among Venezuela hawks, most notably Marco Rubio:
News of the trip was first reported by The New York Times. That report prompted Republican Senator Marco Rubio of Florida, the vice chairman of the Senate Intelligence and Foreign Relations Committees and a vocal critic of the Maduro regime, to criticize the trip.

"Joe Biden using #Russia as an excuse to do the deal they always wanted to do anyway with the #MaduroRegime," Rubio tweeted Sunday morning. "Rather than produce more American oil he wants to replace the oil we buy from one murderous dictator with oil from another murderous dictator."
Adding to the unusual nature of the visit, the United States still doesn't so much as have formal diplomatic relations with Caracas, given Washington broke them off in 2019 over accusations of Maduro's 'fraudulent' reelection. 
On Monday, The NY Times and CNN began reporting that President Biden is mulling the easing of Trump-era sanctions on Venezuela…
Biden has in recent months tasked his admin with coming up with ways to drastically reduce the world's dependence on Russian oil and gas, which has become especially urgent since Russia's invasion. Easing sanctions on Venezuela is just one of the ideas they are exploring.

— Natasha Bertrand (@NatashaBertrand) March 7, 2022
Conservative pundits are asking: Is this a "deal with a different devil?" 
Deal with a Different Devil? Oil Markets Are Sending U.S. Leaders to Maduro – @carinehajjar2 explains how, not content to court Iran with Russia's help, Biden is courting evil Venezuelan regime with Russia as pretext … https://t.co/kjJtcqDLfJ

— Andy McCarthy (@AndrewCMcCarthy) March 7, 2022
Looming in the backdrop too is the Biden White House's scramble to come up with alternative energy supplies to Europe given the rapidly unfolding Russian war in Ukraine.
The administration also appears keen to cinch up the Iran nuclear deal, given opening up Iranian oil would provide possible quick relief amid alarmingly ratcheted oil prices.
Tyler Durden
Mon, 03/07/2022 – 13:20
Read further at ZeroHedge