Ukraine Says "No Significant Results" In 3rd Round Of Truce Talks; UN Reports Over 400 Civilians Killed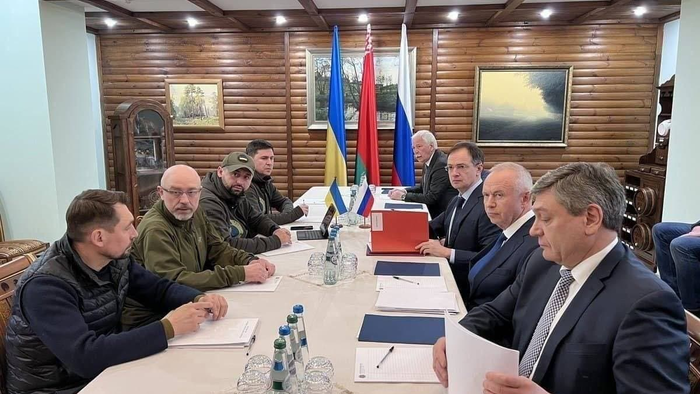 Update(1335ET): As expected given the fiercely accusatory words from the Ukrainian side going into Monday's third round of talks with Russia, Kiev has said that "no significant" results have come out of the ceasefire meeting. Top Ukrainian negotiator Mykhaylo Podolyak has still held out the likelihood for more negotiations to came, as he announced the two sides "will continue intensive consultations" toward a possible truce. 
After Kiev previously blasted Russia's latest announcements of four new humanitarian evacuation corridors, Podolyak said upon the close of Monday's meeting that, "There are small positive subductions in improving the logistics of humanitarian corridors," according to Bloomberg. However, the Ukrainian negotiating team said that this point it's still "too early to speak of anything positive." 
There continues to be intense fighting in the south, as well as in the suburbs of Kiev – where civilians are reported to be trapped – as well as in the city of Mykolaiv, which lies some 250 miles south of Kiev.
Aftermath of #Russian bombardment in Mykolaiv. #Ukraine's Interior Ministry said Russian forces used Smerch rockets to bomb the city. pic.twitter.com/HnigVczxWT

— Michael A. Horowitz (@michaelh992) March 7, 2022
On Monday the United Nations said that at least 400 civilians have been killed since the start of the Russian invasion:
More than 400 people have died and over 800 others have been injured since Russia launched its attack on Ukraine on Feb. 24, according to the Office of the United Nations High Commissioner for Human Rights.

Officials said 93 people have been killed in the Donetsk and Luhansk regions, including on territory controlled by separatists. In addition, 313 people have been killed in other parts of Ukraine, according to the United Nations.
Some further recent headlines:
RUSSIAN NEGOTIATOR SLUTSKY SAYS FOURTH ROUND OF TALKS TO TAKE PLACE SOON IN BELARUS – TASS
U.S. SENDING ABOUT 500 MORE MILITARY PERSONNEL TO EUROPE
U.S. WILL HAVE ABOUT 100,000 U.S. MILITARY PERSONNEL IN EUROPE
* * *
With the third round of Russia-Ukraine talks now in progress Monday morning, things already look like they're off to a bad start, given President President Volodymyr Zelensky's office has ripped the Kremlin's latest announcement of new humanitarian corridors as an "immoral" stunt. 
Earlier in the day Russia said it had established four new temporary ceasefires to allow Ukrainian civilians to exit cities under siege. These were named as Kiev, Kharkov, Sumy and Mariupol – and interestingly cited the specific request of French President Emmanuel Macron communicated to Vladimir Putin. 
Negotiations with the Russian Federation. Third round. Beginning at 16.00 Kyiv time. Delegation unchanged… pic.twitter.com/ycfT9LT0tc

— Михайло Подоляк (@Podolyak_M) March 7, 2022
Kiev had accused Russian forces of prematurely violating some initial Saturday ceasefires and evacuation corridors by resuming shelling. Mariupol, for example, has been scene of heavy fighting and at the same time some 200,000 civilians are believed still in the city.
According to Reuters on Monday:
A spokesperson for Ukrainian President Volodymyr Zelenskiy called the move "completely immoral" saying Russia was trying to "use people's suffering to create a television picture."

"They are citizens of Ukraine, they should have the right to evacuate to the territory of Ukraine," the spokesperson told Reuters.
Some Ukrainian officials have also claimed that national forces have "stalled" the Russian armed forces' advance throughout the country. 
At the same time, the UK has issued fresh statements saying its intelligence shows Russia is still "targeting Ukraine's communications infrastructure in order to reduce Ukrainian citizens' access to reliable news and information."
Picture of the third round of talks between the Russian and Ukrainian delegation pic.twitter.com/cfdwh4FRYt

— Michael A. Horowitz (@michaelh992) March 7, 2022
The UK Defense Ministry said in a statement "Ukrainian internet access is also highly likely being disrupted as a result of collateral damage from Russian strikes on infrastructure," and further that  "Over the past week, internet outages have been reported in Mariupol, Sumy, Kyiv and Kharkiv."
With Ukraine now accusing Moscow have offering 'humanitarian evacuation' corridors in bad faith as a mere PR and propaganda move, it will be interesting to see in Monday talks take up Russia's bigger, pressing conditions. 
Peskov just essentially confirmed this, less the PM part of course (screen via @bazabazon ) pic.twitter.com/v9tO3HvVIb

— Christo Grozev (@christogrozev) March 7, 2022
Kremlin spokesman Peskov laid out the conditions Monday within hours ahead of the talks. He said Kive "should make amendments to their constitution according to which Ukraine would reject any aims to enter any bloc."
"We have also spoken about how they should recognize that Crimea is Russian territory and that they need to recognize that Donetsk and Lugansk are independent states. And that's it. It will stop in a moment," he added.
Meanwhile it what will no doubt complicate Ukraine-Russia efforts to find an off-ramp through negotiations, outside mercenaries continue to join the conflict, after both Kiev and some Western officials offered an invitation…
#US offering intel, weapons, eyes from the sky and mercenaries to #Ukraine.https://t.co/cA1pYdwf9Q

— Elijah J. Magnier 🇪🇺 (@ejmalrai) March 7, 2022