Jeff Gundlach Live Webcast: "Convoy"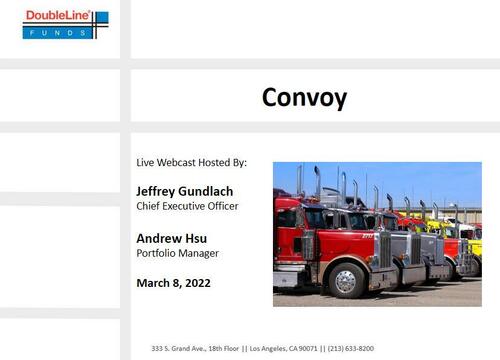 It's time for DoubleLine's CEO Jeff Gundlach to share his market thoughts with everyone as part of his periodic live webcast, titled this time "Convoy" which can be accessed at the following link: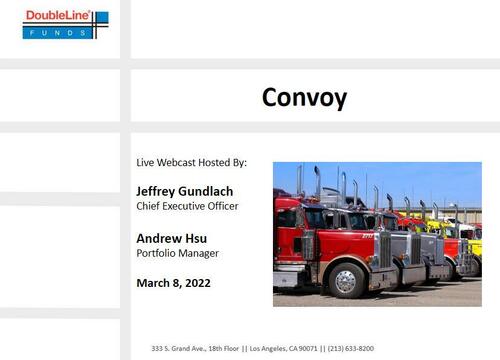 The last time we heard from Gundlach at the start of the year, as part of his "Just Markets" webcast. Back then, he said he was focusing on signals that show the U.S. economy could be weakening. That was a bit of a contrarian call in January – if one we have been pounding the table on – but it's now top of mind for investors who are trying to figure out what Russia's invasion of Ukraine means for global growth.
As Bloomberg reminds us, Gundlach said in his January webcast that he was long-term bearish on the U.S. dollar and bullish on gold. Since the start of the war in Ukraine, both the greenback and gold have rallied in tandem as traders seek havens from risk. It will be interesting to watch whether Gundlach changes his call on the dollar and offers a prediction of where it will be year-end.
Gundlach will also revisit the rebounds in oil and commodities that he discussed back in January. The energy sector has continued to outperform since then, and oil — which Gundlach called the big winner of last year — has only added to gains and has hit record highs.
Gundlach also said in January that the Fed was behind the curve. The central bank is getting set to tighten monetary policy — the FOMC is meeting next week. But since Russia's invasion of Ukraine, traders have been ratcheting down their expectations for how many hikes we're going to see this year.
Why the title "Convoy"? As Gundlach explains, "Convoy" refers in part to the truckers' movement in Canada, which he called "inspiring" (usually Canadians are so "polite" that "it takes a lot to get Canadians going") but also to the relentless movement in the commodity market. Gundlach also said that in recent days we have seen a darker convoy, referring to the line of Russian tanks stuck outside of Kyiv which he calls "Russia's Convoy of Destruction."