Wall Street's Biggest ESG Preacher Suffers Massive Loss On Russian Exposure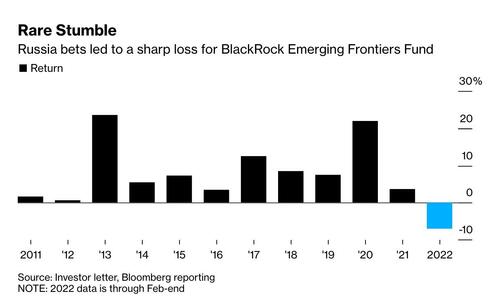 BlackRock founder and CEO Larry Fink has never shied away from an opportunity to burnish his reputation with some ESG virtue-signaling, which is what makes this latest news so much more surprising. As it happens, BlackRock's "Emerging Frontiers" fund has just booked its biggest loss yet after doubling down on Russian assets last month, according to Bloomberg.
That's right, the emerging markets hedge fund run by the world's largest asset manager (and greatest virtue signaler) has taken a shellacking after its bet with Russia, booking a loss equivalent to 10% of its total AUM. After closing its Russian positions last month (and saving itself from yet more losses), the EM Frontiers fund is now down 7% for the year. The fund was managing some $960 million as of the end of January, and had invested 9% of its money in Russian assets at the peak, making Russia its largest national exposure.
*BLACKROCK HEDGE FUND UPPED ITS RUSSIA BET, SUFFERED RECORD LOSS

Wait, the ESG preacher blew up on Russia longs?

— zerohedge (@zerohedge) March 9, 2022
One senior BlackRock exec tasked with managing the fund said he decided to increase the firm's exposure after a team trip to Russia back in January. He cited cheap valuations, a cheap currency and a large current account surplus as reasons for the investment.
Sam Vecht, head of the team that manages the fund, told investors he raised the bet further when the invasion began, one of the people said. The fund currently has zero exposure to Russia, after writing down all its positions, two people said.

A spokesman for the world's largest asset manager declined to comment.

[…]

"We travelled to Russia at the end of January to assess the situation on the ground given our large net long position there," the fund told clients in a letter, sent before the war began. The letter cited Russia's large current account surplus, attractive bond returns, cheap stock valuations and undervalued currency as reasons for the bullish bets.

Despite Russian stocks losing the most for the fund in January, exposures were kept and later raised. "We believe the risk reward of being long Russian equities is favorable relative to the risk we see of conflict," the team said in the letter. The Emerging Frontiers fund has never lost money in a full year since launching in Sept. 2011, according to the letter.
Vecht is a BlackRock veteran, and is the head of the emerging Europe and frontiers team within the fundamental active equity division of BlackRock's Active Equities Group. He manages pools of capital that include long and long-short positions.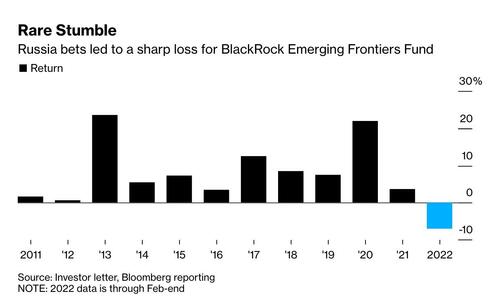 He's not the first on Wall Street to be exposed for buying up Russian assets, although his buys were a little earlier than JP Morgan and Goldman, which bought up foreign currency debt belonging to Russian firms.
Of course, this isn't the first time BlackRock and Fink have shown their true colors. WSJ castigated Fink after the release of his latest letter to BlackRock's shareholders, you remember the one about sharheolder capitalism.
Well, WSJ had a few choice words for Fink:
"Putting your company's purpose at the foundation of your relationships with your stakeholders is critical to your long-term success. . . . Your company's purpose is its north star in this tumultuous environment. . . . It is more important than ever that your company and its management be guided by its purpose." Mr. Fink's four-page letter invokes the word "purpose" eight times.

But whose purpose, exactly? In the same letter, Mr. Fink also calls on CEOs to set "short-, medium-, and long-term targets for greenhouse gas reductions." His demands are explicit: "We ask you to issue reports consistent with the Task Force on Climate-related Financial Disclosures." BlackRock regularly makes demands such as these of its portfolio companies, requiring them to meet the standards of the Sustainability Accounting Standards Board.
Sounds like more self-aggrandizing preaching.