Chinese Tycoon Who Faces $8 Billion In Margin Calls Tells Bank He Wants To Keep Shorting Nickel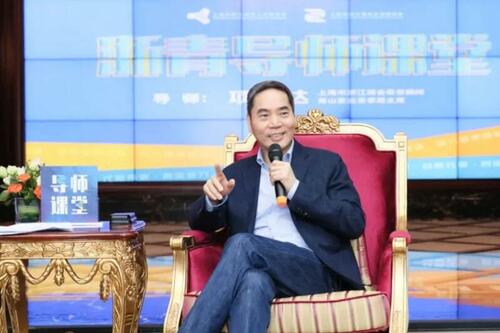 The Chinese tycoon –  Xiang Guangda – whose massive short bet on nickel helped trigger one of the most dramatic price spikes in history when Nickel exploded more than 250% on Tuesday to hit a record high just over $100,000 per ton – and who faces a multi-billion margin call that has required a coordinated bank bailout including the participation of JPMorgan, has told his banks and brokers that he doesn't intend to reduce his position, Bloomberg reported citing people familiar with the matter.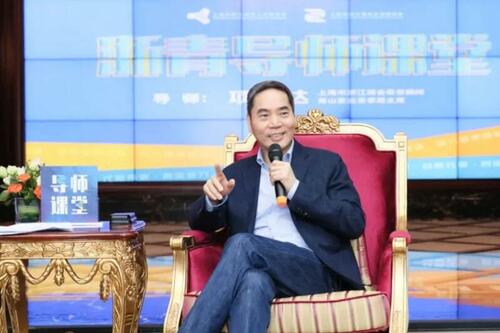 The move, as Bloomberg puts it, "is a characteristic display of self-confidence from Xiang Guangda, the owner of Tsingshan Holding Group Co., and means that the nickel market could be set for more fireworks once it reopens" which however we now learn won't be on Friday as the exchange previously noted.
Plus, the LME nickel market **won't re-open for trading on Friday**. The exchange shut it down on Tuesday morning after nickel prices surged 250% in two days on a massive short-squeeze. Initially, the LME said the market could reopen on Friday at the earliest.

— Javier Blas (@JavierBlas) March 10, 2022
As a reminder, the London Metal Exchange halted trading in nickel on Tuesday morning after prices spiked as much as 250% in two days, driven by brokers rushing to close out short positions after holders of bearish bets including Tsingshan struggled to make margin calls.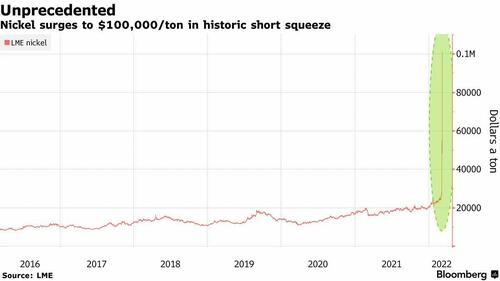 As reported overnight, in order to avoid a default of Xiang Guangda's Tsingshan Holding Group, which is the world's largest producer of the nickel, and which faced a paper loss of at least $8 billion on Monday according to the WSJ, a consortium of banks including JPMorgan would provide Tsingshan with liquidity in the form of credit promises, following a marathon meeting that "ran into the pre-dawn hours of Wednesday morning."
Meanwhile, the LME has said it would start a process to try to close out short positions by matching market participants with long and short positions before the market reopened, to reduce the risk that this week's squeeze is repeated when trading resumes. But Xiang, whose short position through Tsingshan still stood in the region of 150,000 tons, has shown little interest in this overture according to Bloomberg which.
Instead, in recent conversations, Xiang has told the roughly 10 banks and brokers through which Tsingshan holds its nickel position that he still believes prices will fall and that he would like to keep his short position, which likely means that banks that seek to bail him out could be facing even greater losses should Xiang be hit with another margin call in the coming days, one which soaks up any new, incremental liquidity.
That said, the discussions are said to still be ongoing, and it's not clear what stance Tsingshan's banks will take. People familiar with the matter said earlier this week that Xiang was considering what to do with his short position and might be willing to exit it entirely, although having obtained assurances from banks that much needed liquidity will be there, he appears to have changed his mind again.
Taking a page out of the Erdogan playbook, in an interview with Chinese news outlet Yicai, Xiang blamed "foreigners making some moves" for nickel's price spike.
Tsingshan's difficulties in paying its margin calls, and the company's ongoing bailout negotiations, have put its banks and brokers in a bind, as they have had to make hefty margin calls of their own at the LME to cover their short positions on the exchange. As reported earlier this week, on Monday, a unit of China Construction Bank failed to pay a margin call on time, but was given additional time by the Hong Kong-owned LME and made the payment the following morning.
While the latest news from Bloomberg as of Wednesday was that Tsingshan had secured credit promises from banks including JPMorgan and China Construction Bank that could allow it to avoid defaulting on its margin calls, the fact that Xiang plans on holding on to its short may scuttle the deal as "some of the banks" are worried that if the market reopens with Tsingshan's short position still in place, it could see a repeat of the brutal short squeeze earlier this week. But, as Bloomberg concludes, it may be difficult for them to force Xiang's hand: if he were to walk away from Tsingshan's commitments, the banks could lose billions confirming once again that "If you owe the bank $1000, that's your problem. If you owe the bank $8 billion, that's the bank's problem."
And so we wait to see if Tsingshan will soon be the second coming of Melvin Capital which instead of unwinding its catastrophic shorts, decided to press them instead, with even more catastrophic results.
Overnight, unaware of Xiang's stuborness, some Shanghai Futures Exchange nickel contracts dropped by the daily limit Wednesday evening as trading partially resumed on the Chinese bourse, perhaps expecting Tsingshan to cover its short and allow normalcy to return. The SHFE nickel contract for March delivery fell as much as 13.5% to 220,000 yuan ($34,807) a ton, and was trading at 221,000 yuan at 11 a.m. local time on Thursday. Trade in the August contract was halted after it slumped to 211,500 yuan a ton, falling by a 17% daily limit.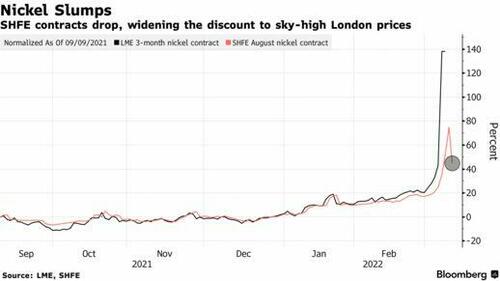 However, now that the fate of the massive short appears to be back in limbo, it is unclear how the SHFE Nickel contract will trade when it reopens tonight.
Incidentally, the above leaves open the question as to the propriety of the HK (and thus China) owned LME exchange giving such preferential terms to a Chinese metal tycoon. In a scathing critique on twitter this morning, AQR Capital's Cliff Asness slammed the LME saying "And the cheaters win. ⁦@LME_news⁩ please note, I'm accusing you of reversing trades to save your favored cronies and robbing your non-crony customers. Everyone who trades should know what you did."
— Clifford Asness (@CliffordAsness) March 10, 2022