Qantas Magnificent 24 Federal Court Action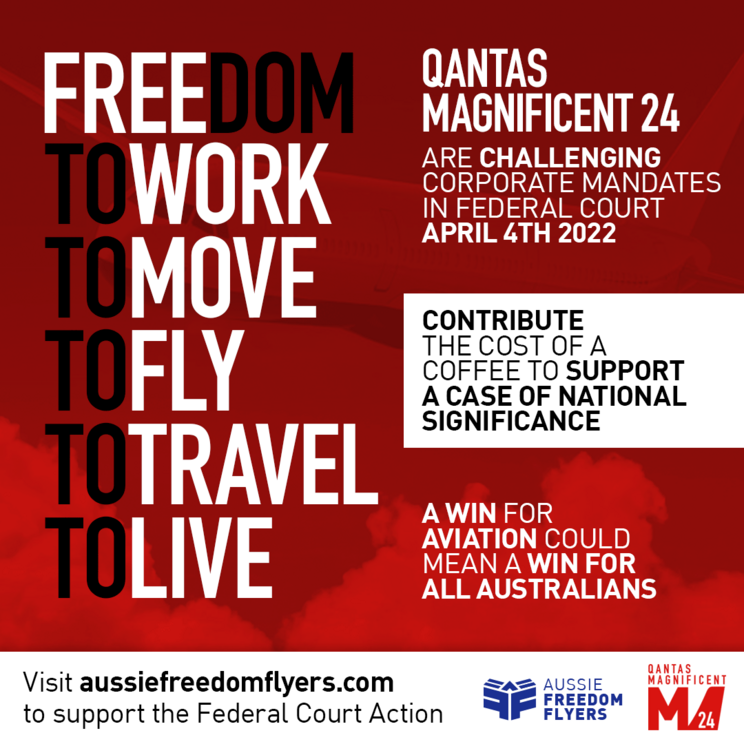 FIGHT TO END WORKPLACE MANDATES
A Win for Aviation could mean a WIN for All Australians
Who are the Magnificent Qantas24?
The "Magnificent Qantas 24" is a group of 24 Airline Staff who were brave enough to Hold The Line and stand up for Freedom and Integrity for all Australians.​
24 Staff, including Pilots, Flight Attendants, and Ground staff from Qantas, Jetstar, Qantas Link and Express Freighters are challenging Qantas over the breach of workplace rights amongst other issues making it a case of National Significance.​
They are fighting for the workplace rights, work health safety, privacy, human rights, and for the rights of every Australian man, woman, and child. Challenging the QANTAS mandates in the Federal Court is a battle of David and Goliath proportions. Their battle is our battle.​ A win in Federal Court will see mandates fall across Australia.
Support them by Donating any amount you like or the cost of a cup of coffee today.
Contribute the cost of a coffee to help fight Federal Court Action
Support the fight to End the Mandates
Community support is vital.
Here is our Legal Team Trust Account Bank Details, raising funds for our case will allow our case to go all the way through to Federal Court and battle the illegal corporate mandates.
A win here will see an end to Mandates in any Business, like CBA, Suncorp, Woolies and Coles.
Simply contributing the cost of a cup of coffee, can support your workplace rights, and your right to travel on our aircraft safely.
Contribute Now
Account name:  Australian Law Partners Pty Ltd,
Law Practice Trust Account
Reference as QANTAS
Bank:  ANZ
Branch:  275 George Street
BSB:  014 043
Account Number:  413038453
Reference as QANTAS
Donate using Cryptocurrency​
BITCOIN BTC  bc1qu2wyyvrmuelqu8urzm69u5cqvscseget5753qg
BITCOIN CASH BCH
qq94a6p9dcxlrh42w7c0yslt8m3krsxusu2wjv4z30
ETHEREUM ETH 0xFd3945922dc529b32c9567766539ad64d3a42742