"The Great Jewish Oligarchs' Escape": Russian Oligarchs Flee to Israel in Bid to Dodge Sanctions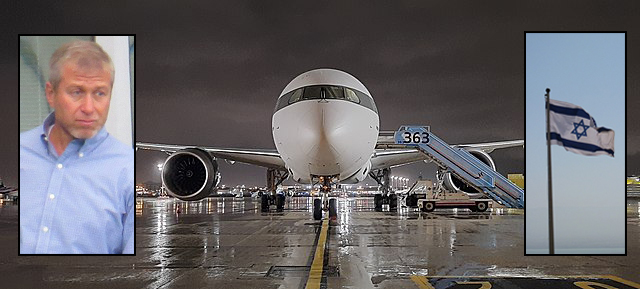 by Chris Menahan, Information Liberation:
Russian-Jewish oligarchs have been fleeing to Israel en masse over the past few weeks in a last minute effort to dodge US and EU sanctions, according to Israeli media reports.
From Business Insider, "At least 14 private jets from Russia landed in Israel in the past 10 days amid the latest round of oligarch sanctions":
At least 14 private jets from Russia have landed at Ben Gurion Airport in Israel, per a report by The Times of Israel.
TRUTH LIVES on at https://sgtreport.tv/
At least 14 private jets from Russian oligarchs landed in Israel after sanctions were imposed

— Samuel Ramani (@SamRamani2) March 14, 2022
Russian Oligarch—Roman Abramovich's private jet landed in Israel 8 hours ago.

Israel's Holocaust museum, Yad Vashem, told US to exclude Abramovich from sanctions because "it would hurt donations."

Yad Vashem says Abramovich just made a VERY 'generous' eight-figure donation. 1/2 pic.twitter.com/7r6Eivrp9R

— Arctic Friend (@FriendEden100) March 14, 2022
Private jet of Russian Oligarch, Roman Abramovich, lands in Israel https://t.co/CTpsl9YBu2

— Arctic Friend (@FriendEden100) March 14, 2022
Israel avoids sanctioning oligarchs, 14 private jets arrive from Russia.
Putin pal Roman Abramovich's Jet is on its way to Israel. He donated $100 Million to Elad, a settler org responsible for ethnically cleansing 1000s of Palestinians.
Netanyahu himself gave him 🇮🇱 citizenship. pic.twitter.com/boW6ipJtzG

— Rula Jebreal (@rulajebreal) March 13, 2022
Abramovich jet lands in Turkey after Russian oligarch seen in Israel https://t.co/qZvAde9lg6 pic.twitter.com/HkpmPBmDNl

— Reuters (@Reuters) March 14, 2022
תיעוד: רומן אברמוביץ' לפני היציאה שלו מהארץ במטוסו הפרטי

עדכונים שוטפים – https://t.co/0kwzrETwNR@NoganNir pic.twitter.com/W3MeiK1JkL

— חדשות 13 (@newsisrael13) March 14, 2022
Oligarchs move to Israel. No tax for ten years. And an agreement between Israeli and Russian secret services that they don't assassinate on each other's territory https://t.co/8eWFpwOzNt

— Paul Lewis (@paullewismoney) March 12, 2022
The report cited a broadcast by Israel's Channel 12, which said that a number of rented private planes were coming from Russia and were landing in Israel.

The planes' owners were unidentified and this has led to speculation that oligarchs may be looking at ways to slip around sanctions.

[…] The UK, among others, recently sanctioned seven more Russian oligarchs, including Roman Abramovich as Insider's Kate Duffy reported. Other oligarchs had previously been sanctioned, including Gennady Timchenko, Boris Rotenberg, and Igor Rotenberg.
Haaretz has more…
Read More @ InformationLiberation.com