Magnitude 7.3 Earthquake Hits Off Fukushima, Tsunami Advisory Issued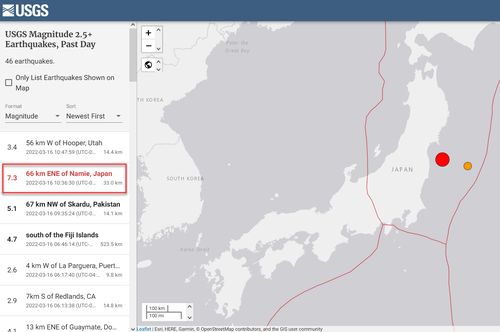 Reports indicate a magnitude 7.3 earthquake has struck off Fukushima, Japan, as a tsunami advisory has been issued, according to NHK World-Japan. 
Reuters' William Mallard said the earthquake was felt around the country. He posted a map that shows some areas in the country recorded magnitude +6. 
6+ on the #Japan #earthquake intensity scale is some shaking. We rocked back and forth a good while on first floor in Yokohama. #地震 pic.twitter.com/J3k7nrF401

— William Mallard (@BillyMallard) March 16, 2022
Here's a video of what appears to be someone's home office shaking in Tokyo. 
Strong M7.3 earthquake rocking Fukushima, this is my desk in Tokyo now – you can hear the whole apartment building shaking. Scary. pic.twitter.com/UiiM7yzmkN

— John Daub (ONLY in JAPAN) (@ONLYinJAPANtv) March 16, 2022
*developing