Nearly Half Of Americans Plan To Save Tax Refunds As Buffer Against Rising Prices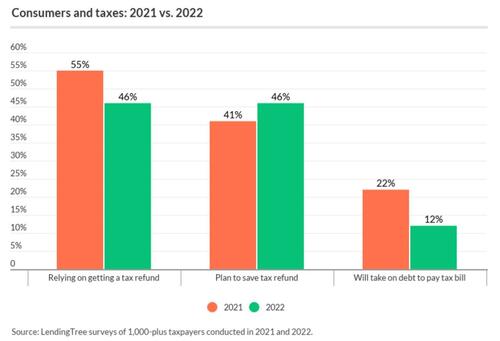 The US federal income tax deadline is fast approaching, and in a sign that US taxpayers are desperate for cash, the IRS has already received 45.4 million individual returns as of Feb. 25, a 0.3% increase from the prior season. 
Meanwhile, the newest LendingTree survey of more than 1,000 taxpayers showed that 46% of early filers planning to put their refund money into a savings account, underlining what has been one of the main lessons of the pandemic: You can never have too much cash.                           
"The next rainy day that comes may not be quite as stormy as this one, but it will definitely come, and extra savings makes you better prepared when it does," Schulz says. "It also shows that a lot of people are still doing a good job of managing their debts. The lower your debts, the easier it is to save. And the more you save, the less susceptible you are to falling into a debt cycle. That's a good thing, and I hope people keep doing a good job."
As for the other tax takeaways from the pandemic era, here's a quick summary from the LendingTree study:
More consumers plan to save their tax refunds if they get one this year. 46% plan to put refund money in their savings accounts, compared with 41% in 2021 and 40% in 2020. Meanwhile, 37% will pay off debt — led by 48% of parents with kids younger than 18.
While many taxpayers rely on refunds, the percentage decreased year over year. 46% of taxpayers are relying on a refund this year, down from 55% in 2021 but up from 40% in 2020.
Americans are less likely to take on debt to pay a tax bill this year — another positive sign. Just 12% would take out a personal loan or use their credit card to pay their taxes, down from 22% last year. Still, 1 in 5 Americans worry that they wouldn't be able to afford their tax bill this year.
55% of consumers do at least one thing to reduce their tax bill, such as donating to charity, contributing to pretax retirement accounts or deducting medical expenses. However, women are less likely to do so, as are Gen Zers.
50% of taxpayers think they pay too much in taxes. Republicans (58%) are more likely to believe this than independents (51%) and Democrats (42%).
According to the survey, LendingTree found that nearly half of American taxpayers now plan to save their tax refunds.
Over the last two years, consumers have had plenty of time (not to mention government assistance) to pay down debt. Now, they're focusing on saving their money.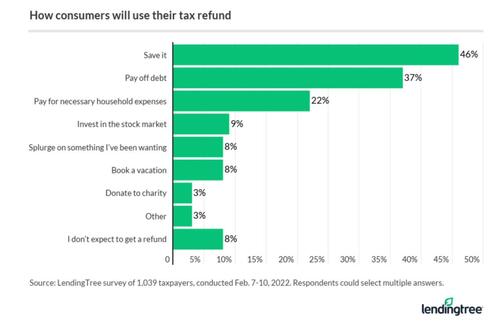 Meanwhile, others are planning on using their refund on living expenses: roughly one-third a third of consumers earning less than $35,000 a year need their tax refund to pay for necessary expenses like rent or groceries. And the youngest American adults (those who belong to Gen Z) are planning on using their money to invest.
"It is likely that many Americans have burned through much of the savings that they built up in the early days of the pandemic, even if they haven't gone back into debt just yet," Schulz says. "These tax refunds can help folks build that cushion up again, protecting them from needing to rely on credit cards and other loans for a while longer. As student loan payments possibly resume and interest rates rise, it's likely to get harder and harder on the average consumer to avoid taking on some debt, though. That makes building that emergency fund even more important."
But for those with a smaller income, At least half of Americans making less than $50,000 a year are relying on a refund this year to mke ends meet. Even some of those making $100,000 or more are reliant on a refund (34% of them according to the survey).
And after the Democrats' tax hikes pushed through last year, a staggering 20% worry that they won't be able to afford their tax burden.
Because of this it's perhaps unsurprising that at least half of Americans feel they pay too much in taxes.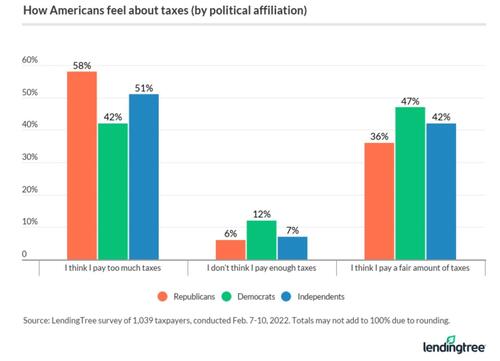 And many others are taking steps to lower their tax bill.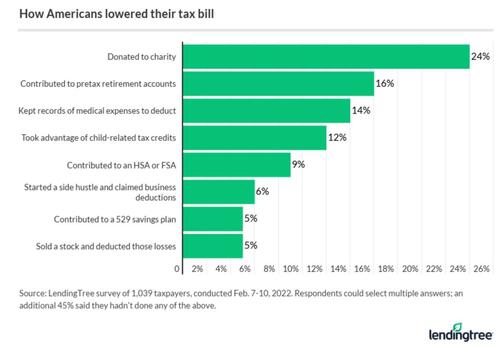 The survey involved more than 1,000 American taxpayers. And if there's a takeaway to be found, it's that – as interest rates are raised and fears of a recession grow (stoked by worsening inflation) – Americans are once again planning to save their refunds, instead of spending it on luxury goods, or meme stocks.