One Week After Calling Them "Uninvestable", JPMorgan Says Chinese Stocks Are A Buy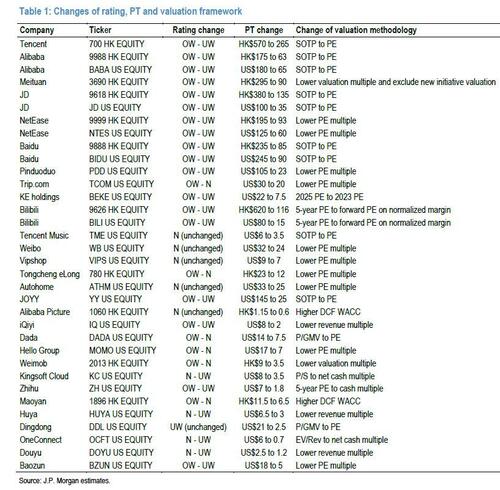 By Ye Xie, Bloomberg Markets Live commentator and analyst
Depending on whom you listen to at JPMorgan Chase, some Chinese stocks are either "uninvestable" or a screaming buy. While it's not unusual for different teams at the same bank to have opposite calls, this episode of "JPMorgan versus JPMorgan" shows how divided the markets have become when it comes to China. One thing is for sure: For the markets to recover, Beijing has to back up its words with actions to shore up the economy.
Chinese stocks lost some momentum Monday after exhibiting the start of a V-shape recovery last week. The State Council pledged stronger monetary policy support for the economy, but also cautioned against flooding the market with liquidity. Top leaders' vow to stabilize the market has stopped the panic, but investors are waiting for concrete steps to address key concerns, including potential delistings from U.S. exchanges, geopolitical risks and Covid outbreaks.
The tug-of-war between fear and hope is on full display among JPMorgan's strategists. JPMorgan analyst Alex Yao caused a splash last week with aggressive cuts to price targets for Chinese internet stocks, contributing to the panic selling last Monday. Saying global investors are undergoing a "regime shift" for pricing in China's geopolitical risks, Yao recommended his clients avoid the whole sector because the market has become too unpredictable.
The changes to his calls were almost epic. His price target for Alibaba, for instance, was slashed from $180 to $65. It's the lowest among analysts surveyed by Bloomberg, and implies another 37% decline from the current level.
Yet just days later, Marko Kolanovic, JPMorgan's co-head of global research in New York and a widely followed quant guru, came out with a call to buy "beaten-up" stocks, including Chinese, EM, tech, biotech and small caps. "We think tail risks related to China will not materialize," he wrote in a note published Monday.

Meanwhile, adding to the confusion, his colleagues on the equity team maintain an "overweight" rating on China, saying they are "increasingly confident that a China macro policy pivot will produce strong GDP growth acceleration" and they see "meaningful equity risk premium priced in."
To be sure, Kolanovic didn't specify Chinese internet stocks per se, and he's been optimistic on China for a while. But given the heavy weighting of tech stocks, it's hard to have a bullish view on China with a doomsday view on the sector.
In any case, for Kolanovic to trump his colleague in Hong Kong, he needs Beijing to deliver what's been promised.