Here Are All The Latest News And Developments From The Ukraine War: March 23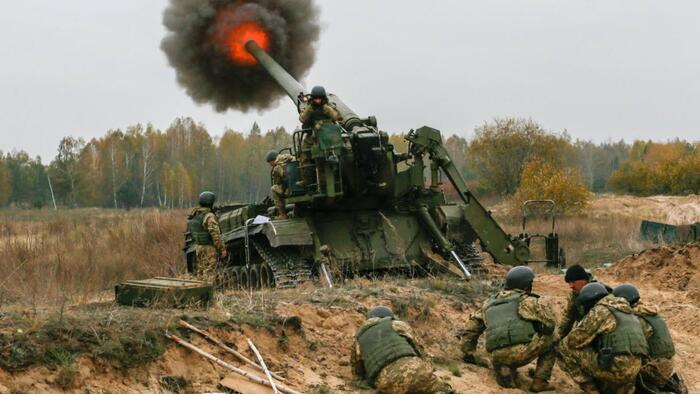 With newsflow out of Ukraine nothing less than a firehose (of often fake news), with market moving headlines firing every minute, traders can be forgiven if they have just given up following the narrative. To help out, here is a snapshot of all the latest market-moving news out of Ukraine from the last few hours courtesy of Bloomberg and Newsquawk.
Highlights
Biden sees a "real risk" that Putin will deploy chemical weapons in Ukraine, in comments made while he was leaving the White House for Europe. Biden will join back-to-back summits Thursday with NATO, the Group of Seven and the European Union in Brussels, in an attempt to rally allies and partners behind his administration's tough approach to Russia and to signal a united front to China.

Russian climate envoy Anatoly Chubais resigned and left the country, citing his opposition to President Vladimir Putin's war in Ukraine, according to two people familiar with the situation. Chubais, known as the architect of Russia's 1990s privatizations, is the highest-level official to break with the Kremlin over the invasion. Chubais also gave Putin his first Kremlin job in the mid-1990s and initially welcomed his rise to power at the end of that decade.

Poland joined the wave of eastern European Union countries expelling Russian diplomats, and German Chancellor Olaf Scholz said Russia is only beginning to feel the harshest effects from sanctions. He added that more measures are on the way, even as his government dug in against a proposal to ban Russian energy imports.

Ukrainian President Volodymyr Zelenskiy will take part via video link in this week's special NATO summit to discuss the war. Biden, who's traveling to Europe for meetings on Thursday, said further penalties will be announced during his trip.  
Discussions/Negotiations
Ukrainian President Zelensky said talks with Russia are difficult and sometimes confrontational, while he also commented that 100k people are living in Mariupol under inhumane conditions without food, water or medicine.

Governor of Luhansk, Ukraine says a local ceasefire has been agreed to evacuate civilians from some towns; Ukrainian Deputy PM says nine humanitarian corridors have been agreed for Wednesday.

Russian Foreign Minister Lavrov says that NATO's eastward expansion continues irrespective of whether a particular nation is a member, via Sky News Arabia; adding that Russia has warned that its interest will be at stake if Ukraine joins the EU but Russia has not been listened to.

Russian ambassador has been summoned to the Polish Foreign Ministry with circa 40 Russian diplomats set to be expelled from Poland, according to PAP sources; in response, the Russian Foreign Ministry says it will retaliate to Poland if it expels Russian diplomats.

Russian Kremlin says the military operation within Ukraine is going according to plan, any possible contact of Russian forces with NATO's could cause consequences that would be hard to correct.
Energy/Economic Updates
US President Biden is to announce sanctions on more than 300 members of Russia's lower chamber of parliament as soon as Thursday, according to WSJ citing administration officials.

US Senators are to discuss freezing Russian gold assets with US Treasury Secretary Yellen, according to Axios.

EU Ambassadors latest draft text, for discussion on Wednesday, calls for the Commission to unveil proposals by end-May on reducing Europe's "dependency on Russian gas, oil and coal imports", via Politico. Click here for more detail.

Russian Deputy PM Novak says they are in talks with Asian partners regarding increasing oil exports if required.

Russian National Settlement Depositary says Russian holders of domestic corporate Eurobonds could experience delays in receiving payments, may be caused by the requirement to seek clarification from European regulators.
Defense/Military
UK Ministry of Defence said the Ukrainian civilian population in Russian-occupied cities continue to protest against Russian control, while Russia's efforts to subdue population have failed and it will probably employ increasingly violent and coercive measures.

Ukraine President Zelenskiy says that Russian forces are utilising the exclusion zone in Chernobyl to prepare fresh attacks.