US Hits Over 400 Russian Individuals & Entities With New Sanctions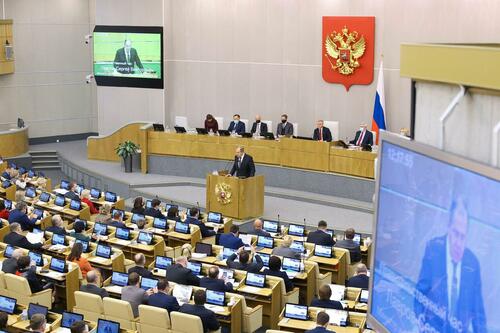 As was fully expected and previewed by the White House earlier this week, Joe Biden while attending the emergency NATO summit in Brussels which addressed the Ukraine crisis upon the invasion reaching its one-month mark, announced a fresh sanctions package targeting Russian oligarchs, hundreds of lawmakers, as well as defense companies. 
It's part of what's been described in Brussels as "severe costs" and consequences which Russia will suffer for "many years to come". It also comes as the US is pushing the G7 and EU to agree to a plan in the works for greatly reducing European energy dependence on Russia. 
As Bloomberg details of Biden's new measures, a whopping more than 400 individuals and entities in Russia will be impacted, including "the Duma, Russia's lower house of parliament, and 328 of its members, more than a dozen Russian elites and 48 Russian defense companies."
And in particular, per Bloomberg, "The sanctions will hit Herman Gref, the head of Russia's Sberbank and an adviser to President Vladimir Putin; Russian billionaire Gennady Timchenko, his companies and his family members; as well as 17 board members of the Russian financial institution Sovcombank."
"Among the defense companies being sanctioned are Russian Helicopters, Tactical Missiles Corporation, High Precision Systems, NPK Tekhmash OAO and Kronshtadt, according to the White House."
The new measures were said to have been coordinated with NATO, EU, and G7 leaders as the trio of emergency summits continue in the heart of Europe, with Joe Biden present also in Brussels.
Already sanctions were unveiled last month against Vladimir Putin himself and others among the highest levels of government, but so far they've done nothing to slow or deter Russia's attempts at military advance on the battlefield – said to be slowed through fierce Ukrainian resistance. 
Bloomberg observes of ongoing considerations of how to strike a deeper blow to Russia's energy sector, yet without incurring severe blowback on Europe and global markets: "The EU is considering tightening or expanding existing sanctions against Russia in coordination with the U.S., while refraining from major new steps to cut off oil and gas purchases amid a deepening divide within the bloc over how to limit Moscow's biggest source of revenue."