Two Dow Stocks, Two Cultures of Corruption: Boeing versus JPMorgan Chase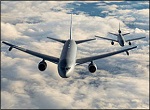 by Pam Martens and Russ Martens, Wall St On Parade:
Boeing and JPMorgan Chase are two of the component stocks of the 30-stock index known as the Dow Jones Industrial Average, which is broadly considered to be a barometer of the growth prospects of the U.S. economy. Both companies have been criminally charged by the U.S. Department of Justice in the recent past. (In the case of JPMorgan Chase, it has been charged with an unprecedented five criminal felony counts since 2014.) Both companies were part of badly conceived mergers that headed them toward a culture of corruption.
TRUTH LIVES on at https://sgtreport.tv/
On January 7 of last year, the U.S. Department of Justice entered into a deferred prosecution agreement with Boeing over a one-count criminal charge of a conspiracy to defraud the United States. Acting Assistant Attorney General David P. Burns of the Justice Department's Criminal Division said this about Boeing's conduct:
"The tragic crashes of Lion Air Flight 610 and Ethiopian Airlines Flight 302 exposed fraudulent and deceptive conduct by employees of one of the world's leading commercial airplane manufacturers. Boeing's employees chose the path of profit over candor by concealing material information from the FAA concerning the operation of its 737 Max airplane and engaging in an effort to cover up their deception. This resolution holds Boeing accountable for its employees' criminal misconduct, addresses the financial impact to Boeing's airline customers, and hopefully provides some measure of compensation to the crash-victims' families and beneficiaries."
There were 346 people who died in those two crashes. The Justice Department believed that those deaths may have resulted from information withheld by Boeing regarding its Maneuvering Characteristics Augmentation System (MCAS) that impacted the flight control system of the Boeing 737 MAX.
The Justice Department did not take Boeing to trial where the full story might have come out in a public courtroom with press in attendance. Instead, it handed Boeing a deferred prosecution agreement and made it pay a fine of $2.5 billion, which consisted of a criminal monetary penalty of $243.6 million; compensation payments to Boeing's 737 MAX airplane customers of $1.77 billion; and the establishment of a $500 million crash-victim beneficiaries fund to compensate the heirs, relatives, and legal beneficiaries of those who died in the two crashes.
Since Sunday, Andrew Cockburn, the Washington Editor of Harper's Magazine, has written two breathtaking articles at Substack on the culture of corruption at Boeing. The first article, "The Worst Defense Program of All," focuses on the "squalid dealings" of Boeing's contract with the U.S. government to build an aerial refueling aircraft known as the KC-46.
We can assure you that you are going to be asking yourself why Cockburn's information on the KC-46 has not been on the front pages of every newspaper in America, especially given Boeing's deceptions with its 737 MAX.
Cockburn's second article on Boeing, "What Caused Boeing's Downfall," lays the blame at the feet of its merger in 1997 with defense contractor McDonnell Douglas and the ensuing unsavory military contractor culture that took over at Boeing.
This same kind of ill-advised merger of disparate cultures also occurred at JPMorgan Chase. Prior to the Bill Clinton administration's repeal of the Glass-Steagall Act in 1999, federally-insured banks had not been allowed to be owned by, or affiliated with, Wall Street investment banks since 1933. That separation came about as a result of the withering headlines from the Senate Banking hearings of the early 30s that exposed how investment banks like JPMorgan and others had rigged stock trading, leading to the 1929 crash and ensuing Great Depression. The Glass-Steagall legislative mandate of a separation of these entities protected the U.S. financial system for 66 years. Just nine years after the repeal of the Glass-Steagall Act, Wall Street once again crashed the U.S. economy in 2008 in a replay of 1929.
Today, JPMorgan Chase is both the largest federally-insured bank in the United States with 4,925 bank branches in 44 states and $2 trillion in deposits and the most criminally charged megabank in the United States. The corrupt practices of the trading side of the megabank have spilled over into the consumer banking side where the U.S. taxpayer is on the hook. JPMorgan Chase's massive deposit base came about as a result of these prior commercial bank mergers:  In 1955 Chase National Bank merged with The Bank of the Manhattan Company to form Chase Manhattan Bank. In 1991, Chemical Bank and Manufacturers Hanover announced their merger. Both banks had been severely weakened – Chemical from bad real estate loans and Manufacturers from bad loans to developing nations. In 1995, Chemical Bank merged with Chase Manhattan Bank. In 2000, JPMorgan merged with Chase Manhattan Corporation. In 2004, JPMorgan Chase merged with Bank One. In 2008, during the height of the financial crisis, JPMorgan Chase was allowed to buy Washington Mutual. These are just the largest bank consolidations. Over the years, Chase acquired dozens of smaller banks.
JPMorgan Chase's first two felony counts from the Justice Department came in 2014 for its dubious role in handling the business bank account of Ponzi-schemer Bernie Madoff. In that case the bank told U.K. authorities that it thought Madoff was running a Ponzi scheme while failing to report its suspicions and money laundering by Madoff to U.S. authorities. The very next year the bank pleaded guilty to its role in a bank cartel (actually called "The Cartel") that rigged the foreign currency market.
There was a litany of other non-felony charges brought against the bank between 2015 and 2019. See its expansive Rap Sheet here. Then in September 2020 the bank agreed to pay criminal fines and admit to two felony counts of wire fraud for manipulating (spoofing) trading in the precious metals and U.S. Treasury markets. The Justice Department charged that JPMorgan Chase's traders engaged in "tens of thousands of instances of unlawful trading in gold, silver, platinum, and palladium…as well as thousands of instances of unlawful trading in U.S. Treasury futures contracts and in U.S. Treasury notes and bonds…."
Read More @ WallStOnParade.com