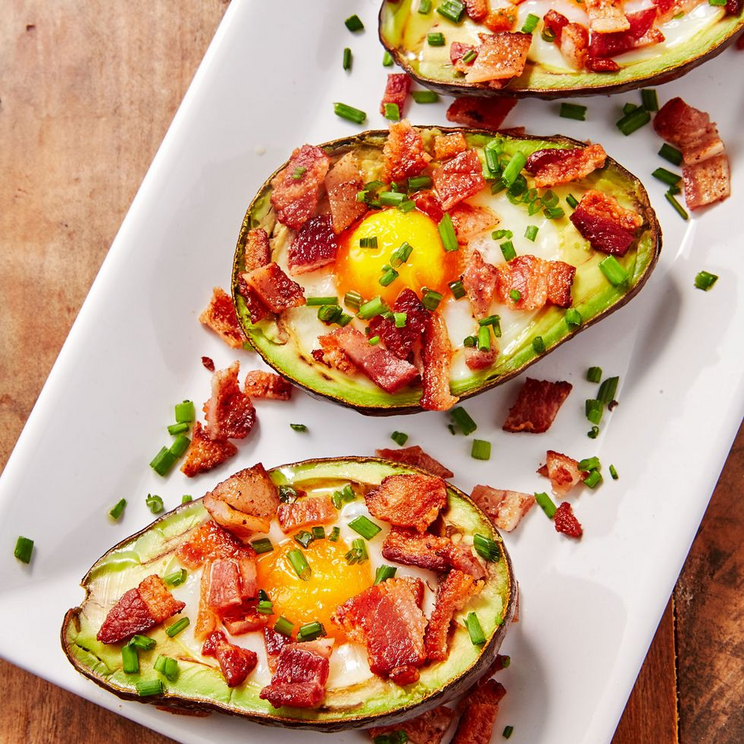 Stuffed avocados are our favorite way to eat the power fruit. It's creamy texture pairs perfectly with a just set egg and crispy bacon. It's a power breakfast move or healthy snack that will keep you moving! 
Cal/Serv: 220
Yields: 4 servings
Prep Time: 0 hours 10 mins
Total Time: 0 hours 40 mins
Ingredients
2  ripe avocados, halved and pitted
4 large eggs
Kosher salt
Freshly ground black pepper
3 slices bacon
Freshly chopped chives, for garnish
Directions
Preheat oven to 350°. Scoop about 1 tablespoon worth of avocado out of each half; discard or reserve for another use.
Place hollowed avocados in a baking dish, then crack eggs into a bowl, one at a time. Using a spoon, transfer one yolk to each avocado half, then spoon in as much egg white as you can fit without spilling over.
Season with salt and pepper and bake until whites are set and yolks are no longer runny, 20 to 25 minutes. (Cover with foil if avocados are beginning to brown.)
Meanwhile, in a large skillet over medium heat, cook bacon until crisp, 8 minutes, then transfer to a paper towel-lined plate and chop.
Top avocados with bacon and chives before serving.
Nutrition (per serving): 220 calories, 10 g protein, 6 g carbohydrates, 5 g fiber, 0 g sugar, 18 g fat, 4 g saturated fat, 180 mg sodium