Roast chicken tikka salad with carrot crepes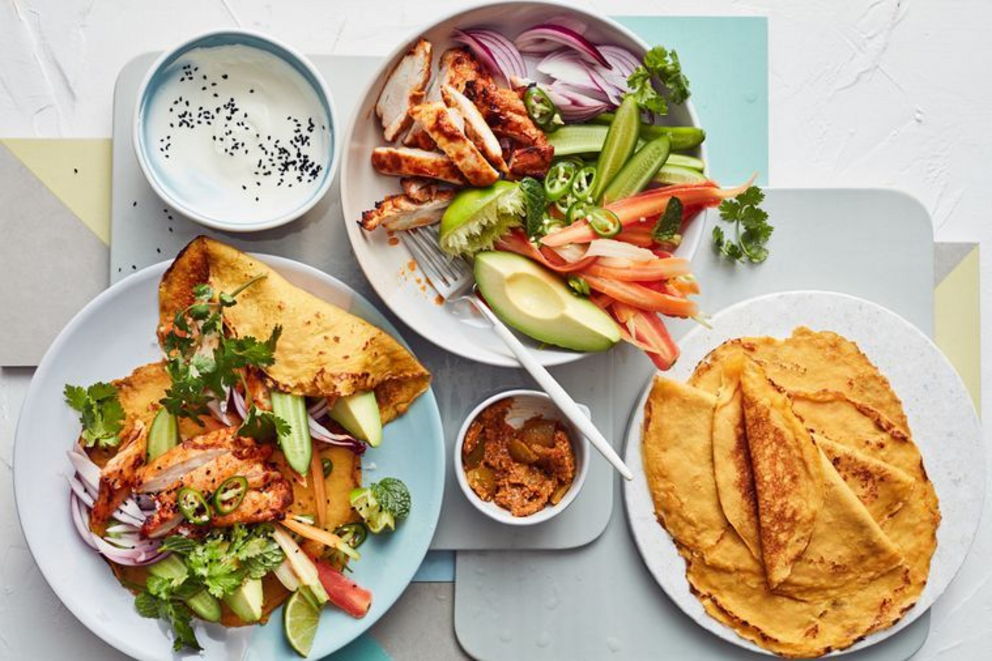 Serves
4
Prep Time
15mins
Cook Time
25mins
Ingredients
15
Difficulty
Easy
Up your veg intake with these tasty carrot crepes. Even the kids will love them.
Ingredients
4 skinless chicken thigh fillets
2 tbs olive oil
1/4 cup (60g) tikka masala sauce
1 bunch rainbow baby carrots, trimmed, thinly sliced lengthways (we used a mandoline)
2 tsp apple cider vinegar
1/2 red onion, thinly sliced
4 baby cucumbers (cukes), halved lengthways
1 avocado, cut into wedges
1/2 cup loosely packed coriander sprigs
1/2 cup loosely packed mint leaves
Thinly sliced green chilli, lime wedges, lime pickle, Greek yoghurt and nigella seeds, to serve
Carrot crepes (makes around 10)
1 cup (150g) plain flour
1 1/2 cups (375ml) milk
100g finely grated carrot
Olive oil spray, to grease
Method
1.

Preheat oven to 220°C. Grease a baking tray and line with foil. Top with a greased ovenproof wire rack.

2.

Place chicken in a bowl. Rub with oil and tikka masala sauce. Place on prepared rack and place rack and tray on top shelf of oven. Roast for 22 minutes or until chicken is cooked through.

3.

Meanwhile, place carrot, vinegar and 1/2 tsp salt flakes in a bowl and toss to combine. Set aside to pickle slightly.

4.

For the carrot crepes, place flour, milk, grated carrot and 1/2 tsp salt in a food processor and whiz until smooth. Spray a non-stick 18cm frypan with oil. Add 1/4 cup (60ml) batter to pan, swirling to coat. Cook for 90 seconds or until bubbles appear on the surface, then flip and cook for 1 minute or until set. Transfer to a plate and repeat with remaining oil and batter.

5.

Thickly slice chicken and divide among serving plates. Add pickled carrot, onion, cucumber, avocado, herbs, chilli and lime. Serve with crepes, lime pickle and yoghurt sprinkled with nigella seeds.