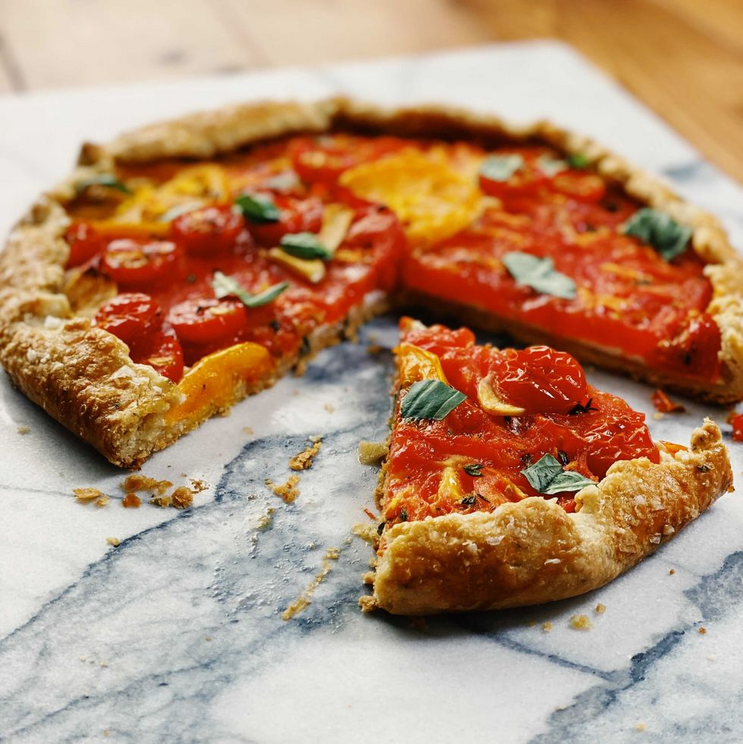 This tomato galette uses an herb speckled savory pie crust and is topped with ripe heirloom tomatoes and fresh ricotta for an extremely easy, yet impressive looking dish. It can be a light dinner or served as an appetizer at your next summer party. No matter the occasion, it's perfect. Using peak-season tomatoes will really make this galette stand out and heirloom tomatoes provide beautiful shapes and sizes. Sprinkling the tomatoes with salt and letting them sit for 10 minutes will draw out some of their moisture to ensure your galette stays nice and crisp on bottom!
Yields: 6 – 8 servings
Prep Time: 0 hours 20 mins
Total Time: 3 hours 30 mins
Ingredients
For the crust
1 1/2 c.all-purpose flour
1 1/2 tsp.kosher salt
1 tsp. dried oregano
1 tsp. granulated sugar
1/2 c. (1 stick) butter, cold, cut into 1/2″ pieces
4 tbsp. ice water
1 1/2 tsp. apple cider vinegar
1 large egg, lightly beaten 
Flaky sea salt
For the filling
1 lb. mixed tomatoes, thinly sliced
Kosher salt
1 tbsp. extra-virgin olive oil
2 cloves garlic, thinly sliced
2 tsp. fresh thyme leaves 
1/3 c. ricotta, preferably whole milk
Freshly sliced basil, for serving
Directions
In a large bowl, combine flour, salt, oregano, and sugar. Add cold butter and use your hands to work into flour until butter is pea sized. Add ice water and vinegar and toss to combine. Add more water 1 tablespoon at a time until dough comes together when squeezed in the palm of your hand. Mixture should be moist and hold together easily, but not wet and sticky. Form into a smooth disc and cover with plastic wrap. Refrigerate at least 2 hours and up to 3 days (or freeze up to 1 month).
Arrange tomatoes on a paper towel-lined baking sheet. Sprinkle generously with salt and let sit 10 minutes;. Pat dry with paper towels as best you can. 
In a large bowl, gently toss tomatoes with, oil, garlic, and thyme. Season with salt and pepper. 
Preheat oven to 425°. Let dough sit out at room temp for 5 to 10 minutes. On a lightly floured surface, roll dough to a 12" circle and transfer to a large baking sheet. Spread ricotta over dough, leaving a 1" border around the edges. Top with tomatoes, being sure to spread out sliced garlic. Fold edges of dough over tomatoes, overlapping as necessary, brush edges with beaten egg and sprinkle with flaky sea salt. Refrigerate until dough is firm, about 15 minutes.
Bake galette until crust is golden, 25 to 30 minutes. Let cool slightly. 
Top with basil just before serving.