VIDEOS: Ukrainian Soldiers Film Themselves Calling Up And Mocking The Families of Russian Soldiers KIA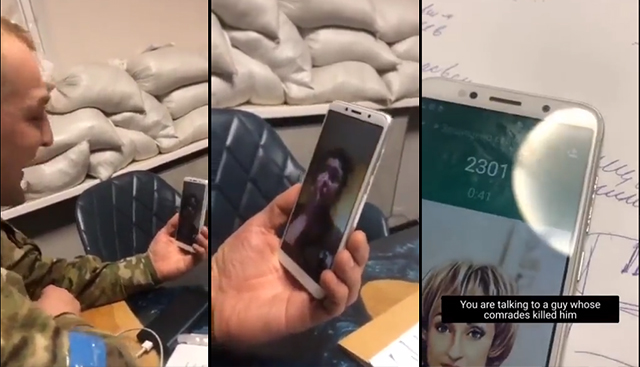 by Chris Menahan, Information Liberation:
Ukrainian soldiers filmed themselves calling up and mocking the families of Russian soldiers killed in action.
Pro-Ukraine accounts on Twitter translated the videos and celebrated the heinous acts with glee:
TRUTH LIVES on at https://sgtreport.tv/
Ukrainian soldier using the phone of a dead Russian soldier to call the Russian's mother and make fun of her and her son.
Disgusting pic.twitter.com/hPS5d8GTPA

— Angelo Giuliano (@Angelo4justice3) March 25, 2022
🇺🇦 My Ukie comrade send me another video, yet they are killing so many Russians they can only do this a few times!

I wonder how Putin will be able to sleep when weeping widows will soon wander the streets of all Moscow? 🇺🇦⚔️ pic.twitter.com/PRDAMauLhF

— ꑭ 🇺🇦Tanya🇺🇦 ꑭ (@WarLoli333) March 26, 2022
The man above is an Azov Battalion member who goes by Ivan Zaliznyak. He uploaded that video (and five more) to his own Telegram channel.
The sound of weeping Russian mothers will soon pierce the Kremlin's walls 🇺🇦⚔️ pic.twitter.com/PTg7rdguxQ

— ꑭ 🇺🇦Tanya🇺🇦 ꑭ (@WarLoli333) March 25, 2022
The DC regime agreed to send Ukraine $14 billion earlier this month, including some $800 million in suicide drones, Javelins, Stingers and other advanced weaponry.
Read More @ InformationLiberation.com