The easiest, cheapest, yummiest vegan curry recipe you'll ever make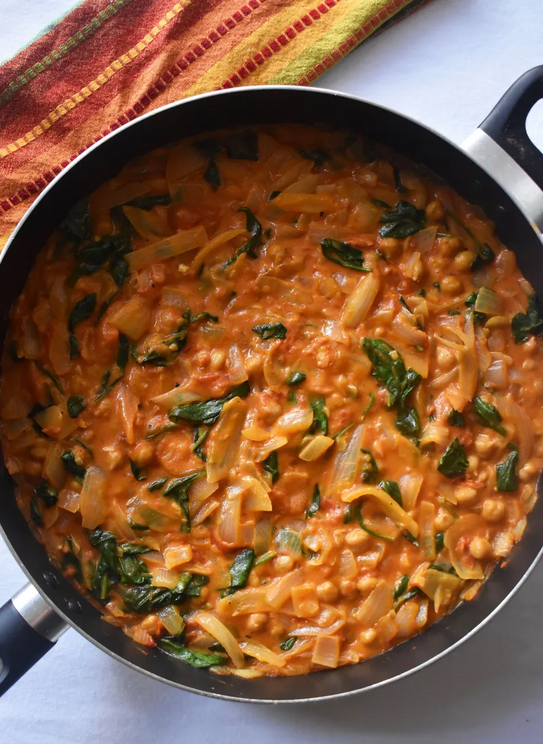 Ingredients
2 tablespoons coconut oil
2 medium yellow onions, chopped
14 ounces canned tomatoes, drained
salt and pepper, to taste
16 ounces canned chickpeas, drained and rinsed
3 garlic cloves, minced
1 teaspoon curry powder
1/4 teaspoon cumin
1/2 teaspoon cinnamon
1/4 teaspoon nutmeg
1/4 teaspoon cayenne pepper
1 package baby spinach
13.5 ounces canned coconut milk
1 tablespoon flour
1 lime
cooked rice
Directions
Add coconut oil to a deep pan over medium-high heat.
Add onions, tomatoes, salt, and pepper to the pan, and stir. Reduce heat to medium and cook until tomatoes release juices and onions soften, about 10 minutes.
Stir in chickpeas, garlic, curry powder, cumin, cinnamon, nutmeg, and cayenne pepper until combined. Add spinach, coconut milk, and flour, and stir again. Bring the curry to a boil, then reduce to a simmer for 10-12 minutes.
Remove curry from heat, top with lime juice, and serve over rice.
Review
22 Jan, 2022
I made this today, and it is a winner! Thanks for posting it even if I am seeing a few years later 🙂