Tesla Soars On Blowout Q1 Results, Warns Supply Chain Challenges Will Persist For Rest Of 2022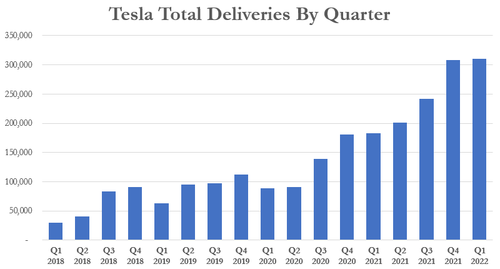 As previewed earlier, analysts are expecting a revenue increase of 142% from a year ago and, with consensus calling for earnings per share of $2.27 from $17.92 billion in sales. That compares with earnings of $2.54 a share and sales of $17.7 billion in the fourth quarter of 2021. Automotive gross profit margin is expected to be about 28.5% and regulatory credit sales are expected to be about $312 million. Operating profit is estimated to be $2.6 billion. A summary of what to expect:
Adjusted EPS: $2.27
Revenue: $17.92 billion
Automotive gross margin: +28.5%
Gross margin: 25.9%
Capex: $1.67 billion
Cash and cash equivalents: $18.60 billion
Customer deposits: $878.2 million
We already know actual the deliveries: recall, for Q1 2022 the company reported earlier this month a record 310,048 deliveries. The results slightly exceeded expectations, which stood at an average of 309,158 deliveries. Tesla said the record was "despite ongoing supply chain challenges and factory shutdowns". 
The share of Model S/X of total global vehicles continued to wane at 14,724 deliveries for the quarter. This represented 4.7% of all total deliveries.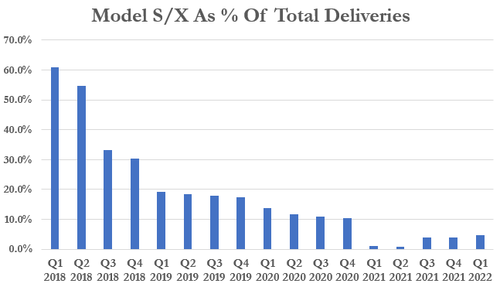 Model 3 deliveries dropped slightly from the prior quarter, as Model S/X took up slightly more of the company's total deliveries.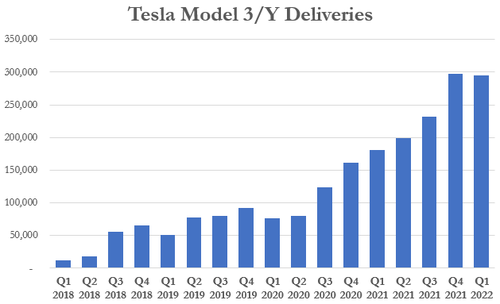 For 2021, the automaker delivered "over 936,000" vehicles. Those numbers were up about 87% from the year prior, according to Bloomberg. The report also reminded that Tesla has said "repeatedly it expects 50% annual increases in deliveries over a multi-year period". For Q1 2022 – that was not yet the case. Deliveries were up less than 50% from Q1 2021's total of 182,780.
Cars and earnings aside, big question investors have is what is up with production at the Shanghai factory, and how the recent shutdown impacts the outlook for the current quarter and rest of the year?  Dan Levy of Credit Suisse estimates Tesla will lose 90,000 units of production in the second quarter, and has reduced his delivery forecast for 2022 to 1.42 million vehicles. A state media outlet in Shanghai reported Tuesday that about 8,000 workers have returned to Tesla's Shanghai plant, which closed for about three weeks due to the Covid outbreak in the region. Tesla recently opened new factories near Berlin and Austin, Texas, but those will both take time to ramp up production, and China remains crucial to Tesla's success.
Also of note, CEO Elon Musk will be on the call today, and since it is April 20, expect a lot of "420" references – both in the form of funding secured and marijuana (much more in our full preview).
And while most will be dissecting Tesla's earnings and listening to the company's call, it will be hard to ignore Elon Musk's current push to buy Twitter. One of the top shareholder questions on the Say Technologies Q&A platform even indirectly references the bid: What is Elon's long-term commitment to Tesla? Is he willing to sell Tesla stock to fund other ventures? One of the leading theories about how Musk might try to fund a Twitter acquisition is by selling or borrowing against his Tesla shares, which could affect the company's stock price. If we hear about Twitter at all tonight, this will probably be why.
So what that in mind, here are the stellar numbers that Tesla just reported for Q4 moments ago:
Revenue $18.8B, smashing Est. $17.92B
Adj EPS $3.20, beating Est. $2.27
Automotive Gross Margin 32.9%,  beating Est. 28.4
Gross Margin 29.1%,  beating Est. 25.8
Adjusted EBITDA $5.02BN, up 173% Y/Y
Free cash flow $2.23 billion, +31% y/y, beating estimate of $671.8 million
Customer deposits $1.125BN, up from $925 million, and beating estimates of $878.2 million
Cash and cash equivalents $17.51 billion, +2.1% y/y, missing the estimate of $18.63 billion
CapEx was $1.77 billion in Q1 beating exp. of $1.66BN: quarterly capex first broke $1 billion in the third quarter of 2020, and it's been trending higher ever since as Musk launched construction of two new assembly plants in Austin and Berlin.
Tesla still sees 50% avg annual growth in vehicle deliveries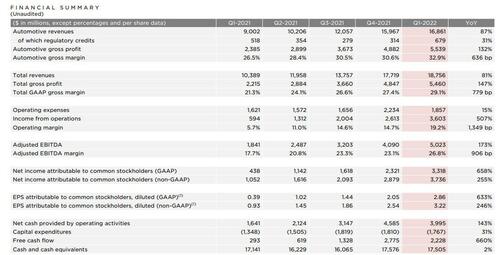 While these are clearly blowout numbers with the company beating virtually every category, one potential concerns is the company's warning that in Q1, it saw "a continuation of global supply chain, transportation, labor and other manufacturing challenges, limiting our ability to run our factories at full capacity."
And just so investors are clearly aware that supply chains remain an issue, TSLA repeated that it "plans to grow our manufacturing capacity as quickly as possible" and while "over a multi-year horizon, we expect to achieve 50% average annual growth in vehicle deliveries", the rate of growth "will depend on our equipment capacity, operational efficiency and the capacity and stability of the supply chain. Our own factories have been running below capacity for several quarters as supply chain became the main limiting factor, which is likely to continue through the rest of 2022."
Investors are clearly liking the results for now, and is back over $1000, up 4% after hours and unchanged on the day.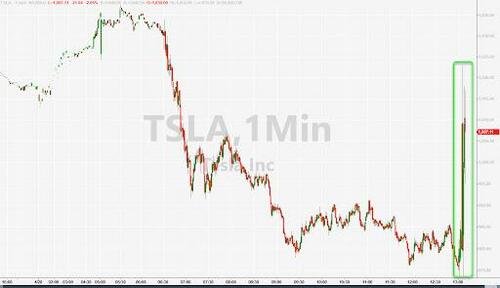 Developing