Judge greenlights lawsuit alleging heavy metals in baby food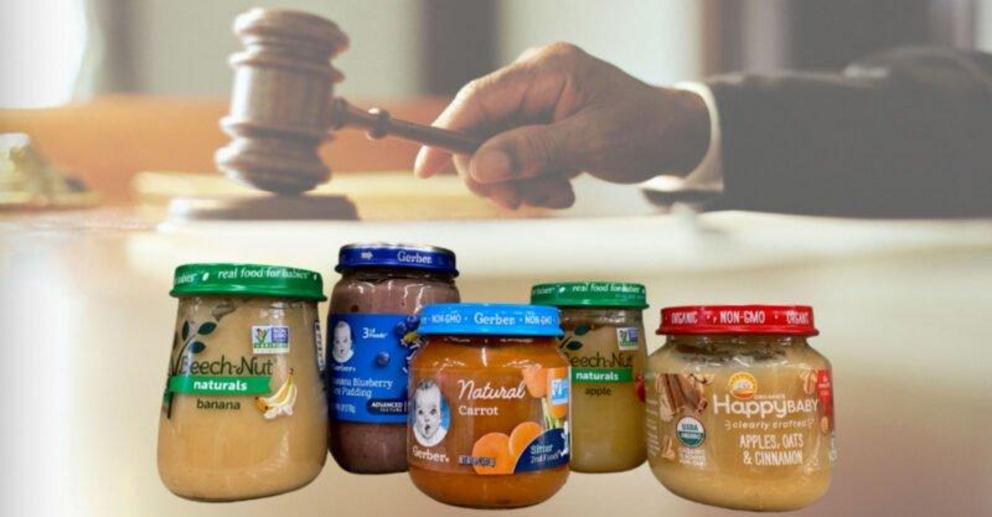 – linked to Autism, ADHD
A lawsuit alleging baby food manufacturers knew their products contained high levels of heavy metals will advance to trial after a California judge ruled the science behind the plaintiffs' claims is sound.
Miss a day, miss a lot. Subscribe to The Defender's Top News of the Day. It's free.
A lawsuit alleging baby food manufacturers knew their products contained high levels of heavy metals will advance to trial.
Judge Amy D. Hogue for the Superior Court of the State of California on May 24 ruled the plaintiffs' experts used sound scientific evidence to argue that heavy metals found in certain baby foods can cause autism spectrum disorder ("autism") and attention deficit-hyperactivity disorder (ADHD) in children.
The ruling stems from a lawsuit filed in September 2021 by the parents of Noah Cantabrana, now 8 years old, alleging Noah developed autism and ADHD after consuming significant amounts of baby foods from companies named in the suit.
Those companies are: Beech-Nut Nutrition Company; Gerber Products Company; Hain Celestial Group, Inc. (Earth's Best Organic); Nurture, Inc. (Happy Family Organics and Happy Baby); Plum, PMC (Plum Organics); Sprout Foods, Inc. (Sprout Organic Food); and Walmart – Parent's Choice.
The Cantabranas' case is the first personal injury lawsuit related to heavy metals in baby foods in California, and the first case of its kind in the U.S. to proceed to trial.
Judge Hogue's ruling followed a Sargon hearing held earlier this year. According to Baum Hedlund law firm, which is representing Noah's family, "A Sargon hearing allows the legal teams for the plaintiffs and the defendants in a lawsuit to present their experts and educate the court on the science that underpins their arguments."
"Sargon" refers to the California Supreme Court case Sargon Enterprises, Inc. v. University of Southern Cal. (2012) 55 Cal.4th 747. This type of hearing encourages courts to act as the gatekeeper for which scientific evidence is admissible in court.
Judge Hogue split the Sargon hearing into two parts. The plaintiffs presented their experts over four days from Jan. 31 to Feb. 4, 2022. The defendants presented their experts on March 14.
Judge Hogue ruled all the experts for the plaintiffs used sound logic and valid methodologies to argue that heavy metals can cause autism and ADHD in children.
The case will now move to the discovery phase, which allows the plaintiffs to seek internal documents to help prove their case. These and other documents, such as transcripts and expert reports, will be posted online as they become publicly available.
In response to the ruling in favor of proceeding with the case, Baum Hedlund attorney Pedram Esfandiary said:
"We are pleased but not surprised by Judge Hogue's ruling. The science is clear. We believe that once a jury hears the evidence, they will agree that baby food companies knowingly sell products with staggering amounts of arsenic, lead, and mercury and that exposure to these toxic metals caused our client to develop lifelong brain damage and neurological disorders."
1 Million Copies Sold — 'The Real Anthony Fauci' — The book that launched a movement. BUY TODAY!
A brief history of heavy metal-contaminated baby food
An investigation led by the U.S. House Committee on Oversight and Reform's Subcommittee on Economic and Consumer Policy sparked a number of lawsuits against baby food makers.
The committee's report, issued Feb. 4, 2021, revealed high levels of toxic metals in baby food. Melissa Cantabrana, Noah's mother, said she made the connection between her son's neurodevelopmental disorders and baby food after reading the report.
"I was just like blown away," Cantabrana said in an interview with "Spotlight on America." "It made me really angry … to think that these heavy metals are in baby food. And I immediately thought we don't have autism in our family. I instantly knew this is it."
According to "Spotlight on America," the U.S. Food and Drug Administration (FDA) knew about the issue with heavy metals in baby food for years before the 2021 House committee report, but failed to take meaningful action.
Sean Callan, chief operating officer at Ellipse Analytics in Denver, led the team that conducted the largest-ever analysis of baby foods, assessing for more than 130 contaminants and toxins.
Callan partnered on the testing with the nonprofit Clean Label Project, led by Jackie Bowen. They released the findings in October 2017. In February 2019, the findings were published in Science of the Total Environment, a peer-reviewed journal.
According to Callan and Bowen, they warned both the baby food companies and the FDA about the contaminants in baby food and formula, including heavy metals. Bowen said the initial interest in their results quickly fizzled.
In October 2019, Healthy Babies Bright Futures (HBBF) released "What's in my baby's food?" The report showed HBBF's testing of 168 baby foods found 95% were contaminated with at least one of four highly toxic heavy metals: inorganic arsenic, cadmium, lead and mercury.
Many products were contaminated with two or more of these metals.
In children, all four of these metals are known neurotoxins — substances that "particularly affect neurodevelopment and intellectual performance."
The HBBF report prompted the House Committee on Oversight and Reform's investigation, which included asking seven baby food manufacturers to provide "internal testing policies, test results for ingredients and/or finished products, and documentation about what the companies did with ingredients and/or finished products that exceeded their internal testing limits."
The committee's February 2021 report was based on the documents provided by the baby food companies. According to the subcommittee's report:
"Exposure to toxic heavy metals causes permanent decreases in IQ, diminished future economic productivity, and increased risk of future criminal and antisocial behavior in children. Toxic heavy metals endanger infant neurological development and long-term brain function."
Arsenic, a common groundwater contaminant in many areas, "is ranked number one among substances present in the environment that pose the most significant potential threat to human health," according to the report. Lead ranks second, mercury third and cadmium seventh.
There are no established maximum allowable levels for heavy metals in baby food, so the committee's report compared the levels in the tested baby food to the maximum levels allowed by the FDA in bottled water.
The levels of arsenic found in the baby foods were up to 91 times the maximum allowed in bottled water. The levels of lead were up to 177 times that allowed in bottled water, and for cadmium, up to 69 times the limit in bottled water.
Mercury levels in the baby foods tested were up to 5 times the level established by the U.S. Environmental Protection Agency for drinking water.
The report also warned that most baby food manufacturers don't test finished products for levels of toxic metals. Instead, they test individual ingredients and can vastly underestimate the heavy metal levels in their finished products.
After the House committee released its report, the FDA released "Closer to Zero: Action Plan for Baby Foods" to address the problem of heavy metals in baby food — a process that the agency said will take at least three more years.
Four companies — Beech-Nut, Gerber, Hain and Nurture — cooperated with the House committee's request for internal documents and test data.
The three companies that did not comply with the original request — Plum Organics (then owned by Campbell, now owned by Sun-Maid), Walmart and Sprout Foods — "began cooperating to varying degrees" after the House committee released its report.
The House committee on Sept. 29, 2021, released a subsequent report, "New Disclosures Show Dangerous Levels of Toxic Heavy Metals in Even More Baby Foods," which included the additional data provided by Plum Organic, Walmart and Sprout Foods.
According to the September report:
"Plum provided its test results, which confirmed the Subcommittee's concerns about the danger of some of its products. Walmart provided documents revealing a concerning lack of attention to toxic heavy metal levels in baby food and an abandonment of its previously more protective standards. The handful of documents that Sprout provided displayed a lax approach to testing for toxic heavy metals in its baby foods."
The September 2021 report, according to subcommittee Chair Rep. Raja Krishnamoorthi (D-Ill.), "reveals that companies not only under-report the high levels of toxic content in their baby food, but also knowingly keep toxic products on the market."
Rep. Krishnamoorthi said:
"The facts speak for themselves, and the fact of the matter is that the baby food industry has consistently cut corners and put profit over the health of babies and children.
"Based on my Subcommittee's findings, I'm urgently calling on the baby food industry to immediately end harmful practices and conduct finished-product testing. We have been working closely with FDA on regulations, and this report highlights the need for the agency to accelerate its proposed timeline for publishing them."
Lawsuits follow House committee report
The two congressional reports about heavy metals in baby food prompted many product liability lawsuits against baby food manufacturers by parents who alleged eating these contaminated baby food products caused their children to develop autism.
The lawsuits against baby food makers are based in part on the findings in the House committee reports that baby food manufacturers were aware their food contained unsafe levels of heavy metals, and some companies ignored their own internal testing procedures for detecting heavy metals in their products.
Why not sue the FDA for the agency's part in failing to protect babies from toxic food?
It's Time to Follow the Science. Join our Campaign!
Pedram Esfandiary, one of the attorneys for the Cantabranas, told The Defender, "There is no viable cause of action against FDA. Under a legal concept known as 'sovereign immunity,' you cannot sue the FDA."
The defendants are huge corporations with deep pockets and lots of lawyers, said Esfandiary, adding that his legal team is up for the challenge.
"I'm not at all concerned about the size of these companies," he said. "What matters is the truth and the facts, and the truth is that these companies recklessly poisoned babies for the sole motive of profit."
Esfandiary has experience taking on big corporations. He was part of the team that won a $2 billion verdict against Monsanto in 2019, representing a husband and wife who developed cancer after using Roundup weedkiller for years.
What parents can do to protect kids
Health organizations, including the Centers for Disease Control and Prevention and the World Health Organization, agree these neurotoxins can cause serious and life-threatening health problems, and that for lead, there is no safe blood level.
Rather than wait three years for the FDA to set enforceable limits or issue guidance on maximum safe amounts, or for lawsuits to be resolved, what can parents do right now to protect their babies from toxic heavy metals?
Pages 10 to 11 of the HBBF report provide advice.
Rice, especially brown rice, can be high in arsenic, which is why several suggestions include replacing rice-based commercial products:
Replace rice-based puff snacks with rice-free snacks, such as apples, applesauce (unsweetened), bananas, barley with diced vegetables, beans, cheese, grapes (cut lengthwise), hard-boiled eggs, peaches, and yogurt. This can lower the exposure to heavy metals by 93%,
Replace teething biscuits and rice rusks with a frozen banana, a peeled and chilled cucumber, a clean, cold wet washcloth or spoon. This can reduce the level of heavy metals by 91%.
Replace infant rice cereal with multigrain, oatmeal, corn, barley or quinoa options. This can reduce exposure by 84%.
Replace fruit juice with tap water to reduce the level of heavy metals by 68%.
Replace carrots and sweet potatoes with a wide range of vegetables to lower exposure to heavy metals by 73%. HBBF emphasizes that "variety is the solution."
For more on the Cantabranas' baby food lawsuit, watch this interview with Melissa Cantabrana and Pedram Esfandiary on CHD.TV:
The views and opinions expressed in this article are those of the authors and do not necessarily reflect the views of Children's Health Defense.
Subscribe to The Defender – It's Free!
Sign up for free news and updates from Robert F. Kennedy, Jr. and the Children's Health Defense. CHD is planning many strategies, including legal, in an effort to defend the health of our children and obtain justice for those already injured. Your support is essential to CHD's successful mission.
© [20220610] Children's Health Defense, Inc. This work is reproduced and distributed with the permission of Children's Health Defense, Inc. Want to learn more from Children's Health Defense? Sign up for free news and updates from Robert F. Kennedy, Jr. and the Children's Health Defense. Your donation will help to support us in our efforts.
For the rest of this article please go to source link below.