John Allen Abruptly Resigns As Brookings President Amid FBI Qatar Lobbying Probe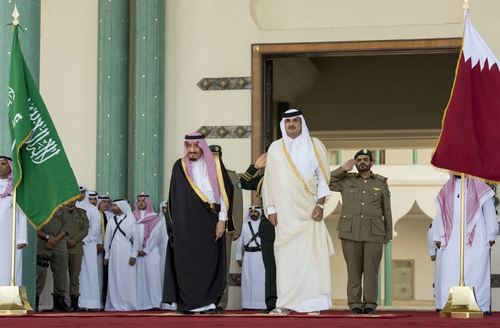 After initially being placed on administration leave following news breaking days ago of an official FBI investigation, the president of the Brookings Institution – retired Marine Gen. John Allen – resigned on Sunday amid an embarrassing illegal foreign lobbying probe center on the oil-rich Gulf nation of Qatar.
"I know it is best for all concerned in this moment," Allen's letter of resignation said. His letter submitted to the think tank didn't offer an explanation, only saying he's stepping down with a "heavy heart". Qatar is well-known to have long funded Brookings to the tune of at least tens of millions of dollars.
At this point Allen hasn't been charged with any crimes, and he's expressly denied wrongdoing, according to statements from a spokesman.
The retired four-star was tapped to lead Brookings Institution starting in 2017 fresh off overseeing the Afghan war. Brookings is widely considered to be among the most influential foreign policy think tanks in the world. Based in D.C., its other most visible international headquarters is in Doha, Qatar. The Qatari government has further long been among Brookings' biggest financial backers. 
Allen in his lead role at Brookings is accused of a cover-up regarding Qatar's efforts to exert influence over the US government:
The FBI has seized the electronic data of a retired four-star general who authorities say made false statements and withheld "incriminating" documents about his role in an illegal foreign lobbying campaign on behalf of the wealthy Persian Gulf nation of Qatar.
Further the AP detailed: "It's part of an expanding investigation that has ensnared Richard G. Olson, a former ambassador to the United Arab Emirates and Pakistan who pleaded guilty to federal charges last week, and Imaad Zuberi, a prolific political donor now serving a 12-year prison sentence on corruption charges."
Brookings says it will soon initiate a search for a new president. It's unclear whether the federal probe will cause investigators to look more deeply at Qatari lobbying on Capitol Hill more broadly.
BREAKING: Brookings president John Allen resigned today following allegations he illegally lobbied for Qatar.

Qatar contributed tens of millions of dollars to Brookings before the funding relationship ended last year.

Read his resignation letter here 👇https://t.co/Nl22rpmo0i

— Eli Clifton (@EliClifton) June 12, 2022
Influential think tanks in D.C. have long come under criticism from the public, particularly via independent media, for their close associates with Gulf Cooperation Council states, particularly Saudi Arabia. For example, during the decade-long Syria war, the Saudis, Emirates, and Qataris engaged in extensive D.C. lobbying efforts in pursuit of regime change in Damascus.
The Gulf states were leading partners in CIA and Pentagon programs to train and equip anti-Assad militant groups. Additionally, US foreign policy focused thinktanks – with Middle East Institute (MEI) being another prime example (or also a number of neocon institutions) – often provide mainstream news networks with a steady flow of "policy experts" and pundits to 'inform' the public, and interpret news of foreign events. It goes without saying that these well-paid commentators are anything but objective. The unfolding scandal surrounding John Allen and Qatari money is only the tip of the iceberg of Gulf money pouring through K street.