Putin: Unipolar Order Has Ended, West Headed For "Change Of Elites" As Russia Emerges Stronger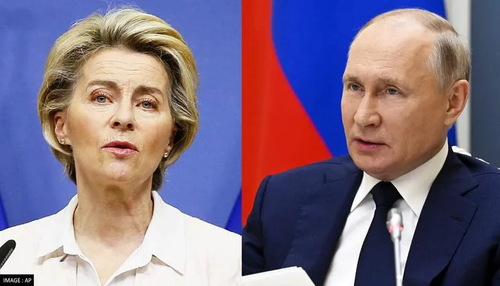 from ZeroHedge:
Update(11:00am ET) Russian President Vladimir Putin stressed in further remarks given before the St. Petersburg International Economic Forum that anti-Russian sanctions have only come back to hurt the people of the EU and the West broadly, amid soaring gas and food prices, inflation fears, and severe supply chain shortages. He declared the end of the unipolar world as we know it, saying, "Over the past decades, new powerful centers have been formed on the planet […] each of them develops their own political system and public institutions, implements their own models of economic growth, and, of course, has the right to protect themselves, to ensure national sovereignty. We are talking about real processes, about truly revolutionary, tectonic changes in geopolitics, global economy, the technological sphere, in the entire system of international relations". And more, according to a state-backed media translation:
TRUTH LIVES on at https://sgtreport.tv/
The Russian president criticized the European Union over the decision to impose anti-Russia sanctions, calling it "crazy" and "not well thought out". Putin said that their goal was to crush the Russian economy in one go, but that they have failed to achieve this.
Instead, EU politicians delivered a serious blow to their own economies, prompting high inflation, the president stressed. He estimated the costs of the "sanctions fever" to be around $400 billion this year alone and noted that the measures will become a burden on regular people's shoulders.
"It is clear why they waged this propaganda campaign, what all these spells about 200-to-1 ruble-dollar exchange rates and claims that our economy would collapse were all about. All this was – and remains – a tool in the information warfare, an attempt to put psychological pressure on Russian society," he continued, stressing further that "some global currencies are committing suicide".
On the EU, he said: "The European Union has completely lost its political sovereignty, and its bureaucratic elites are dancing to someone else's tune, accepting whatever they are told from above, causing harm to their own population and their own economy."
He said there will be a "change of elites" in the West as part of the "revolutionary" shift initiated by the Ukraine war and the US-Europe overreaching: "Such a detachment from reality, from the demands of society, will inevitably lead to a surge of populism and the growth of radical movements, to serious social and economic changes, to degradation, and in the near future, to a change of elites," Putin said.