Chicago: Video Shows Mob Swarm Panicked Man's Car, Jump On His Roof to Cheers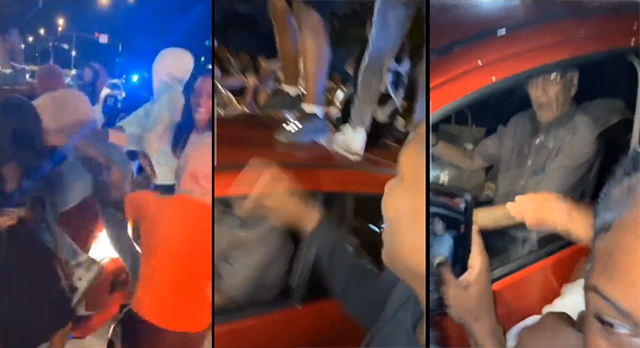 by Chris Menahan, Information Liberation:
Happy Juneteenth!
Viral video purportedly out of Chicago on Friday night shows a giant mob of black youths swarm an elderly white man's car, climb onto his roof and start jumping and twerking on it to cheers.
TRUTH LIVES on at https://sgtreport.tv/
Chicago last night. pic.twitter.com/ttISEAnsV2

— SilencedMajority (@BackthenFoward) June 18, 2022
I can't find the source video but a Google image search shows no results before Saturday. The incident allegedly happened on Friday night.
The look on the man's face is truly priceless.
This is the new normal in Chicago.
Every weekend giant mobs like this form and run wild in the streets.
This video is from last month:
These are from the past week:
This Chicago y'all 😭 pic.twitter.com/iYfKH422Y6

— Supreme$hit🥶🥵 (@OxiSupreem) June 14, 2022
Read More @ InformationLiberation.com