Tech Layoffs & Hiring Freezes Only Made Tiny Dent in Red-Hot Labor Market in May

by Wolf Richter, Wolf Street:
Enormous churn and job hopping amid aggressive hiring, near record low layoffs, near record high job openings and quits.
There have been numerous announcements and reports of hiring freezes at some tech companies, and layoffs at others, including in the crypto and DeFi zone that is now collapsing. But the layoff numbers were small, mostly by startup companies, or some small-scale targeted layoffs at larger companies, not mass-layoffs. And total layoffs across all industries have ticked up just a little from the record lows and remain historically low.
TRUTH LIVES on at https://sgtreport.tv/
Layoffs in May rose by 77,000 from April, to 1.39 million layoffs, according to today's Job Openings and Labor Turnover (JOLTS) data. But this was down by 22% from May 2019 and remains in the record low range. By contrast, in the 2011-2019 recovery, there were an average of 1.80 million layoffs per month. And in the 2000-2007 recovery, there were an average of 1.87 million layoffs per month.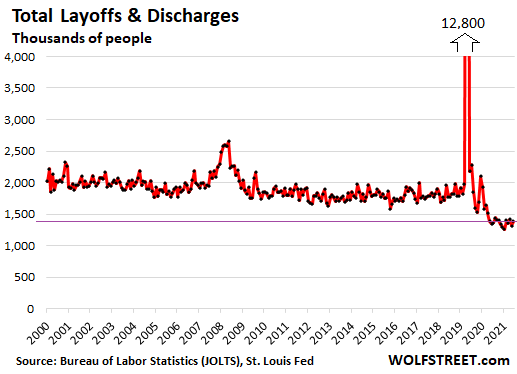 Job openings remain in the Astronomical Zone.
At the end of May, job openings dipped for the second month in a row, to 11.25 million, down 5.1% from the record in March, seasonally adjusted. But this was still way up in the astronomical zone, up by 55% from May 2019.
Note, these job openings are not based on online job postings – and therefore not influenced by fake online job postings – but are based on what companies and government entities said their hiring needs were: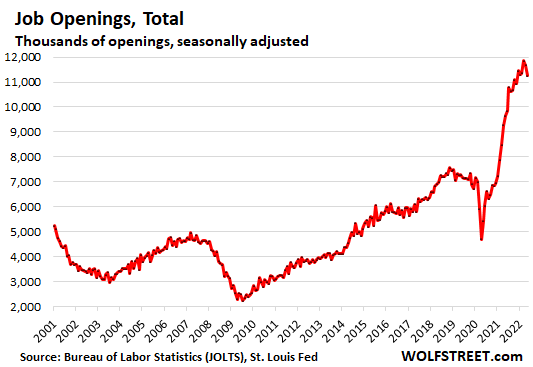 This is one more indication that the "labor shortages" continued through May in an extraordinarily tight labor market, despite some small-scale layoffs and some hiring freezes, and that it will take a lot more layoffs and a lot more hiring freezes to loosen up the labor market back to anything resembling "normal." This may come over the next few months, but it isn't here yet.
Job openings v. unemployed people looking for a job.
In the years around recessions – from 2002 to 2004 and from 2008 to 2012 – people are losing their jobs and start looking for work, and at the same time, the job openings vanish, and there is a big gap between the unemployed looking for work and actual job openings.
At the peak of the Great Recession in late 2009, there were 15 million unemployed people looking for a job, and only 2 million job openings – which is terrible math for the unemployed.
As the economy improved more job openings appeared, and more people found a slot, and unemployment fell.
Then in the already tight labor market in the years before the pandemic, job openings exceeded for the first time in the data the number of unemployed looking for work, which is what workers want. That's the sign of a strong labor market.
Since June last year, job openings have exploded, even as the number of unemployed looking for a job has plunged, creating the biggest gap between the two – another aspect of the "labor shortage."
That gap has been cited by Powell as well – with a historically high 11.25 million job openings and a historically low 5.95 million unemployed people looking for a job in May: