EU Natural Gas Prices Soar As Gazprom Readies Nord Stream Cuts, US NatGas Hits 14-Year High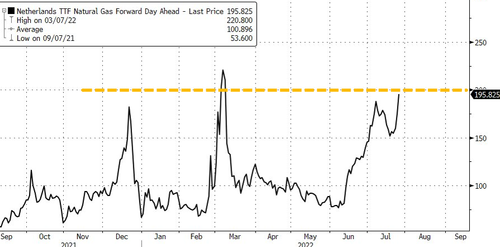 European natural gas futures extended gains by 12% after Russian state-owned energy producer Gazprom PJSC unexpectedly announced it would halt a Nord Stream 1 turbine at its Portovaya compressor station from Wednesday. Simultaneously, US NatGas futures have spiked to 14-year highs.
Russian NatGas supplies to Europe via Nord Stream pipeline fell to 38% capacity from 40% on Tuesday, ahead of a more significant cut from current levels to just 20% on Wednesday. 
In a statement, Gazprom said the Nord Stream pipeline would be pumping 33 million cubic meters a day, or 20% of capacity, from Wednesday, adding another turbine for the pipeline will be taken offline due to maintenance work. 
Kremlin spokesman Dmitry Peskov said another Nord Stream turbine has "problems" and will be taken offline for maintenance. 
Peskov noted a turbine sent to Canada earlier is "en route" but didn't specify its exact location.
Western sanctions prolonged the average maintenance time of the Nord Stream.
"The situation is critically aggravated by the restrictions and sanctions imposed against our country," the Kremlin spokesman continued. 
Russian state media reported Monday that the turbine recently serviced in Canada by Siemens Energy AG had finally received export paperwork that will allow it to be shipped from Germany to Helsinki, Finland. 
Nord Stream's upcoming capacity declines sent Wholesale European NatGas futures up 12% to 196 euros. Prices have jumped more than 20% in two sessions and are near highs seen last winter at more than 200 euros.  
EU Natgas prices are trading at an oil-barrel-equivalent price of $333….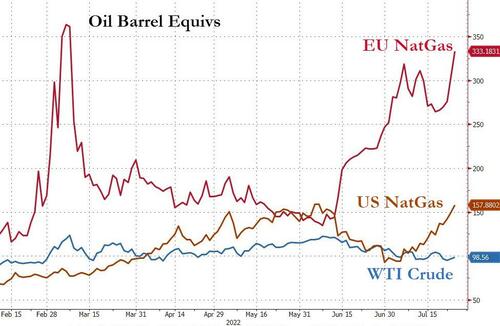 Across the Atlantic, US NatGas futures extended gains, up more than 10% to $9.62, a 14-year high, amid concerns about hot weather and tight supplies.
"Although the magnitude and speed of recent natural gas price gains point to contributing non-fundamental market dynamics, supportive fundamentals are nonetheless the primary driver," EBW Analytics Group wrote in a note to clients.

"Fundamentally, scorching hot weather is the predominant bullish driver," the firm added.
There's also reason to believe that tighter European supplies would result in more US LNG exports abroad.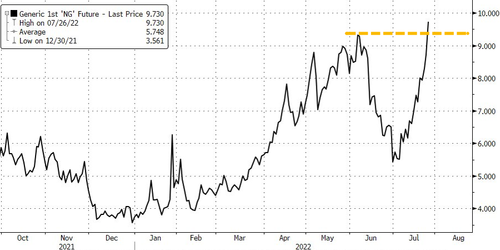 For more context, European NatGas 1m forward is trading at a massive $48 spread over front-month US NatGas futures – almost 5x its historical peak…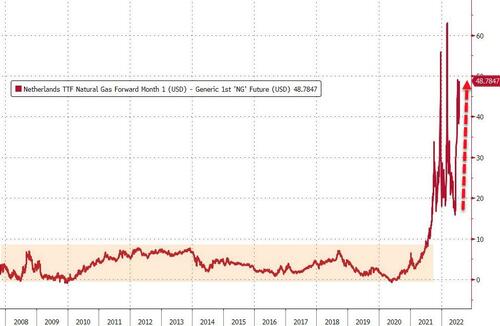 Europe's energy crisis continues to worsen, and there is no immediate relief in sight as this coming winter could be a cold one. 
"This is not the end of Russia's weaponization of natural gas flows, in our view, and there remain few near-term alternatives for even current reduced flows to the EU – lending [to] ongoing upside price risks," RBC wrote last week in a note to clients.