UMich Inflation Expectations Ease Further, Consumer Sentiment Bounces Off Record Lows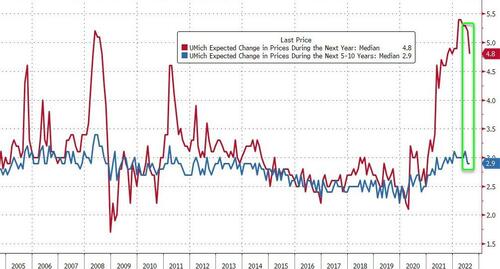 While sentiment should be front-and-center (dragging near record lows), thanks to Fed Chair Powell's previous comments, all everyone wants to know is what University of Michigan survey respondents think will happen to inflation.
UMICH inflation expectations eased more intra-month from +5.2% in July to +5.0% flash August to +4.8% final August…
Source: Bloomberg
As a reminder, this is the final print for August (after the preliminary data showed a small uptick from record lows).
Away from that component, UMICH headline sentiment was expected to modestly increase in the final print from the flash print and it did with the headline beating expectations…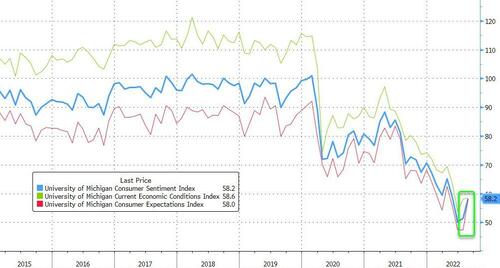 Source: Bloomberg
Most of this increase was concentrated in expectations, with a 59% surge in the year-ahead outlook for the economy following two months at its lowest reading since the Great Recession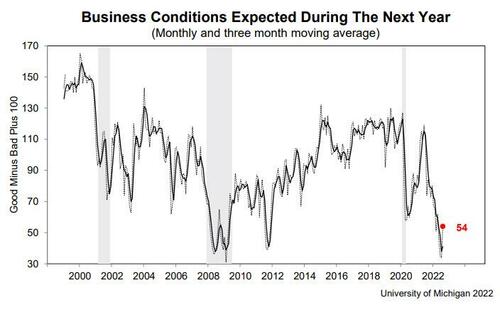 Source: Bloomberg
The gains in sentiment were seen across age, education, income, region, and political affiliation, and can be attributed to the recent deceleration in inflation.
Lower-income consumers, who have fewer resources to buffer against inflation, posted particularly large gains on all index components. Their sentiment now even exceeds that of higher-income consumers, when it typically lags higher-income sentiment by over 15 points.
Finally, while the market will focus on the drop in inflation expectations, here is what UMICH says about the drop: "Uncertainty over expectations rose considerably, particularly among lower-educated consumers."