Eating seaweed helps lower asthma risk (recipe included)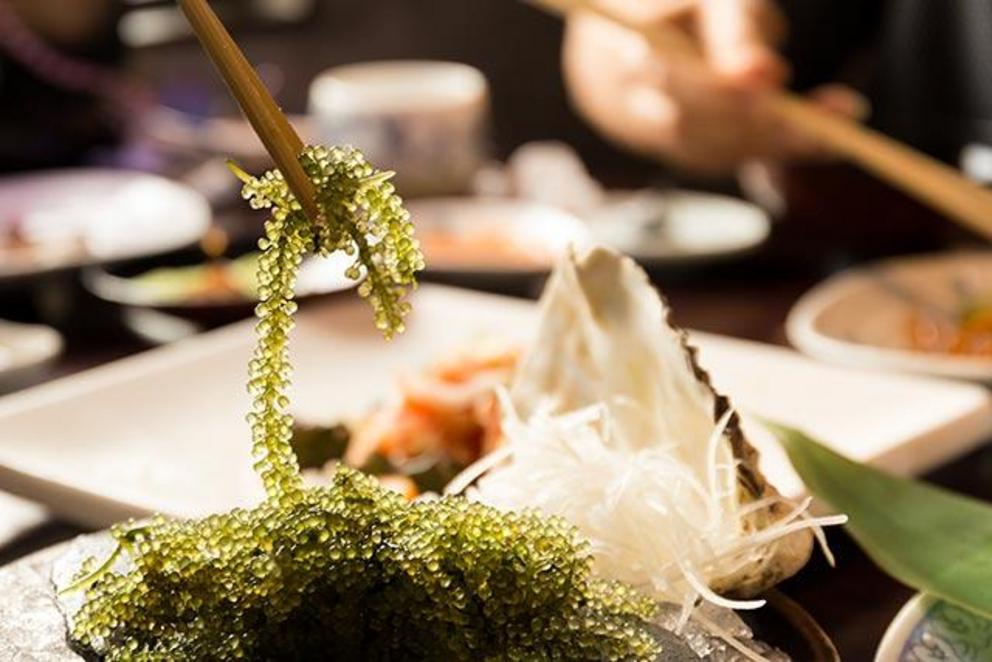 It's not all about inhalers. Food — seafood, to be exact — can help ease asthma, too. These are the findings of a recent study by researchers from South Korea. For their study, they looked at the possible link between the prevalence of asthma and fish and seaweed intake.
Can seaweed help fight asthma?
Seafood like fish and seaweed are incredibly rich in healthy fats like omega-3s and omega-6s. Previous studies suggest that these fatty acids may play a role in asthma prevention. However, researchers are still uncertain if the fatty acids in seafood can truly help with asthma symptoms, let alone prevent its onset.
The South Korean researchers decided to explore the association between asthma and the intake of fish, seaweed and omega fatty acids. They looked at the health data of some 13,000 people who took part in the Korea National Health and Nutrition Examination Survey (KNHANES) between 2013–2016.
They asked the participants to complete a health examination survey and a nutrition survey as well. In the former, they were asked to describe their asthma type and whether they took medications within the past 12 months. In the latter, the participants were asked to give detailed information about the foods and drinks they've had in the past 24 hours. The researchers used this data to determine the participants' intake of dietary fatty acids.
Their analysis revealed that those who ate less fish and seaweed experienced more bouts of asthma than those ate more seafood. This suggests that higher intakes of fish and seaweed could help lower the prevalence of asthma.
The researchers speculated that the fatty acids in fish, seaweed and other seafood may have protective effects against asthma because of their anti-inflammatory properties. Asthma is an inflammatory condition.
In 2015, a different team of researchers from South Korea prepared a therapeutic agent from seaweed and found that it was effective in controlling asthma in mice. The antiasthma medicine didn't cause any side effects.
Other health benefits of seaweed
So what else can seaweed do? It turns out, a lot.
For starters, seaweed is low in calories and cholesterol but high in essential vitamins and minerals. It's hardly surprising that it's a staple in the Japanese diet, which is known for being well-balanced and nutritious.
Seaweed also contains high amounts of fiber. This low-calorie and high-fiber combo makes seaweed a weight loss-friendly food. In fact, new research suggests that a soluble fiber in seaweed known as alginate will make a great active ingredient in weight loss supplements. Plus, protein in seaweed helps keep you full for longer.
Moreover, antioxidants called fucoidans in seaweed are associated with a lower risk of osteoporosis. Research shows that fucoidans protect bone-building cells from oxidation by free radicals, which can weaken them.
Seaweed has also been studied for cancer prevention because of fucoidans and other antioxidants like vitamin C and beta-carotene, which are present in small amounts.
Vegan quinoa sushi recipe
Homemade sushi? No problem! But instead of refined white rice, use protein-packed quinoa. You can also load up on heart-healthy fats by throwing in some avocados. Here's a recipe you'll definitely keep coming back to whenever you have nori sheets on hand:
Ingredients for 6 rolls:
6 nori sheets
1 small daikon, peeled and julienned
1 small avocado, peeled and sliced
1 carrot, peeled and julienned
1 beet, peeled and julienned
1 1/2 cup rinsed quinoa
3 tablespoons white miso paste
Preparation:
Dissolve miso paste in 1/2 cup of water. Add this to a pot along with quinoa and 1 3/4 cups of water. Cover and bring to a boil.
Reduce heat and simmer while covered until the quinoa has absorbed all of the water. Turn off the heat, then set aside for 5–10 minutes with the lid still on. Let cool before using.
Cover the sushi mat with plastic wrap, then place a nori sheet on the mat. Spoon some of the quinoa and spread it evenly over the sheet. Leave a one centimeter-margin at the end farthest from you for sealing.
Arrange slices of avocado, beet, carrot and daikon along the nori sheet.
Lift the end of the mat closest to you, then slowly roll it over the ingredients, pressing gently. You should have a nice, tight roll when you're done.
Once you get to the end, dip your finger in water and run it across the margin. Finish rolling. You should have a sealed roll.
Repeat with the remaining nori sheets and ingredients.
Cut the rolls into bite-sized pieces. Serve with pickled ginger, wasabi and a side of tamari.
Seaweed is a nutrient-dense sea vegetable with many health benefits to offer. Besides its potential role in the prevention of asthma, seaweed aids in weight loss and helps maintain strong bones. To reap the benefits of seaweed, incorporate it into your go-to dishes and recipes.
For full references please use source link below.