Election Night Results: FL "Catastrophic" For Dems, Abbot Wins TX, GA/PA/OH Too Close To Call

from ZeroHedge:
Polls have now closed in a number of states and while the percentage of votes counted remains low, official media sources have called a number of seats. The Senate remains a tossup, but The House is swinging increasingly likely to the Republicans.
Asked about what he thinks about the number of prospects he has endorsed in tonight's race, former President Trump remarked with a smile on his face:
TRUTH LIVES on at https://sgtreport.tv/
"Well, I think if they win, I should get all the credit. If they lose, I should not be blamed at all."
Former President Donald Trump said if Republicans he backed win, he "should get all the credit… But it will probably be just the opposite." Watch the interview tonight at 6p/5C — find your channel: https://t.co/ZH35VUp1Ik #Election2022 pic.twitter.com/nDTEM1uWOf

— NewsNation (@NewsNation) November 8, 2022
There were 45,920,446 early votes cast in the elections, according to the latest tally by the University of Florida's United States Elections Project. That includes 20,487,803 in-person early votes and 25,432,643 mail ballots returned.
If you're looking for a Democrat bellwether, The NYC Board of Elections says about 1.4 million voters have been to a polling station, that's down from 2.1 million voters in 2018, but there are still a few hours left to go.
Representative Alexandria Ocasio-Cortez wins her NYC district, the AP says.
Kemp is leading Abrams in the GA Governor race…

Abbott dominated Beto in the Texas Governor race…

Fetterman is still leading Oz by a wide margin in PA while Walker and & Vance are ahead in GA and OH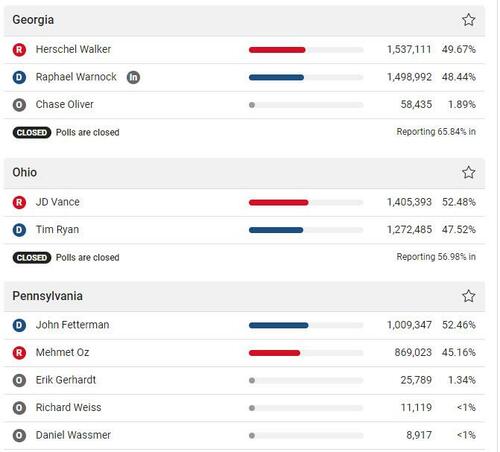 Something "odd" happening in PA…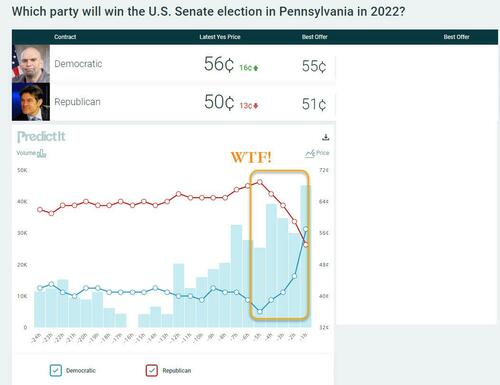 However, Florida is flashing a even brighter red warning signal for Democrats.
Fox, CNN, NBC all projecting Republican Senator Marco Rubio wins re-election in Florida.
CBS, NBC projecting GOP Governor Desantis Wins Re-Election in Florida.
David Plouffe, the former Obama election chief, calls the Florida numbers tonight "catastrophic" – and hugely problematic for Democrats if this keeps up in 2024.
"In Florida, it's catastrophic. Obviously, we saw greater urgency in 20 in the presidential race. Let's remember, Barack Obama won in 2012, basically tied the Cuban vote, got over 77% of Hispanic votes. The Obama coalition in Florida is gone. We have to rebuild it now,"