Could Slumping US Air Travel Demand Be A Sign Consumers Are Tapped Out?
Delta Air Lines Inc. was one of the latest carriers to warn about slumping travel demand. Several other carriers have also voiced similar concerns.
"The December month was the off-trend month," Delta President Glen Hauenstein told analysts and investors on Wednesday at an event in New York. He explained that January travel demand could be significantly better than December and added February is usually a much better month. 
Hauenstein's comments followed JetBlue Airways Corp.'s travel warning on Tuesday. Shares of the airline plunged the most in six months after fourth-quarter revenue per seat flown a mile, a metric used to measure fares and passenger traffic, trended toward the low end of guidance.  
"The expected very strong close-in demand for December reflected in its prior outlook has materialized below expectations," JetBlue said.
Separately, Spirit Airlines Inc. reduced its capacity forecast for the quarter due to adverse weather conditions. Alaska Air Group Inc., meanwhile, warned about "softening in corporate travel bookings."
Looking at the S&P500 Airline industry, shares are down 16% year-to-date and down 47% from five years ago. The index remains well below pre-Covid levels. 
Multiple warnings about sliding travel demand come as consumers have endured 19 months of negative real wages. Persistent inflation has decimated the household finances of the bottom 90% of Americans. Many folks are draining personal savings and maxing out credit cards in high-rate environments just to buy staples and pay rent. So, their ability to spend money on experiences and travel is sliding.  
The increasing drumbeat of macroeconomic headwinds because of a Federal Reserve-induced economic downturn is making life for the consumer harder by the month.
There are signs at TSA checkpoints that travel numbers have been moving lower since the spike during the Thanksgiving holiday.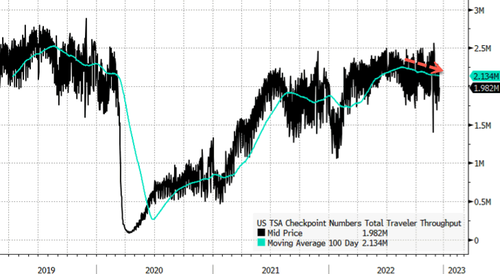 A good question is whether the consumer will have enough dry powder to go on trips in the first half of next year. 
Loading…