Netflix Shares Slide On Report Of Underwhelming Ad-Supported Guarantees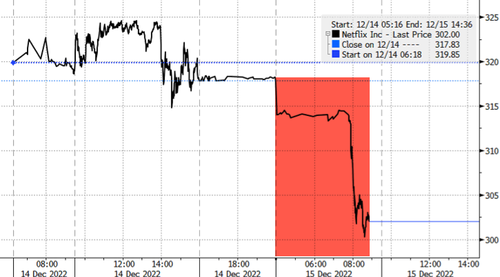 Netflix shares tumbled in premarket trading, as a report by Digiday's Tim Peterson said five agency executives confirmed that the streaming service "fell short of ad-supported viewership guarantees made to advertisers and allowed advertisers to take their money back for ads that have yet to run." 
"The specific shortfall amounts vary by advertiser, but in some cases, Netflix has only delivered roughly 80% of the expected audience, said the executives," Peterson said. 
Netflix is falling short of ad-supported viewership guarantees made to advertisers and allowing advertisers to take their money back for ads that have yet to run, according to five agency executives.

Story by @petersontee. https://t.co/pi8YQle5GX

— Digiday (@Digiday) December 15, 2022
One agency executive said:
"They can't deliver. They don't have enough inventory to deliver. So they're literally giving the money back."
Shares of Netflix fell as much as 5.6% in premarket trading. 
Loading…