Global Snowing: Bank Of America Sees Surge In Snow Cover Across Top US Winter Resorts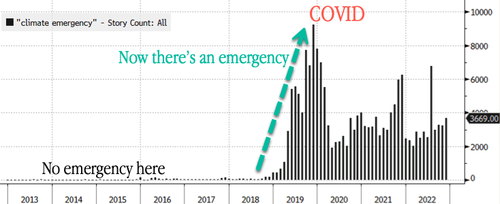 Earth's climate has been changing as long as the planet has existed, with natural cold and warm cycles. Climate alarmists, the mainstream media, and the World Economic Forum pushed a summer of fear and insisted hot weather is a declaration of a "climate emergency." 
Meanwhile, a Nobel Prize laureate and more than 1,100 scientists signed a document declaring climate science is based on personal beliefs and political agendas than sound, rigorous science.
The World Climate Declaration stated climate science "should be less political, while climate policies should be more scientific."
"Scientists should openly address uncertainties and exaggerations in their predictions of global warming, while politicians should dispassionately count the real costs as well as the imagined benefits of their policy measures," the declaration reads.
And if we were actually to listen to climate alarmists, which by the way, Greta Thunberg was replaced by Sophia Kianni, one would think the climate doom they push that the world's demise is imminent. But that's the case. 
Earlier this month, mainstream media climate alarmists were triggered by our reporting of NOAA and Rutgers University data that showed snow cover across the Northern Hemisphere reached the highest level since measurements began in 1967 and were currently above the 56-year mean.
And looking back, mainstream media's climate fear campaign conveniently ramped up in news stories just before Covid, and around the time WEF pushed the "Great Reset" narrative. 
The relentless propaganda that the Earth will melt imminently is nonsense. If that were the case, ski resorts across North America would greatly suffer because of the lack of snow. 
However, in a note to clients Monday, Bank of America analyst Shaun Kelley said the 16 ski lodges owned by Vail Resorts his team tracks have seen a 35% increase year-over-year in snowfall and a 26% increase versus 2020. 
"Conditions in Colorado, Utah, and Tahoe standout heading into the holidays , all trending well above their historical averages . Vail's Back Bowls opened on Thursday, December 15th as compared to Dec. 28th last year and Dec. 20th in 2020.

"Whistler and the Northeast continue to lag. However, both are improving with Whistler adding 30″ of snow in the past week and the Northeast receiving a solid dump as well . Tahoe was the big winner this week with about 50" of fresh powder. 

"As of Thursday , an average of 4 1% of Vail' s terrain was open, compared to 24 % last year , which is a good sign as we approach peak days around Christmas and New Year's," Kelley wrote. 
But what about climate alarmists' warnings that the world is burning?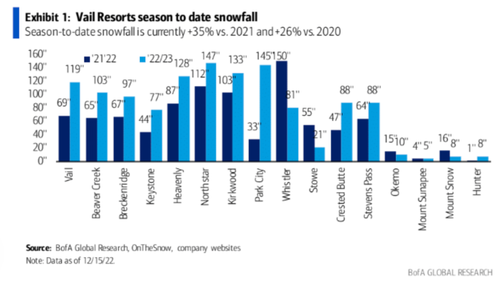 Wonder if Greta's replacement knows how to ski… 
Finally done with finals 😭 ✌️

Happy winter break!! pic.twitter.com/tLPYOrLejY

— Sophia Kianni (@SophiaKianni) December 18, 2022
Loading…