Tepper Tantrum & 'Good' GDP News Slam Stocks, Bonds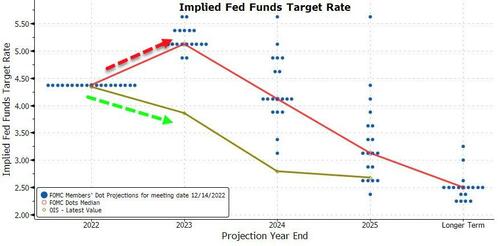 A better than expected GDP print was just the kind of good news that stock market bulls didn't want to hear this morning as Appaloosa's David Tepper told CNBC told the world he is "leaning short" because central banks around the world are tightening and traders should "not ignore what the central bankers are saying."
"I would probably say I'm leaning short on the equity markets right now because the upside/downside doesn't make sense to me when I have so many Central banks telling me what they are going to do, what they want to do, what they expect to do,"
"I'm gonna lean short. I'll be short bonds," says David Tepper. "I'm an optimist but I would lean short on the equity markets because so many Central banks are telling me what they're going to do." pic.twitter.com/SWU1cTrGcl

— Squawk Box (@SquawkCNBC) December 22, 2022
His message is clear – rates will remain higher for longer as global central banks fight inflation that proves stubborn (wages and labor supply) and the market is not pricing that in at all…
"The market is not buying the Fed's increasingly hawkish position that they are going to raise rates to a higher-than-expected level and keep them there," said Lindsey Piegza, chief economist at Stifel Nicolaus & Co, according to Bloomberg.
The Appaloosa founder pointed out the hypocrisy of traders 'fight the fed' now after a decade of following them sheep-like: "I believed the Fed before and I believe the Fed now."
"We are going to have a lot more tightenings."

"Sometimes they tell you what they are going to do and you have to believe them," Tepper added.
Tepper went on to say that the "upside/downside doesn't make sense to me."
"Don't ignore what these guys (Central bankers) are saying," Tepper said.

"I don't think they will let a deep recession happen in some sense. It doesn't necessarily bare well for earnings and the outlook."

"It's going to be just difficult for things to go up right now because of these banks and because what they are saying," Tepper added.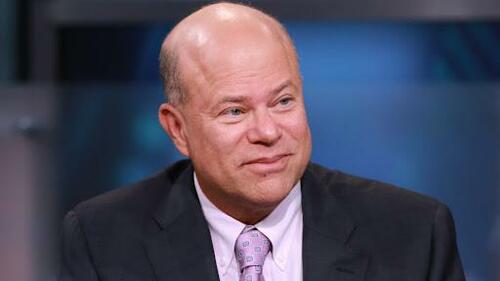 Yields spiked on the 'good' GDP print…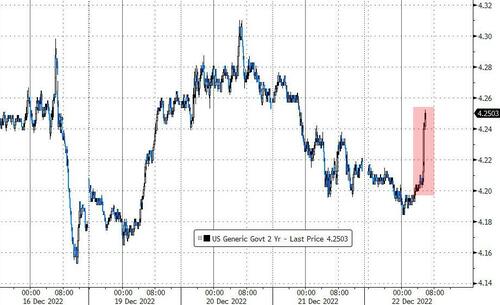 All of which sent stocks tumbling…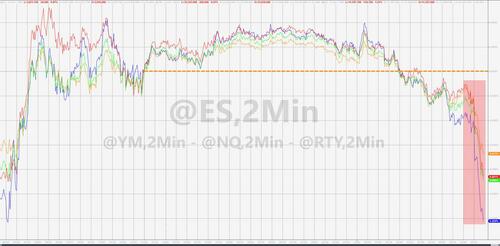 Lots of people are passing around the following chart of the exploding put/call ratio suggesting everyone's hedge so have no fear…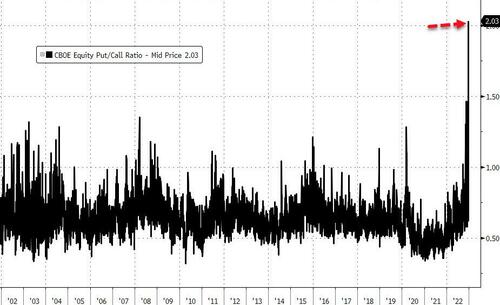 But, as SpotGamma warns, many regard this as a signal that traders are bracing for worlds end, but we can say with upmost confidence that this is not fear-based demand (which likely does not come as a surprise to SpotGamma readers). This put activity is being driven by an "operational" trade.
Finally, back to Tepper: as a reminder, in 2020 he appeared on CNBC and exclaimed that QE would pump markets…
"I love riding a horse that's running," Tepper told CNBC's Joe Kernen in an exclusive email.

"We have been long and continue that way."
…he was right then… and now that tide is going the other way, and he is riding that wave back out.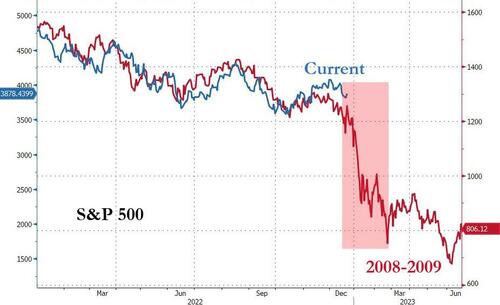 Let's hope he is not 'that' right!
Loading…